In light of the GOP post-debate "blood" feud, I keep wondering: Why doesn't Donald Trump praise Megyn Kelly for being a straight talker who isn't politically correct?
Trump's remark that Kelly (who he criticized for bias) had "blood coming out of her — wherever," may or may not have been a menstruation-related insult. But Trump has repeatedly advertised himself as someone who says what he wants and doesn't care if anyone gets offended. So why can't people look at his comment and veer toward an offensive interpretation rather than an inoffensive one?
Really, when Trump has cast himself as someone who deviates from the norms of polite speech, why does it take a "deviant" to go with the menstrual reading? Likewise, if Trump lets himself off the hook for his other gaffes by insisting he's not politically correct, then why can't he give Kelly a pass on the same basis?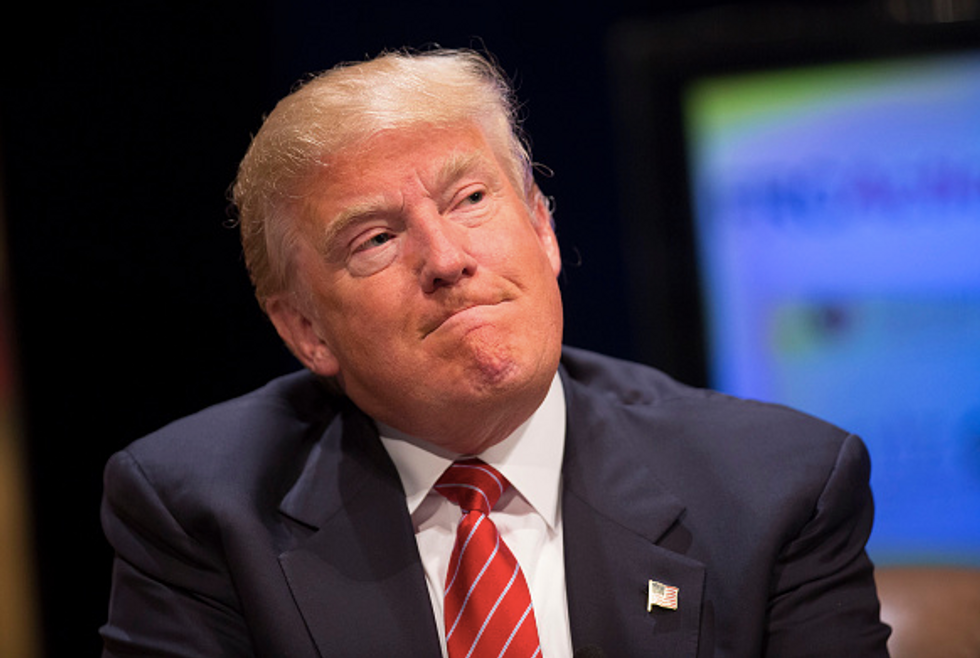 Donald Trump, president and chief executive of Trump Organization Inc. and 2016 U.S. presidential candidate, pauses while speaking during The Family Leadership Summit in Ames, Iowa, U.S., on Saturday, July 18, 2015. Photographer: Daniel Acker/Bloomberg via Getty Images
Obviously, it's a simple case of double standards: Trump gets to resort to "tough talk" when he likes, but anyone doing the same to him is being "unfair."
Ironically enough, it's a double standard familiar to the person whose policies Trump supporters want to upend: President Barack Obama.
After all, it's Obama who repeatedly lectures America about the importance of civil debate, but who allows himself to demonize his opponents by accusing opponents of the Iran nuclear deal of making "common cause" with Iranian hardliners. And, just like Trump, when Obama is called out for name-calling, he doesn't back away or apologize, he doubles down.
The two double down even when it's obvious their rhetoric has foolishly created collateral damage. When Trump protested Sen. John McCain (R-Ariz.) for calling Trump's supporters "crazies," he did it by deriding McCain's status as a war hero: "I like people who weren't captured."
In doing so, he wound up deriding every U.S. prisoner of war as being a second-rate war hero.
And now that liberal stalwart Sen. Chuck Schumer (D-N.Y.) has also come out against the nuclear deal, Obama is effectively on record as saying that Schumer, too, is making "common cause" with Iranian hardliners. (Worse, Obama has claimed himself as collateral damage. He agrees with Ayatollah Khamenei that the nuclear deal is a go, and Obama opposed the 2003 U.S. invasion of Iraq, just like Iraqi dictator Saddam Hussein: "making common cause," anyone?)
Rhetorically speaking, both Trump and Obama are known for writing checks that they can't cash. They talk big, but don't follow through. Trump says he'll make Mexico pay to build us a border wall, but can't explain how he'll do it. On health care reform, Obama promises that "if you like your plan, you can keep it," fails to honor the pledge, and then his entire administration dodges being held accountable.
Just like Obama before him, Trump is running on vague promises – "Make America Great Again" versus "Hope and Change" – without a record of carrying out his political agenda. And, just like Obama complains about being a victim when someone calls him out for invective, Trump responds to critics by immediately retreating to the claim that he's not the attacker, he's the one who's being attacked.
Maybe politicians of all stripes are a dime a dozen, and you never truly get anything different. Obama certainly didn't set a higher standard that broke the mold.
But Trump isn't either, and his followers are violating The Who's cardinal rule of political revolution: Don't get fooled again.
–
TheBlaze contributor channel supports an open discourse on a range of views. The opinions expressed in this channel are solely those of each individual author.