I've been pleasantly surprised to see so many prominent conservatives coming out in opposition to Donald Trump through a National Review editorial.
Lately it has seemed like there are more and more Tea Party conservatives lining up behind Donald Trump. The latest was Sarah Palin. But with so many great Tea Party candidates in the race, why are these so called conservative leaders like Palin flocking to someone who has donated heavily to Democrats in the past?
The question about Donald Trump's political donations is a legitimate concern for many Republicans because it can give us some insight into what type of president he would be. After pondering it for a while I think I've narrowed the reasons for his donations down to three possibilities.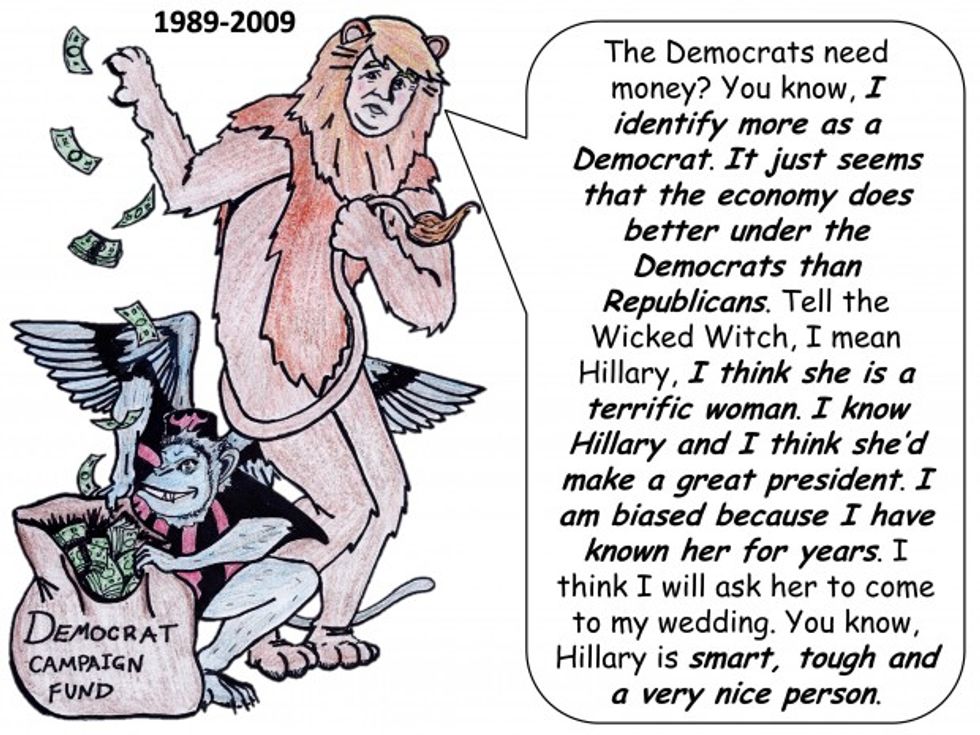 Cowardly Lion (Karl Knighton) 
The first explanation is that Trump is a cowardly conservative. That is certainly not the image he wants anyone to associate with him after spending decades building his brand of a tough, no-nonsense kind of guy. But what if we take him at his word that he has always been a conservative and he has only donated to liberals when he had to get things done and there were no good Republican options?
Using that standard, he absolutely is a coward and his entire brand is a lie. He is a coward because there was another alternative to donating generously to liberal candidates and their ideology. He could have donated nothing to them at all. He could have told them to stuff it. After all, that is what he is trying to convince us he has the courage to do now. Instead he could have used that money to build popular public support for his projects without strengthening Democratic ideology and protect politicians in their places of power.
For someone who has built his political candidacy on telling the establishment to "go to hell" he sure hasn't given any evidence of that kind of backbone when actually dealing with politicians. In fact, if all these donations were not given willingly by Trump then the Democrats have already demonstrated to the world that they have the ability to sway him to support their causes.
Plus it would not be the first time Trump has acted the coward during the campaign, such as when he retreated on his call to defund Planned Parenthood.
I certainly don't want someone in the presidency defending my values and beliefs who will turn around and run at the first threat of opposition from a Democrat. We already lived through that with John Boehner -- do we really want to go through it again with a Trump presidency?
Still, there could have been the slight possibility that withholding money from Democrats would have resulted in significant damages to his business and the livelihoods of all his employees. But I don't think those are legitimate arguments considering his Democrat donations dropped from 54 percent between 1989 to 2009 and his Republican donations have soared to 97 percent since.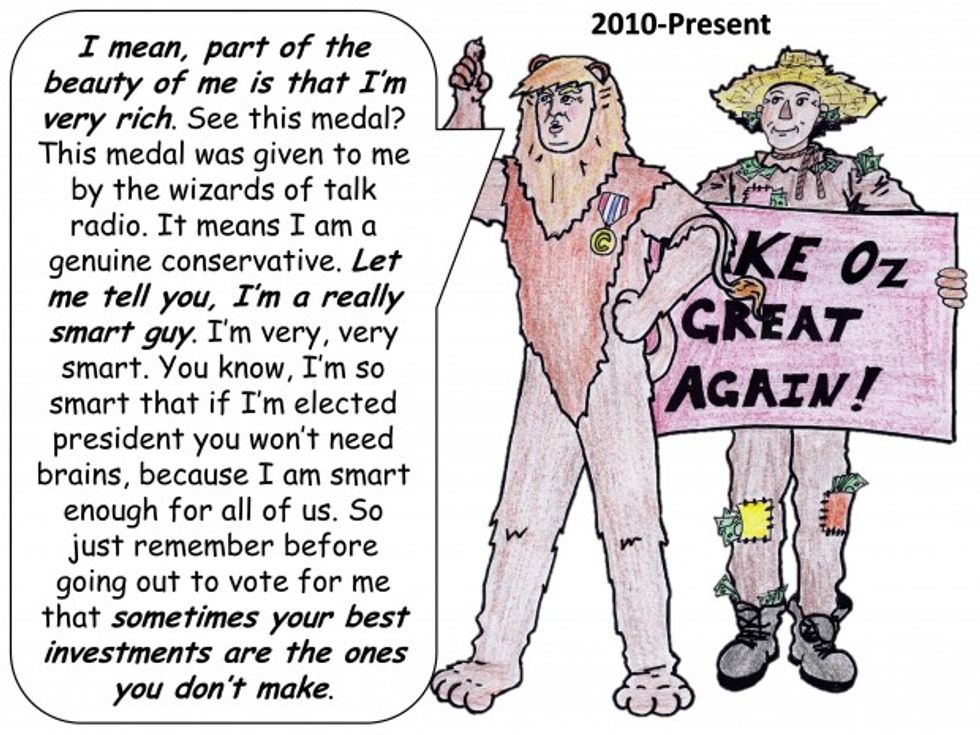 "Conservative" Lion (Karl Knighton)
I have yet to see any evidence that his change in donation habits have resulted in damages to his business or in New York Democrats suddenly opposing his projects since 2010.
This brings me to my second explanation of Trump's donation history. Many Trump supporters will point to this flip in order to defend Trump as a reformed Democrat. He has "seen the light" and is now supporting Republicans. There is very little evidence to support this conclusion unless you just want to take his word for it.
This explanation is automatically debunked by the first argument because he still defends his past donation record as necessary, he even brags about those donations. He says he shouldn't have been allowed to take advantage of the system like that, but he was more than happy to do it.
He has never referenced an ideological change. If his ideology has changed he has yet to explain why or feel the slightest bit sorry for contributing to politicians that used those dollars to advocate against conservative principles. So even if explanation two were true, it makes him wishy-washy at best.
This brings me to my third, and probably the most likely, explanation: Trump has always been buying support throughout his career and he is still attempting to buy support today. Looking at it from this perspective it makes me wonder what Trump's donations have been to SarahPAC over the last several years. What Republicans are supporting Trump today and how much have they benefited from his political donations? This assumption is far more realistic than assuming that Trump suddenly changed his ideology late in his life and wanted to solely support Republicans.
So is Trump a cowardly conservative, wishy-washy in his political ideology, or is he just a bargain shopper of political support? Maybe a little bit of everything? Regardless, there are far more courageous, firm, and honest conservative candidates in the 2016 race, none of which are Donald Trump. We would be far better served to choose one of them instead.
–
TheBlaze contributor channel supports an open discourse on a range of views. The opinions expressed in this channel are solely those of each individual author.