Despite what Ann Coulter says, Donald Trump's platform on illegal immigration is not "the greatest political document since the Magna Carta."
Though, that's exactly the kind of overstatement that Trump would appreciate from his supporters.
But you have to hand it to Trump: He's keeping the issue of illegal immigration in the spotlight in a way that no other candidate has done, or would have done had Trump sat out of politics.
[sharequote align="center"]The "Magna Carta of Illegal Immigration" won't be enacted, because Trump won't be president[/sharequote]
There are clear problems with Trump's plan: The country isn't going to budge on the issue of birthright citizenship any time soon.
Mark Levin and others might be right that children born of illegal immigrants are not "subject to the jurisdiction" of the U.S. (the key phrase in the 14th Amendment), and so aren't born citizens. But how would Trump or anyone else implement a new understanding of the 14th Amendment? With a Supreme Court ruling in their favor? Or with executive orders that don't get overturned by the Supreme Court? That's a lower bar than changing the Constitution, but not by much.
Trump also promises to make Mexico pay for a border fence through fees on visas given to Mexican nationals, and by impounding money that illegal immigrants send back to Mexico. But how much money can you collect with visa and border crossing fees without hampering trade? And how on Earth is the government supposed to judge which remittances to Mexico are from legally-earned wages versus illegal ones?
Finally, Trump pledges to deport children who are U.S. citizens if that's what it takes to deport their illegal immigrant parents. Just like ending birthright citizenship, even if there is a Constitutional basis for deporting U.S. citizens, there's no political will for it. (A better solution might be to tell the parents they can stay until their kids reach adulthood; after that, they have to leave. The down side is that this incentivizes having more kids.)
But Trump finally has an "on the issues" section on his campaign website providing policy specifics. And, while his illegal immigration program makes promises he can't keep, it's far more plausible than the details he outlined for Islamic State's oil wells. Retracting President Barack Obama's executive orders on immigration, hiring more Immigration and Custom Enforcement officers, depriving sanctuary cities of federal funds, and establishing a nationwide e-verify system to make sure employees are legal; these things are all doable.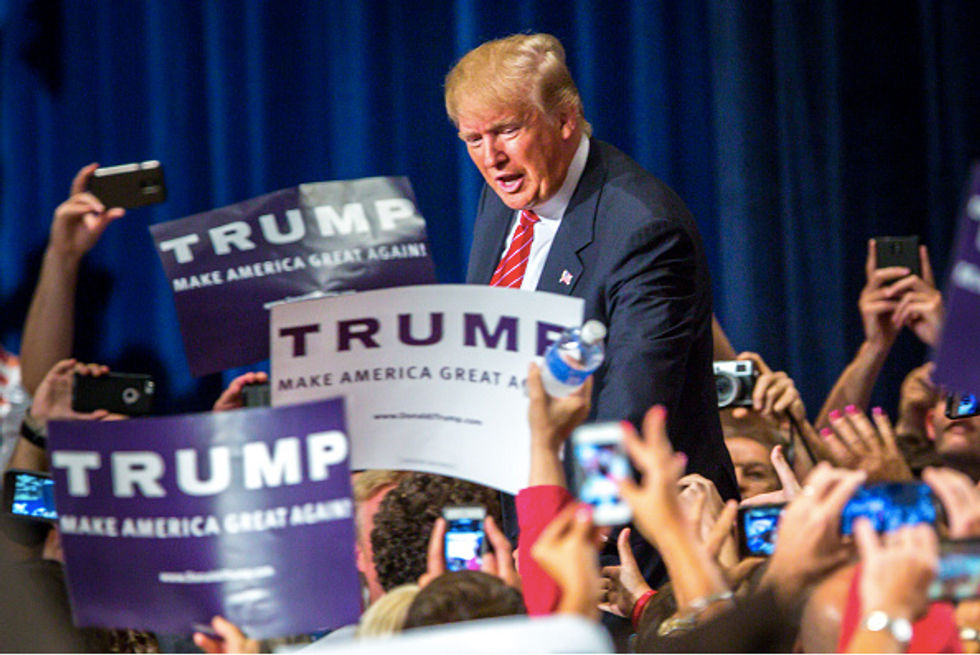 Republican Presidential candidate Donald Trump addresses supporters during a political rally at the Phoenix Convention Center on July 11, 2015 in Phoenix, Arizona. Trump spoke about illegal immigration and other topics in front of an estimated crowd of 4,200. (Photo by Charlie Leight/Getty Images)
And Trump's push on the issue of illegal immigration makes it more likely that such measures aren't just doable, but that they actually get done (even if it's by a president other than Trump). Again, he's keeping the issue on the front burner and voicing people's frustration – why aren't laws enforced on illegal aliens like they are on other people? – in a way that no one else has, which is pressuring the other GOP candidates to commit to the cause. And he hasn't backed down. (Trump's unapologetic durability in the face of critical media coverage is probably the key Glenn Beck has been looking for in understanding Trump's popularity.)
If The Donald had spent more of his campaign describing policies like this – instead of veering into derisive statements about Mexican illegal immigrants, POWs, and Megyn Kelly – popular opinion might see him as unrealistically ambitious, rather than unelectable. However rhetorically resilient Trump has been, he shouldn't have said some of the things he did say, he should have retracted and apologized for them, and the fact that he hasn't will keep him from getting anywhere near majority support from the electorate. He's instead won the position of bogeyman to Latino children.
So, the "Magna Carta of Illegal Immigration" won't be enacted, because Trump won't be president. But it will push the Republican field in the direction that Trump supporters want, and it's given us a look at what Trump's candidacy – even, a Trump presidency – could have been.
–
TheBlaze contributor channel supports an open discourse on a range of views. The opinions expressed in this channel are solely those of each individual author.