Honoring his wife's request, Joe Fydrych published her advice to friends and family in her obituary following her Aug. 13, 2015 death. Elaine, 63, cautioned all not to vote for Hillary Clinton on the basis of her disastrous handling of the 2012 Benghazi attack that left four Americans dead.
Had she lived five months longer, Elaine would have felt her advice further justified as additional emails from Clinton's time as secretary of state were released.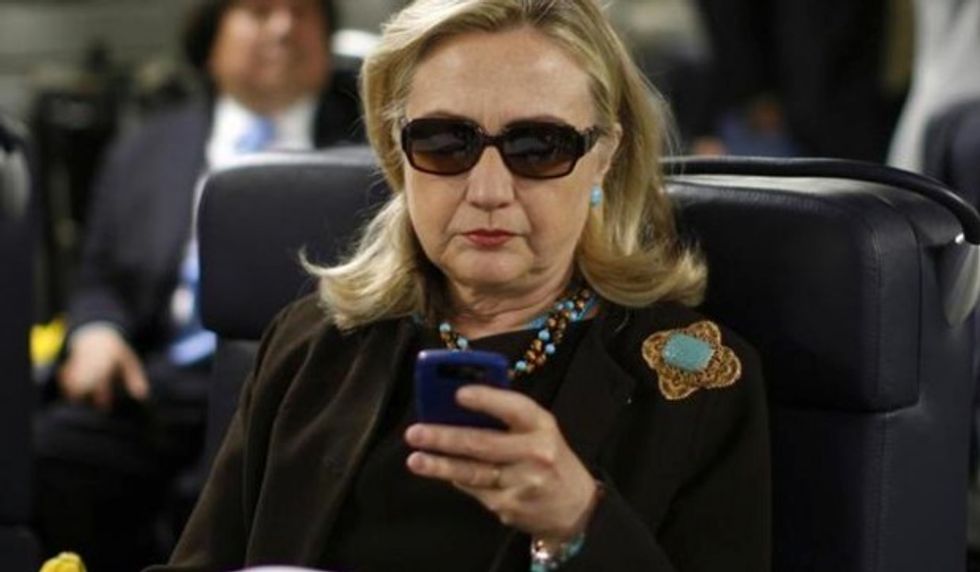 FILE - In this Oct. 18, 2011, file photo, then-Secretary of State Hillary Rodham Clinton checks her Blackberry from a desk inside a C-17 military plane upon her departure from Malta, in the Mediterranean Sea, bound for Tripoli, Libya. Clinton insists that if she pursues the presidency again, it will be different this time around. But revelations that she sidestepped the government email system as secretary of state suggest she may have a long way to go in making good on that promise. (AP Photo/Kevin Lamarque, Pool, File)
While 66 of the 1,262 emails released on January 8 were reported by the U.S. State Department as classified (bringing to 1,340 the total number of classified emails found on her private server), one email exchange in particular stands out. It demonstrates not only Hillary's total disregard for national security but a shocking willingness to order others to commit illegal acts.
Ironically, having served as a researcher to the Watergate committee in drafting the articles of impeachment in 1974 against then President Richard Nixon for his involvement in various illegal activities, Hillary appears guilty of also committing some illegal offenses of her own.
Her email exchange took place in June 2011 with her deputy chief of staff—now her foreign policy advisor—Jake Sullivan.
While impatiently awaiting talking points on an issue, Clinton was advised by Sullivan the source providing the points was having problems getting them out to her over a secure fax. Clinton instructed Sullivan, "If they can't, turn into nonpaper w(ith) no identifying heading and send nonsecure."
In other words, the data was to be stripped of its classified markings and sent to her over an unsecure fax.
This is the same Hillary who told reporters last July, after speaking at a Democratic Party fundraiser, "I am confident that I never sent nor received any information that was classified at the time it was sent and received."
As to whether Hillary is guilty of committing an illegal act, we may once again hear an all-too-familiar defense raised by husband Bill in 1998 during the Monica Lewinsky scandal, "it depends on what the meaning of the word 'is' is."
While Hillary might try to argue over 1,300 other prohibited transmissions were innocently sent, that argument fails to fly in this case. This is clearly an order to violate the law by intentionally transmitting classified data in a way designed to hide from others its classification.
Clearly Clinton's instruction to Sullivan was a way for her to later argue—as she has now done—sensitive data transmitted was not "marked classified" at the time.
Further undermining any concern Clinton might claim for keeping state secrets secret was the January 8 congressional testimony of a cyber security expert. As to having a personal residence server, he testified, "You are exposing classified material in the open. That would be imprudent and would also be illegal. The government requirement is that all official information be used through official means."
Sen. Chuck Grassley (R-Iowa), Chairman of the U.S. Senate Judiciary Committee —responsible for ensuring federal agency compliance with the Freedom of Information Act—called the email "instructing a subordinate to remove the headings from a classified document … disturbing" and the need for the FBI to open a criminal inquiry if it has not yet done so.
Hillary's total disregard for our national security, now further substantiated by her willingness to deceive the American public about it, resurrects a national security concern she triggered years ago but which was not adequately pursued at the time for reasons of political correctness.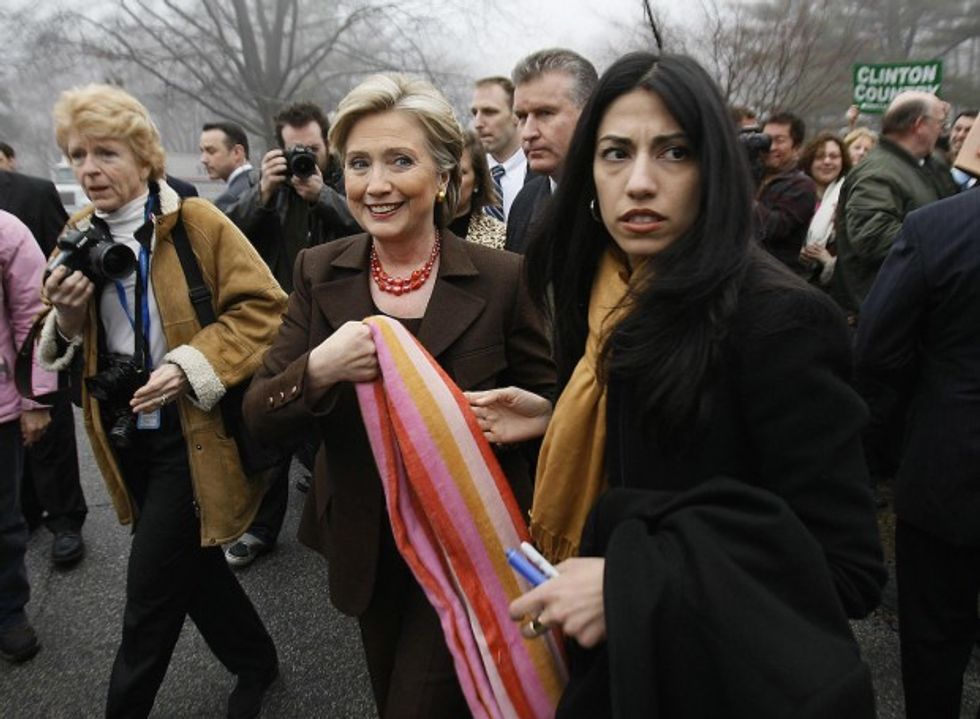 Democratic presidential hopeful US Senator Hillary Clinton (D-NY) walks to her car after voting in the Democratic primary election, on February 5, 2008 in Chappaqua, New York. At right is Huma Abedin, Clinton's traveling chief of staff. AFP PHOTO / ROBYN BECK
The Muslim Brotherhood—outlawed by various allies—continues to be embraced by the Obama administration. The United Kingdom recently issued a report citing membership in it as "a possible indicator of extremism." This should come as no surprise since the Brotherhood's secret plan to infiltrate and undermine Western governments, imposing Shariah Law, was discovered (by accident) in 2004. Despite knowledge of the plan today, many Western nations—including the U.S.—allow it operate unimpeded in fulfillment of this goal.
Yet a woman linked to the Muslim Brotherhood, by virtue of her close relationship to Hillary, has enjoyed direct access to top secret matters of state for years. Her name is Huma Abedin.
Abedin received a White House internship in 1996 to work for then first lady Clinton. A student at George Washington University at the time, she was assistant editor of a Muslim journal with links to the Muslim World League in Saudi Arabia—a group which had given funding to Osama bin Laden.
Abedin was also member of the Muslim Student Association—a front group for the Muslim Brotherhood. Her parents, sister and brother were all involved with Muslim Brotherhood affiliates as well—groups espousing terrorism, anti-American policies and anti-Semitism.
It remains unclear how much of this background information was disclosed to the U.S. government on the Standard Form 86 Abedin had to complete to join Hillary at the State Department. If so, it is unclear how anyone having such ties could have easily been vetted.
As one report documenting Abedin's Brotherhood ties concludes, this either means no vetting was done or she obtained a security clearance waiver.
In 2012, Congresswoman Michelle Bachmann (R-Minn.) and four other conservative lawmakers raised concerns the Muslim Brotherhood was penetrating U.S. government agencies, singling out Abedin. Political correctness advocates ostracized them for doing so.
It is clear, both with the Sullivan email exchange and the security clearance given Abedin despite her Brotherhood ties, when U.S. national security and Hillary's wants are at odds, the latter governs.
Elaine Fydrych's advice was right. But, should a majority of American voters choose to ignore it, she, fortunately, won't have to "suffer fools gladly."
–
TheBlaze contributor channel supports an open discourse on a range of views. The opinions expressed in this channel are solely those of each individual author.