Back in September 2005, a "cartoons crisis" took place as a result of the publication of 12 editorial cartoons in the Danish newspaper Jyllands-Posten. Such cartoons mostly depicted the Islamic Prophet Mohammed, which initially caused Muslim groups in Denmark to complain that their prophet be put up for open debate.
Riots spread through many countries.
Now, nine years later, the Parisian satirical weekly newspaper Charlie Hebdo has been the victim of Islam's terrorists, where 12 people were massacred in an attempt to muzzle free speech in the name of Allah and, this time, most specifically to defend the Prophet Mohammed.
Charlie Hebdo has been the victim of Islamic violence on various occassions. In 2011, its premises were set on fire. A year later, in 2012, the website was practically flooded with internet messages until it went down from overuse. Both incidents were in reaction to the publication of other Mohammed related cartoons.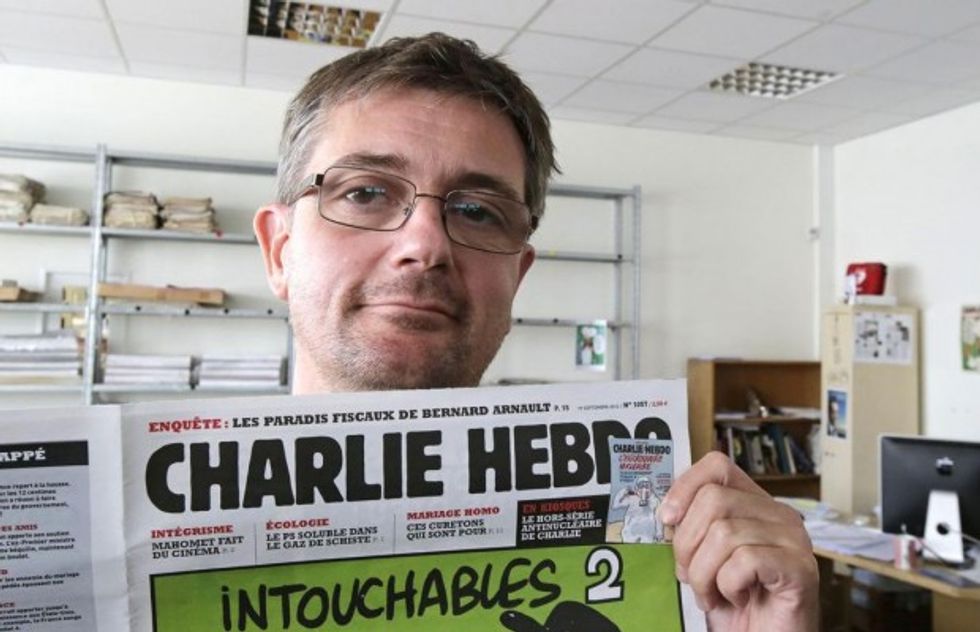 In this Sept.19, 2012 file photo, Stephane Charbonnier also known as Charb , the publishing director of the satyric weekly Charlie Hebdo, displays the front page of the newspaper as he poses for photographers in Paris. Masked gunmen shouting "Allahu akbar!" stormed the Paris offices of a satirical newspaper Wednesday Jan.7, 2015, killing 12 people including Charb, before escaping. It was France's deadliest terror attack in at least two decades. (AP Photo/Michel Euler, File)
Today, some of the leading and most revered French cartoonists have been massacred because they mocked Islam and refused to bow to threats from terrorists.
Islam's persecution of free-spirited and courageous journalists has been sustained. For instance, Stephane Charbonnier, among those murdered in Wednesday's attack, appeared in Al Qaeda's most wanted list in 2013 and had been under police protection since 2012. Where were they today?
That Al Qaeda list was published after Charlie Hebdo printed a cartoon booklet showing the Prophet Mohammed.
Upon entering the premises, the terrorists inquired for the name of each of the cartoonists who, coincidentally were at an editorial meeting, thus facilitating the killing of the most of them in the least possible time.
Once again, another Muslim terrorist operation planned with luxury of details and most likely with insider support. The ball is on the police camp now.
In Paris, the former Minister of the Interior, Charles Pasqua, declared that "The Islamist extremist threat is much worse than it was in 1995."
Indeed.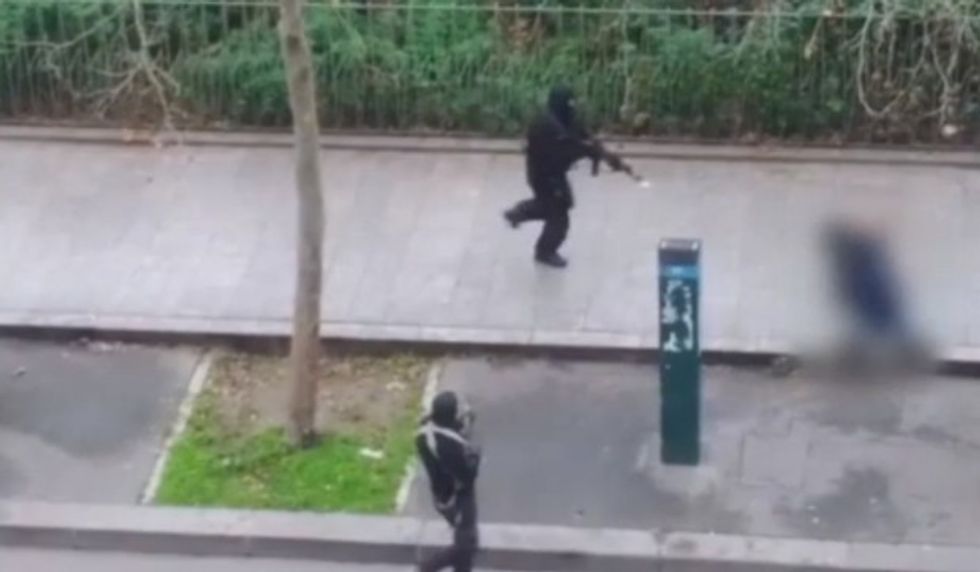 (Source: YouTube)
The French Prime Minister Manuel Valls has declared that: "They have aimed to the heart of France by targeting journalists and policemen."
Choosing to forget that it was his own party, the Socialist Party of France, who has facilitated Muslim immigration to his country, the prime minister promises the French people: "And our compatriots must know how much we are determined to protect them and that we will do everything to catch those individuals."
With no bad conscience, Prime Minister Valls also chooses to call "individuals" those who just massacred so much French talent and courage.
C'etaient des terroristes, Monsieur Valls, des terroristes Musulmanes. Those were terrorists, Monsieur Valls, Muslim terrorists.
On the other hand, former President Nicolas Sarkozy, feels that "French democracy is under attack." Unavoidably, one can but regret that it was precisely that democracy that allowed France to fall into the hands of their executioners.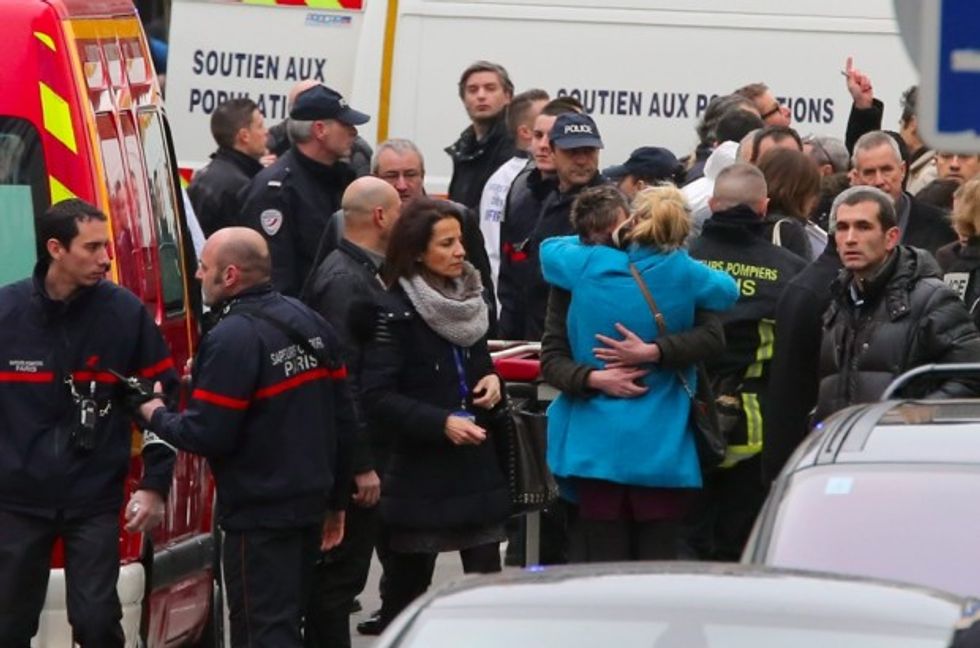 People hug each other outside the French satirical newspaper Charlie Hebdo's office, in Paris, Wednesday, Jan. 7, 2015. (Image source: AP/Remy de la Mauviniere)
The French President François Hollande, who immediately was at Charlie Hebdo, together with his Minister of Interior Bernard Cazeneuve, declared: "A barbaric attack has been perpetrated right at the heart of Paris, against journalists who always showed they could defend their ideas, and have this freedom that France protects."
Maybe the French government could have thought about that before giving carte blanche to their invited invaders who have nothing close to freedom in mind, especially when they will soon enough hold the majority in France.
It has been Marine Le Pen, president of the Front National, who has had the mildest comment of all for Agence France Press" "it is the time for compassion for the victims, journalists and policemen, their families, and the wounded in what we must say was a terrorist attack by Islamist fundamentalists."
A surprisingly accommodating Marine Le Pen.
"Soumission" ("Submission" in English,) is a recently published novel by French writer Michel Houellebecq whereby he imagines a France led by the head of a Muslim party. He explains, "it's no provocation but a view of how history will most likely unravel in France in the near future."
The well-known French philosopher, Alan Finkelkraut supports Houellebecq's position, "He is not allowing himself to be intimidated by political correctness; he has his eyes wide open. He presents a likelihood."
With the new twist of events, Islamists continue filling the earth with cult-like orgies of sacrifice, torture and rivers of blood.
Are Mohammed's terrorists aware of how their uncontrollable murderous behavior portrays their religion in the eyes of the world?
Hassan Chalghoumi - an imam of the Paris suburb of Drancy, visited the site of the attack at Charlie Hebdo headquarters. Of the attackers, he said: "Their prophet is Satan. There is no connection between the Islamic faith and this minority."
Really. This is a case of blindness by choice.
Salman Rushdie, the prize-winning British writer, former victim of Islamic fundamentalism has issued this statement:
Religion, a mediaeval form of unreason, when combined with modern weaponry becomes a real threat to our freedoms.

This religious totalitarianism has caused a deadly mutation in the heart of Islam and we see the tragic consequences in Paris today.

I stand with Charlie Hebdo, as we all must, to defend the art of satire, which has always been a force for liberty and against tyranny, dishonesty and stupidity.

'Respect for religion' has become a code phrase meaning 'fear of religion.' Religions, like all other ideas, deserve criticism, satire, and, yes, our fearless disrespect.
Hassan Chalghoumi is wrong. Rushdie is right.
After the terrorists massacred 12 French men, witnesses have reported them leaving while shouting "The Prophet has been avenged."
Prophet Mohammed, that is.
On the other hand, the French people, the direct heirs of the French revolutionaries, are now possibly awakening to a nightmare they never suspected would result from their liberal ideals which made them encourage and welcome with open arms those who are now finally showing their true faces and their real goals:
The proponents of Islam world domination, who will not stop until they will rule the world for Allah, with the illuminating teachings of their Prophet Mohammed and under the oppression of their sharia law.
Eliana Benador, contributor to TheBlaze, is a strategic and risk consultant, adviser, opinion writer who was the founder of Benador Associates. Her website is www.elianabenador.com. You may follow her at @ElianaBenador on Twitter, LinkedIn, Facebook.
–
TheBlaze contributor channel supports an open discourse on a range of views. The opinions expressed in this channel are solely those of each individual author.