Those who have eyes to see and ears to hear are fully aware of the radical left's all-out assault on morality. The senseless efforts to erase biological sex today are just the latest fad, but we have seen many other waves emanate from the same blindness of heart.
The celebration of abortion, sex outside of marriage, pornography, divorce, gratuitous violence, homosexuality, and plain old filthy language are just a few of the predecessors. There will be many other waves. Perhaps an effort to erase species is in sight.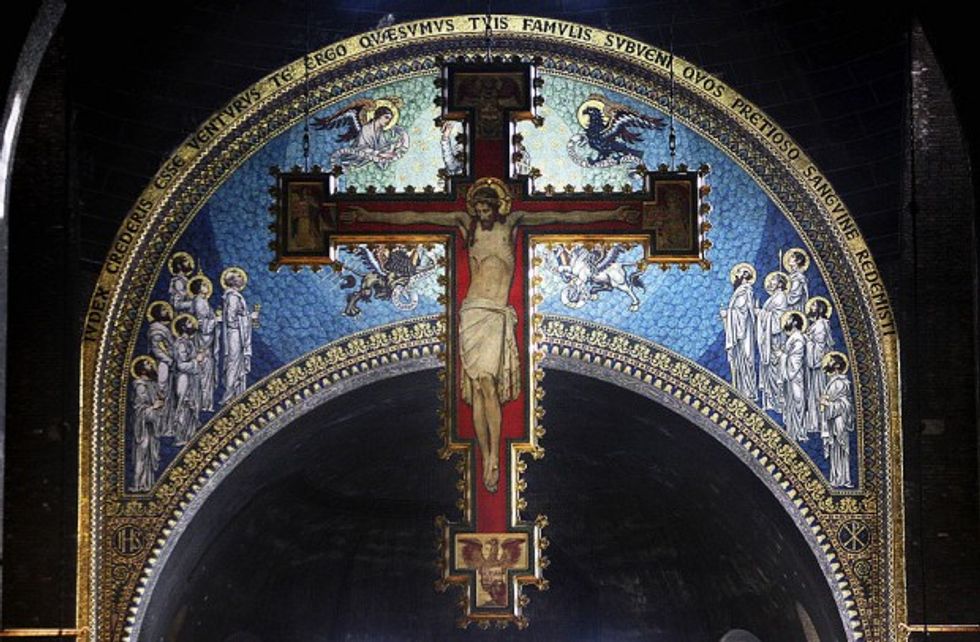 A cross with a painting of Jesus Christ hangs over the alter at Westminster Cathedral during Ash Wednesday mass on February 21, 2007 in London. (Photo by Peter Macdiarmid/Getty Images)
Whatever the case, these immoral efforts are simply man's rebellion against God. Not just any god, it is that God in whom we relied to establish this country as we sought to establish a free people. To declare our independence, we relied on the "Laws of Nature and of Nature's God." This is abominable to today's radical left. As far as they're concerned, there are no "laws of nature," we create our own laws. And in order to reject the laws of nature, they must reject the God of nature — our Creator.
It should be no surprise then to hear of outright hostility towards the Declaration of Independence. It affirms what they so desperately want to erase. As Fox News' Todd Starnes recently reported, Louisiana State Rep. Barbara Norton (D) recently objected to a bill introduced by Republican Rep. Valarie Hodges that simply required children to recite portions of the Declaration.
Norton lost it, Starnes reports.
"We're teaching them a lie," she declared. "When I think back in 1776 July 4th — African-Americans were slaves and for you to bring a bill to request that our children will recite the Declaration — I think it's a little bit unfair to us to ask those children to recite something that is not true."
Norton's hysterics exemplify what happens when we reject reality as the spirit of this age asks us to do. You fail to appreciate human nature and, therefore, show poor understanding and judgement.
When C.S. Lewis, the famous atheist-turned-Christian, explained how he came to faith, he said he finally understood two things: (1) there is a moral law, and (2) we do not follow it. This is so crucial for us. That's reality.
The radical left, like Norton, points to the fact that we do not follow the moral law as evidence that there is no moral law. The Founding Fathers owned slaves, so we can't recite that we believe "all men are created equal." What?
It's illogical and nonsensical, but we fall for it all the time. The left loves charges of hypocrisy because of it. Anytime a pastor is caught in adultery, he is paraded around as evidence that we should do away with the old Christian principles of fidelity and purity within the bonds of marriage. The divorce rate of Christian marriages was routinely recited in an effort to promote cohabitation and same-sex "marriage."
Always remember: there is a moral law and we don't follow it. Both statements are true and indispensable to the way we live and govern. When we fail to abide by God's moral principles, we don't negate the principle, we prove it. The negative consequences of our failure to abide by the loving counsel of our Lord are so profound, they are incalculable. The disastrous consequences of our Founders' failure to abide by the self-evident truth that we are all created equal, created in the image of God for good works, is still being felt by our nation. They knew better. They decided to suppress what was self-evident, and we are still paying the price.
We cannot ignore human nature because of human failures. We must fight human failures with Truth. Following that model would lead us to look to the laws of nature and of nature's God when confronted with the identity crisis many of our neighbors face. To ignore biological reality is to suppress the truth to live a lie that will only add to our sorrows.
Moreover, we choose to suffer in vain because we cannot continue to suppress the truth for long. We cannot erase God. As nature's seasons show us, we are but for a moment. Yet the Word of God - Truth - endures forever.
Mario Diaz, Esq. is Legal Counsel at Concerned Women for America, the nation's largest public policy women's organization. His book Be Spent: Winning the Fight for Freedom's Survival is available now at Amazon. Follow him @legalblurbblog
–
TheBlaze contributor channel supports an open discourse on a range of views. The opinions expressed in this channel are solely those of each individual author.