Now-disgraced comedian Bill Cosby had a hilarious routine about being a parent:
"And that's another thing, they [mothers] ask you a question, you try and answer, and they tell you to shut up!" he'd say.
Cosby, voicing the proverbial mother, rants: "day and night, night and day I work my fingers to the bone—for what?"
Child: "I don't kn…"
Mother: "SHUT UP! And when I ask you a question you keep your trap SHUT. You think I'm talking to hear myself talk? ANSWER ME!"
Child: "uhhh…"
I'll get back to Cosby in a moment. (There's a point, I promise. There always is.)
Vox.com ran a story this week about a Pew Research Center report that finds "67 percent of white social media users don't post about race." The article continues, "there's an ongoing conversation about race and racism on social media — but white people are missing most of it."
I bristled a bit at that last part. And here's why.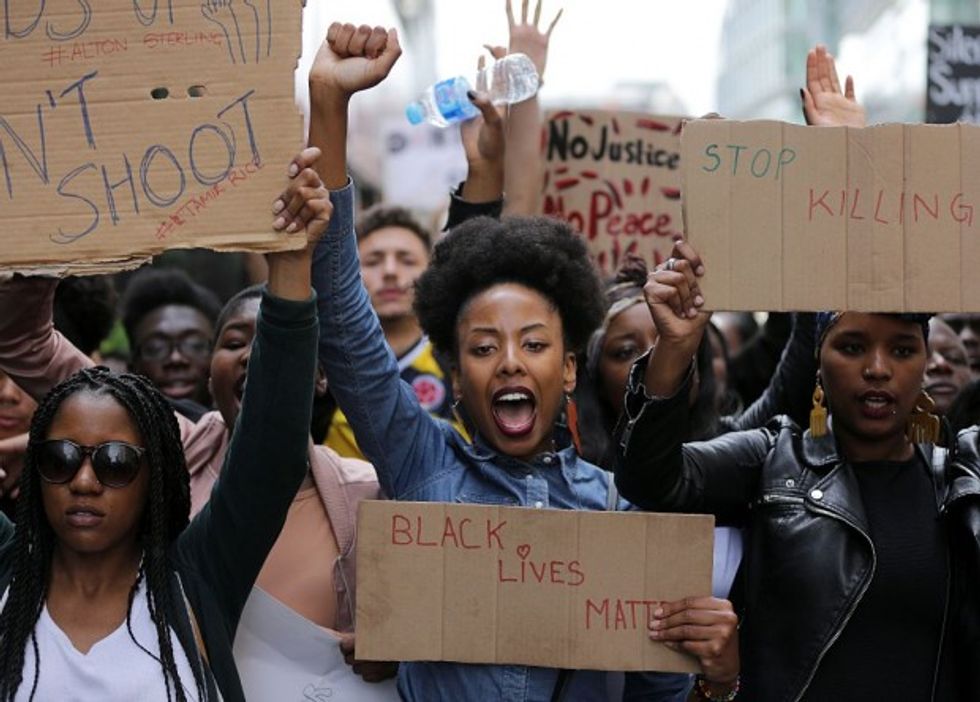 Photo by DANIEL LEAL-OLIVAS/AFP/Getty Images
As a nation, we're in a tinderbox of a place right now when it comes to race relations. And frankly, you'd have to be living under a rock in northern Siberia to be "missing" the conversation—but nevertheless, I kept reading the piece.
"Not everyone is choosing animal videos and vacation pictures over commentary about race and racism," the author writes, going on to say that black people are decidedly more active on social media when it comes to discussion about race (and in turn insinuating that all we tend to do in the white community is blithely and obliviously posting the fluff of our so-called white privileged lives.)
People aren't turned off from posting about race just because it—like politics and religion—is a hot button. According to this study, it's a person's own race (and resulting friendships) that determines whether or not they do.
As white people scroll through their social media feeds, they're purportedly seeing precious little of the "important debates, analysis, and awareness-raising content" that our present racial schism has brought to bear in this country, as compared to black people who scroll through and find posts from other black friends, and so on.
Funny that the study assumes the white community isn't connected to media outlets on our social media feeds (or has no black friends or family for that matter); apparently it's assumed that we get updates on our current events exclusively by those who make up our pools of friends, which—as the article insinuates—would be largely white anyway, and the circle continues.
But I've digressed.
The article concludes with commentary from people like Whitney Dow, who says that "white people think race is something outside themselves, and they don't consider themselves a race."
(I better hurry find out what it is I consider myself. Here this whole time I've been marking "white" under race.)
For the record, Dow is behind "The Whiteness Project," a pilot series that will "feature white people talking about how they feel about their 'ethnicity.'"
So let's get this straight: white people are slammed for not participating more in the social media debate on race, and they're told they're missing a critical opportunity to absorb the aforementioned "important debates, analysis, and awareness-raising content," but in the same breath, they've already been pre-categorized as either unknowingly privileged, or all-out racist.
Tell me, who among you purportedly race-less (white) readers wants to raise their hand and shout "sign me up!" for that one?
Let's get back to the Cosby illustration for a moment. Remember how Cosby laughed about the times his mother would demand an answer from him and then immediately tell him to "shut up"?
Newsflash: that's exactly why white people don't participate as often in conversations about race on social media. We're simply not allowed. We get screamed at to do it, and then screamed at to shut up. Believe me, I know—every time I've ventured into this territory, the proverbial bashing begins:
"You have no right to talk about this—you have no idea what it's like."
"You're so blinded by your privilege, you can't see past your own worldview.
"You're lying through your teeth if you say color doesn't matter to you."
Oh, and my personal favorite: "You think you can talk about race and immigration just because you f*** a Mexican."
(For you newer readers out there, I'm happily married to a Mexican immigrant, which apparently I did for the privilege of being able to talk about race. But I've again digressed.)
Is it really that hard to understand why it is more white people don't engage in conversations about race on social media? Let me tell you—I see that stuff come up on my feed all the time, and (paraphrasing "You're A Mean One, Mr. Grinch,") I won't touch that with a thirty-nine-and-a-half foot pole.
What's the point? I'm going to be told I don't understand, have no right, and must learn to deal with my innate racism.
I've had candid conversations about race, and I will anytime I'm allowed to. The problem is, I'm often not. What's more, social media is not, nor ever will be a good place to have a real solid conversation on anything substantive, much less race in this tinderbox environment.
And as long as vast swathes of this country are convinced that white people aren't actually able to have a serious, factual, intelligent conversation about race, I'm not going to knock anyone for staying the heck out of it all.
Mary Ramirez is a full-time writer, creator of www.afuturefree.com(a political commentary blog), and contributor to The Chris Salcedo Show (TheBlaze Radio Network, Saturday, from noon to 3 p.m. ET). She can be reached at: afuturefree@aol.com; or on Twitter: @AFutureFree
–
TheBlaze contributor channel supports an open discourse on a range of views. The opinions expressed in this channel are solely those of each individual author.