We have much worse proof of the damage their philosophy does, much closer to home. And there's no need for debate.
Democrats and their liberal policies have controlled Chicago and Detroit for over half a century. A Republican on the streets of Chicago or Detroit is just a silly rumor. A Republican politician in charge of Chicago or Detroit is the punchline of a joke. Because in real life it has never happened.
Those two cities have been run by nothing but Democrats, and many of them black Democrats for forever.
Republicans can never be blamed for Chicago or Detroit. Everything that happened is on Democrat politicians with views and policies exactly like Obama and Hillary. The results of Chicago and Detroit are all about Democrat policies like big government, big taxes, big spending, big welfare, loads of government employees and of course "Black Lives Matter."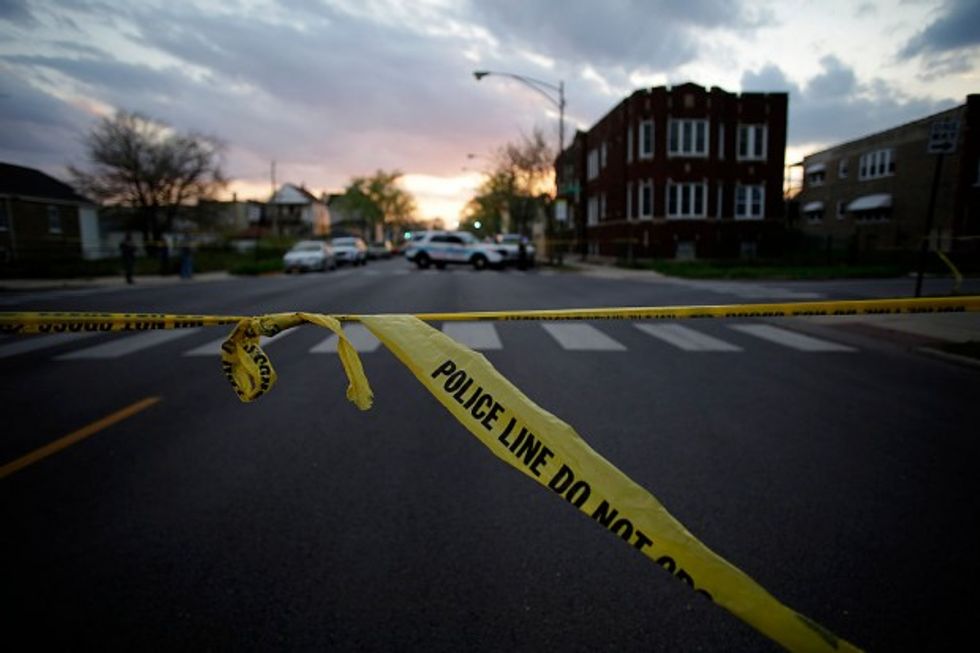 (Photo by Joshua Lott/Getty Images)
But Chicago isn't just about Obama's ideas in life. Chicago really happened on Obama's watch. That's his hometown. He knows every politician on a first name basis who has held power in Chicago for decades. Those are his Democrat buddies. Those are his soulmates.
But it's not just liberal policies that have destroyed Obama's Chicago. It's the strictest gun control laws in the country.
The result? Black genocide of epic proportions.
Chicago is spiraling out of control. Blacks are killing blacks in numbers impossible to even imagine - in the city with the strictest gun control laws in America. Obama wants to disarm all the rest of us - the same way he and his fellow liberals have disarmed the good, law-abiding black citizens of Chicago. He wants to leave us as defenseless sitting ducks, just as he's left his black constituents in Chicago.
What a fine job Democrats have done. We all know about the massive debt, violence, poverty and hopelessness in Chicago and Detroit. Detroit has already been officially declared bankrupt. The street lights are out. The abandoned buildings are everywhere. Homes sell at auction for $1. All that massive spending on welfare and social services by black Democrats, for black Democrats, has left a city in ruins. A bankrupt hell hole that looks like a third world Middle Eastern war zone in the middle of America.
But Chicago is in even worse shape - the state of Illinois (which is mostly Chicago and Cook County) owes over $200 billion in pension debt just for government employees. TWO HUNDRED BILLION.
But you need to hear about the violence spinning out of control in Chicago. It's mind-numbing. It's black genocide.
All of this despite gun laws so strict, handguns have been banned for decades and not a single gun shop exists in the city. Even the liberal New York Times admitted recently that the strictest gun laws in the nation are not preventing any gun violence in Chicago.
This leads me to ask a few simple questions.
Why would anyone want gun control?
Why would anyone want the same Democrat politicians and liberal policies that led to the twin disasters of Chicago and Detroit to run the entire America?
With the first black president in office for almost a decade now, shouldn't the lives of blacks be better?
If Obama has improved their lives, why would they be killing each other in record numbers?
Where are the "Black Lives Matter" protestors when 110 blacks are shot by 110 blacks in one week?
Are they busy burning down Milwaukee because one black criminal, with a gun, was shot by a black police officer?
What has eight years of a black president done for blacks in Chicago? Or anywhere else?
Why would anyone vote for Hillary, when she promises to be a third term of Obama?
Why wouldn't the same liberal policies that turned Chicago and Detroit into third-world hell holes turn America into a third-world country?
Why indeed.
So forget about whether Obama and Hillary's policies created Islamic - although it's clear they did. It's time to start worrying about Chicago and Detroit - the real twin monsters created by Obama and Hillary.
Don't believe me? Ask the 110 people shot in the streets of Chicago in the past week.
Wayne Allyn Root is a Capitalist Evangelist, serial entrepreneur, conservative national media commentator, and proud champion of the middle class. He is a former Libertarian vice presidential nominee, now back to the GOP. Wayne's latest book will be released on August 23rd, "ANGRY WHITE MALE." He is a supporter of Donald Trump's presidential campaign.
For more, visit his website: www.ROOTforAmerica.com. Follow him on Twitter@WayneRoot.
–
TheBlaze contributor channel supports an open discourse on a range of views. The opinions expressed in this channel are solely those of each individual author.