During the 2008 presidential election, then-Sen. Barack Obama focused his campaign on stabilizing the economy and introducing his signature healthcare reform bill.
Secondary to that, he ran as a racial healer to create a post-racial America. Finally, after 230 years, we elected our first African American president. Race seemed to be a thing of the past.
Over the past week, America has been rocked by the tragic deaths of two young African Americans who were shot and killed by police, followed by massive anti-police protests where 13 officers were shot, with five killed in Dallas, Texas.
In the same week, several other instances of anti-cop violence occurred in Georgia, Tennessee, and Missouri left many others injured. At a time when we are supposed to be living in a post-racial America, racial tensions have only deepened.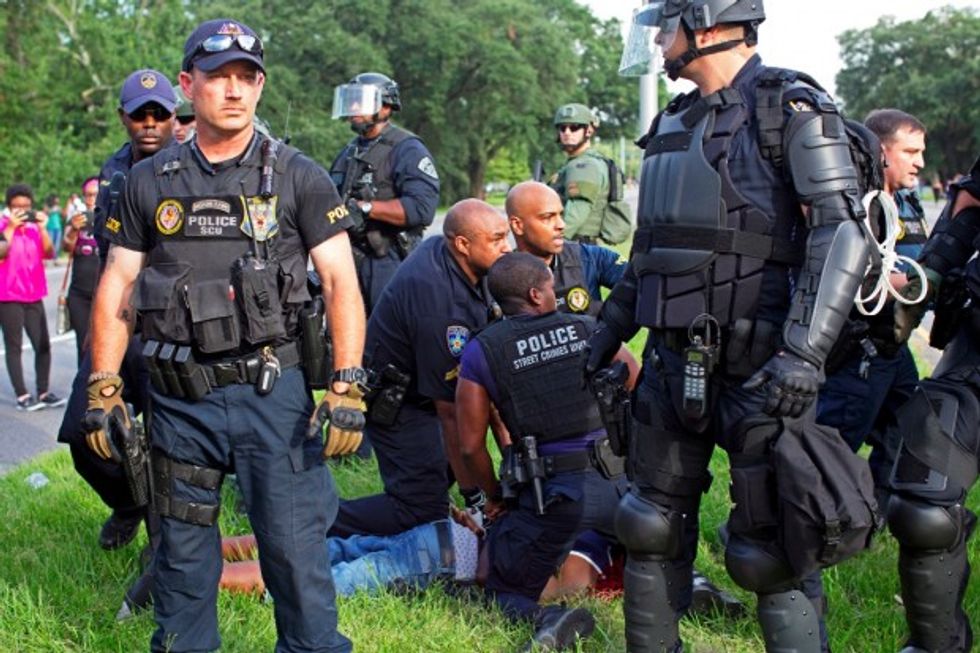 Police arrest a protester in front of the Baton Rouge Police Department headquarters after police attempted to clear protesters from the street in Baton Rouge, La., Saturday, July 9, 2016. Several protesters were arrested. (AP Photo/Max Becherer)
This all started with the Michael Brown shooting in Ferguson, Missouri in August 2014.
Witnesses claimed Michael Brown had his hands up and was begging Officer Darren Wilson not to kill him, but that Wilson shot him anyway. This was a lie, proven by Obama's Department of Justice. At no point did Michael Brown have his hands up. He was physically assaulting Officer Wilson and trying to take the officer's gun.
Nevertheless, this didn't stop the media from continuing to spread the lie.
At a time of crisis, instead of bringing us together, President Obama and the media have been culpable in tearing us apart. Every police shooting of an African American gets broadcasted on every major news network, and every race monger, from Jesse Jackson to Al Sharpton, appears on the network and sensationalizes the story to fit a particular narrative before any details are even released. Like clockwork, before any investigation is complete, President Obama gives a broad, counterproductive speech that generalizes law enforcement departments nationwide.
Following the deaths of Alton Sterling and Philando Castile, President Obama gave a late-night speech on the shooting. While the videos posted online were horrific, the sitting president of the United States should not comment on an ongoing investigation in which he himself said he "could not comment on the specific facts of the case."
Yet, he was able to declare that, "These are not isolated incidents. They are symptomatic of a broader set of racial disparities that exist in our criminal justice system."
During the speech, President Obama suggested that there is an epidemic of police shootings of African Americans. However, a study from Washington State University showed that police actually took longer to pull the trigger against armed African Americans than against armed Hispanics and whites. Furthermore, a recent Harvard study showed that while there is a bias in police use of force against African Americans, there is no racial bias in shootings.
Rather than letting the justice system punish police officers if the jury deems them guilty, Black Lives Matter activists have proclaimed that there is a genocide happening against African Americans; have chanted that they want "dead cops;" and further fueled the racial divide.
The same day as President Obama's speech, Black Lives Matter activist Micah Johnson decided to target police officers in Dallas as they protected protesters during a anti-police rally. Johnson shot a total of 13 officers, murdering five of them. Never mind that the Dallas police department has made great reforms that curbed excessive force and reduced officer-involved shootings. Rather than use Dallas Police as a positive example and promote positive reforms like expanding the use of body cameras and abolishing police unions that protect abusive cops, President Obama, the media, and the Black Lives Matter movement have been spreading nationwide generalizations for the actions of a few bad officers.
Like former President George W. Bush said at the memorial for the Dallas police officers, "Too often, we judge other groups by their worst examples; too often we judge ourselves by our best intentions."
At a time when we are supposed to be living in a post-racial America, we cannot be further divided. The 1960s are calling, they want their race war back.
Michael Basin is a student at Keck School of Medicine. Email: basin_michael@yahoo.com. Twitter: @Basinator.
–
TheBlaze contributor channel supports an open discourse on a range of views. The opinions expressed in this channel are solely those of each individual author.