Even the clueless Republican establishment is now realizing former Florida Gov. Jeb Bush has about the same odds of winning the GOP presidential nomination as Nancy Pelosi: zero, zilch, nada.
Instead of dying on the preverbal Jeb Bush Hill, establishment Republicans are now pining for an oldie-but-goodie candidate to fill Bush's shoes: the 2012 nominee Mitt Romney.
In a report by New Yorkmagazine's Gabriel Sherman on Tuesday, Sherman relayed several quotes from top Republican insiders, all former Romney supporters, who indicated that there is a growing interest in getting Romney back into the race. The sources cited several concerns, including that Bush has not gone "all-in" in New Hampshire. Sherman also reported many of the big donors who contributed to Romney are still waiting to throw their support to a candidate, and their allegiance to Romney is likely stronger than to anyone else.
 In this March 15, 2013 file photo, former Massachusetts Gov., and 2012 Republican presidential candidate, Mitt Romney pauses while speaking at the 40th annual Conservative Political Action Conference in National Harbor, Md. AP Photo/Jacquelyn Martin
The real reason so many Romney and GOP insiders want Romney back in has everything to do with Donald Trump and very little to do with Bush's political strategy, which didn't seem to be a problem for the establishment prior to Bush's poll numbers collapsing after the first GOP presidential debate.
Since July, Bush's Real Clear Politics average level of support has plummeted from 17 percent to under 10 percent (and it's still falling). Meanwhile, Trump's support has skyrocketed from about 4 percent in June to becoming the current runaway favorite, garnering support from roughly 25 percent of Republicans.
The shift is due to a variety of factors, but one of the most significant is clearly Trump's all-out assault on Bush. Trump has absolutely lambasted Bush over the past few months—so much so in fact that it has forced Bush to meander out of his "nice guy" shell to hurl some real bombs at the Trump camp, such as releasing a Facebook ad campaign that suggests Trump is a germophobe. I'm sure Trump is still shaking in his $2,000 loafers over that one.
Sherman reports Trump's bullying has really upset Romney, according to those close to him, and some say this may be a sign Romney is reconsidering another run, although there is no hard evidence that's the case.
Although it's unlikely Romney will enter the 2016 race, this report shows the Bush-loving establishment and many big-money donors are still holding out for a better anti-Trump candidate to emerge.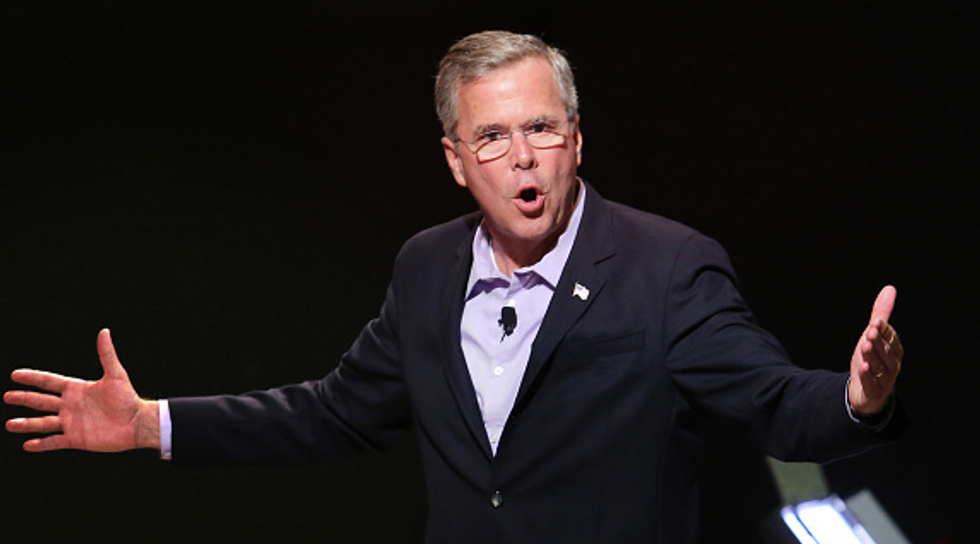 2016 Republican presidential candidate Jeb Bush addresses central Florida pastors at a meet-and-greet hosted by the Centro Internacional de la Familia church in Orlando, Fla., on Monday, July 27, 2015. (Joe Burbank/Orlando Sentinel/TNS via Getty Images)
Jeb just isn't cutting it. If he was, the big donors and Romney supporters would have already thrown their support his way. So if Bush can't even get his base on-board, who will the establishment back as we move closer to Iowa and New Hampshire?
It's unlikely someone like Chris Christie will fit the bill (his numbers have been in the tank forever and deservedly so), and it's even more unlikely staunch conservatives such as Ben Carson and Sen. Ted Cruz (R-Tex.), as well as libertarian-leaning Sen. Rand Paul (R-Ky.) could win over the establishment since all three candidates depend heavily on the anti-establishment vote.
So if Bush, Christie, Carson, Cruz, and Paul are all out, the only realistic options left are Wisconsin Gov. Scott Walker (R) and Sen. Marco Rubio (R-Fla.).
Both are much more conservative than Bush, but the establishment would almost certainly prefer either over the other candidates mentioned. Performance in the upcoming presidential debates could determine who will benefit from the potential Bush fallout, which, let's be honest, doesn't bode well for Walker.
This, of course, is all predicated on the idea Bush won't turn things around. I think we'll know after the next presidential debate whether there is any hope for Bush, but if his poll numbers continue to slide, especially in places like New Hampshire, the GOP establishment will likely pull the emergency parachute and choose to go with Rubio or Walker—or anyone, for that matter, whose last name doesn't rhyme with "grump."
–
TheBlaze contributor channel supports an open discourse on a range of views. The opinions expressed in this channel are solely those of each individual author.