I've never been more embarrassed than I was while watching this past weekend's GOP debate in South Carolina.
GOP presidential candidates raising their voices and intentionally speaking over each other. One candidate implying another candidate wasn't "Hispanic enough" because he didn't speak Spanish, ending up with egg on his face when the candidate began to speak fluent Spanish. Another candidate, for what seems like the 100th time, sarcastically thanked the moderator for including him in the debate. I could go on but why?
Is this really the model that we want to use to show the world what they should strive to be? What happened to the shining "City upon a Hill" of which former President Ronald Reagan so often quoted from the parable of Salt and Light when he referred to America? Am I the only one feeling disheartened by the belief that we are losing, if not, have already lost our way?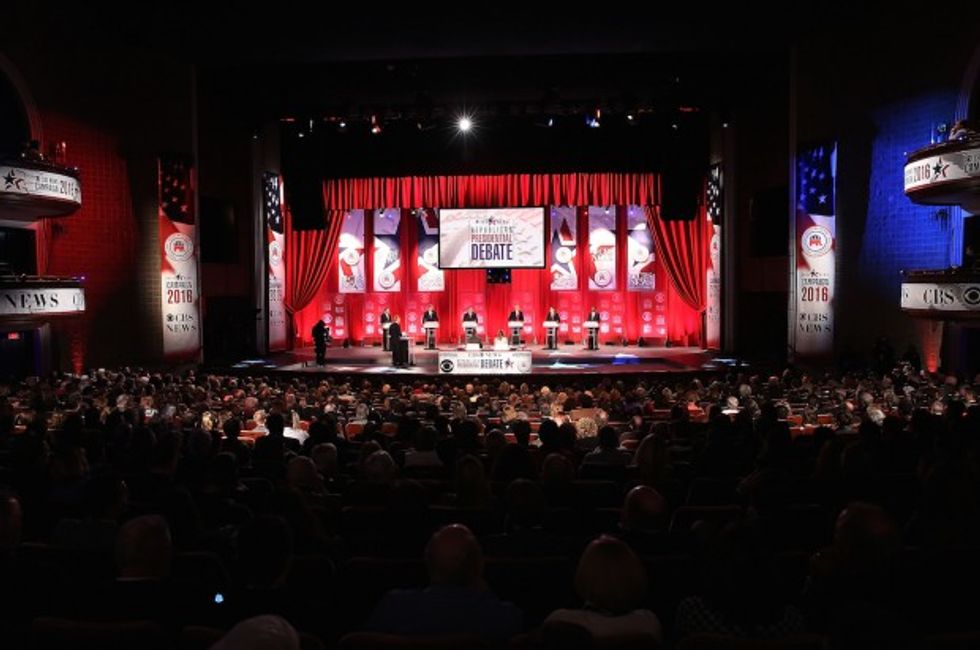 Republican presidential candidates (L-R) Ohio Governor John Kasich, Jeb Bush, Sen. Ted Cruz (R-TX), Donald Trump, Sen. Marco Rubio (R-FL) and Ben Carson participate in a CBS News GOP Debate February 13, 2016 at the Peace Center in Greenville, South Carolina. Residents of South Carolina will vote for the Republican candidate at the primary on February 20. (Photo by Spencer Platt/Getty Images)
I can just picture my parents and my grandparents, if they were still alive, mourning the loss of a truly great nation that seems to be slipping away more rapidly each day.
This election cycle has truly highlighted the fact that not only is our country at risk because of how we are representing it but our U.S. Constitution is also at great risk of being forgotten.
I have had many discussions with conservatives over the importance of protecting the principles of our Constitution and the requirement to abide by it only to be told that America needs a strong leader to come in and do whatever is necessary even if the Constitution isn't followed temporarily. There is no "temporary" when it comes to the Constitution. It is either upheld or we no longer have a Republic.
We have accused President Barack Obama of ignoring the Constitution for the past eight years. We have also seen Congress fail to uphold the laws of the Constitution in many cases.
I believe since our leadership has abused principles of the Constitution by ignoring its laws, many Americans have lost faith in the "system." They are now seeking retribution for liberal left progressive policies that have been passed because of the failure of the Obama administration and Congress to follow the laws that our Founders enacted.
Are we now just becoming like those on the far left whose principles we say we despise? The far left doesn't believe in the Constitution. Are we now saying that it doesn't matter to us either and that we are willing to risk the loss of the Republic and our freedoms?
We are certainly living in very scary times. It's an overused cliché these days but I believe it adequately describes where we find ourselves with this election and the way I see conservatives treating each other as a result of our difference of opinion regarding which GOP candidate should eventually lead our country.
Try going on social media or writing an article that dare mentions or questions another person's favorite GOP presidential candidate and you'll find yourself being called names or even threatened. I've never seen anything like it. Apparently, being able to openly speak your mind or have an opinion is now prohibited. You must remain silent or go along with whoever claims to have the majority opinion if you want to express a point of view.
And what about other aspects in this country that mark the decay of civility?
Justice Antonin Scalia passed away unexpectedly over the weekend while away on a hunting trip. He was 79 years old. Almost immediately after his passing was announced, mainstream media dove right into speculating if Obama would nominate another Supreme Court Justice and who it might be.
And, without wasting any time, a dressed-down Obama came to the podium in order to officially announce that Scalia had died and to offer his condolences to the family. I listened to Obama's prepared speech and saw no emotion. In fact, he could have just as easily been reading from a grocery list.
Obama also wasted no time in stating that he would be nominating someone to the high court, claimed it wasn't the right time to talk about it and concluded but not before sending a message to the U.S. Senate that he expected them to confirm his nominee. If you are the family of the late Scalia, is this what you want to hear your president speak about when your loved one has "just" passed away?
Without skipping a beat, those on the left showed their lack of respect for life and civility by posting hate-filled messages on Twitter about the passing of Scalia while those on the right objected.
The posts from those on the left were truly examples of a low moment in our country regardless of how anyone felt about the decisions of this man often called "the most influential justice of the last quarter-century."
Judge Anthony Scalia died today so that progress could live

— Mike Lawrence (@TheMikeLawrence) February 13, 2016
His verified checkmark will not be removed. #Scalia#JeSuisMilopic.twitter.com/p1qCUsTp6X

— Audit The Media (@AuditTheMedia) February 14, 2016
A justice with an opinion isn't evil. Reveling in the death of someone whose opinion you disagree with is evil. #Scalia

— Timothy Salters (@thealtofsalt) February 14, 2016
Yes Liberals keep telling me how #Scalia was full of hate as you celebrate his death.

— Markeece Young (@YoungBLKRepub) February 14, 2016
Where do we go from here to return civility to our culture and to our nation? Do we?
Perhaps it no longer matters how we treat people as long as we feel good and as long as we win. Perhaps it's no longer about the wisdom of our Founding Fathers nor the wisdom of generations of Americans that came before us. Rather, maybe now it is all about the whim, what we want and our own immediate satisfaction that counts.
Conceivably our country is becoming 140 characters hiding behind made-up profile names and pictures instead of real individuals who love their country and the people within it. It's about presidential candidates winning at all costs and leadership that has forgotten who they serve. It is a trend that I hope reverses itself before it is too late.
–
TheBlaze contributor channel supports an open discourse on a range of views. The opinions expressed in this channel are solely those of each individual author.