**The following is an in-depth review of "The Finest Hours" and does contain spoilers.**
"Hail, Caesar" - the new film by co-directors Joel and Ethan Coen - paints a wonderfully romantic picture of the Old Hollywood system, but it offers little in the way of substance apart from Communist apologetics.
The story centers around Josh Brolin, who plays Eddie Mannix, a Hollywood fixer whose job it is to make various problems "go away." One of the many problems Mannix is tasked with fixing during the course of the film is the mysterious abduction of a Hollywood A-lister played by George Clooney.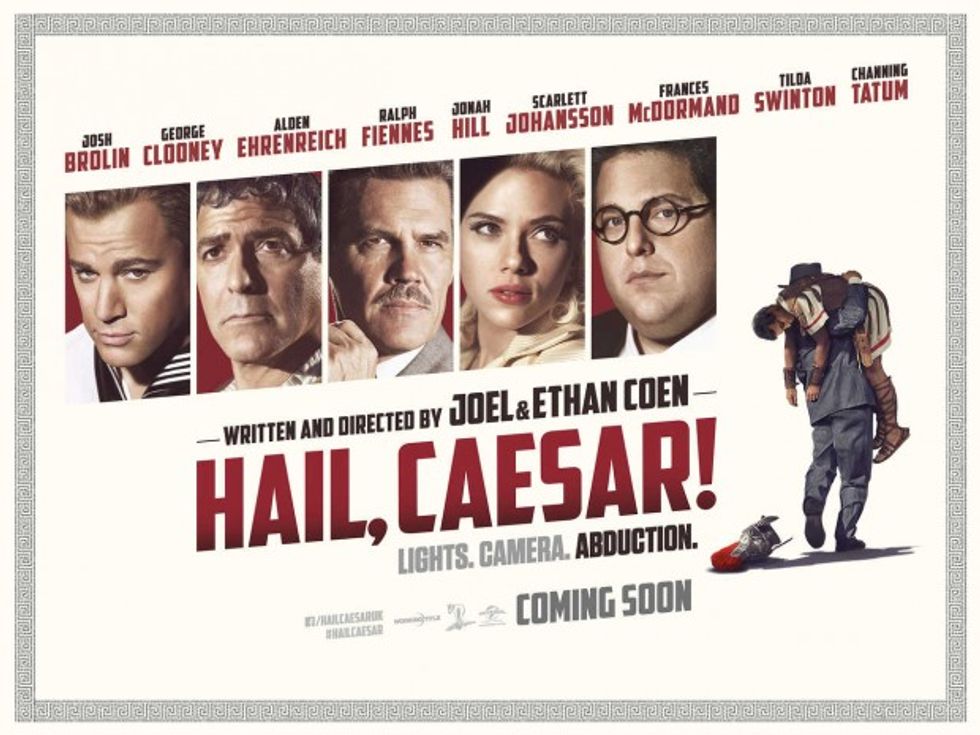 IMDB
George Clooney's character, Baird Whitlock, was actually kidnapped by a group of communist screenwriters who feel as though the studio cheated them out of revenue from the films they wrote. This is a view still held in the heavily unionized industry. The film, however, brings straight communist talking points into the issue, specifically stating that just because the studios have the means of production, it doesn't entitle them to profit off of the writers' work.
While Clooney is in the custody of the communist kidnappers, Mannix is back in Hollywood cleaning up various problems of various stars. This is mostly where the "all-star" cast the movie boasts comes into play. Most of the big names in this film are mere cameos and only have minutes of screen time.
"Hail, Caesar" is meant to play like a screwball comedy, but very little of it is actually funny. Most of the jokes are more groan-inspiring than anything else.
Channing Tatum plays a Gene Kelly-esque dancing star of musical films. Tatum himself handles the tap dancing scene extremely well and that was probably the most enjoyable and most memorable scene in the entire film. Tatum's character has much more in common with Kelly than just dancing, as he is a communist sympathizer who masterminded the abduction of Whitlock, and who actually defects to the Soviet Union once the ransom on Whitlock is paid.
While it has long been speculated that Kelly was himself a communist sympathizer, who escaped blacklisting because of his star power, he actually wasn't. He was, however, manipulated by the communists of the time and tricked into supporting their causes, even finding himself in an anti-Truman communist campaign group at one point.
The manipulation of Gene Kelly - and other progressive Democrats of the time, like Humphrey Bogart - is sort of played out in the film with George Clooney's character, although it comes off much more like seduction to the cause than actual trickery, which was what the real Hollywood communists used to gain supporters. Whitlock even returns to Hollywood after the ordeal spouting the communist ideals he was indoctrinated with during his abduction.
The film is very much a love letter to classic Hollywood, and that is very welcome to anyone who grew up watching old movies on AMC or Turner Classic Movies - or anyone who is old enough to remember when those films were new - but even that was done better in other films. "Hollywoodland" - another film that features Eddie Mannix as a character - paints a much more realistic and less satirized picture of the Old Hollywood system, for example.
If you enjoy strange movies with incoherent plots that run all over the place and over-the-top performances mixed with a sermon on the glory of communism, then maybe "Hail, Caesar" is for you. Otherwise, it's probably best to be avoided.
–
TheBlaze contributor channel supports an open discourse on a range of views. The opinions expressed in this channel are solely those of each individual author.