Before I reveal the perfect place to send the Syrian refugees if they must come to President Barack Obama's America (hint... a sort of modern day Ellis Island), let's start by explaining why we should not accept one single Syrian or Middle Eastern Muslim refugee. There are two simple reasons.
Reason No. 1: Danger and Death
Do you love your children? I know I love mine. I have four beautiful, handsome, brilliant, perfect children. I would never put them in harm's way. Think about your children for a minute. Would you ever allow them to face danger or death, even if the odds were low?
Now imagine going trick-or-treating on Halloween with your kids. Imagine a neighbor offering a basket of candies and telling you up front that out of 100 candies in the basket, there are two that are laced with poison. That means 98 candies are delicious and safe for your children. But two will result in gagging, burning and then a horrible death.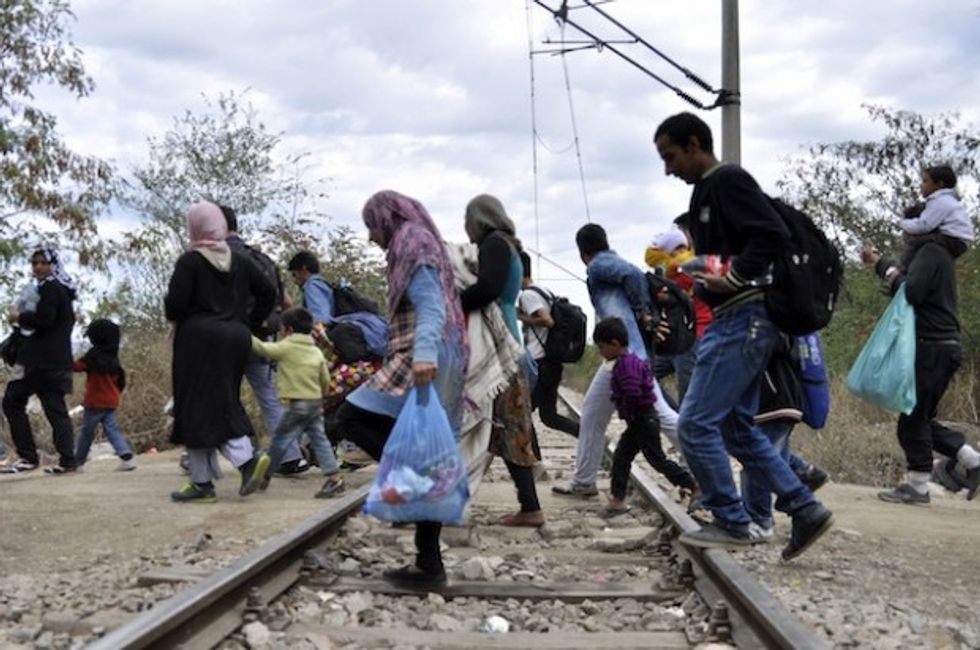 People pass railway tracks as they approach the southern Macedonian town of Gevgelija,Tuesday, Sept. 8, 2015. Hundred of thousands migrants and refugees trying to reach the heart of Europe via Turkey, Greece, the Balkans and Hungary have faced dangers, difficulties and delays on every link of the journey. (AP Photo/Borce Popovski)
Would you let your precious children reach into the basket? Anyone who would is insane, or a reckless gambler I wouldn't want to make decisions for my children or my country.
That is the exact reason we cannot allow any Syrian refugees into the United States: 98 out of every 100 may be nice people, but we already know for a fact that many Muslims from war zones are not so nice. Ask the people of France.
And what if the one or two bad apples damages or destroys the entire U.S. economy by blowing up another giant symbol of America like the World Trade Center?
What if a few bad apples blow up a Las Vegas casino and badly damage the business of the convention and tourist capital of America? What if thousands of jobs are lost?
What if a few bad apples carry out a coordinated attack on airports across the U.S. and airline traffic drops by 70 percent?
What if a few bad apples walk into a popular shopping mall and kills and tortures 100 people - just like in Kenya.
What if a few bad apples carrying automatic weapons walk into a crowded New York theater and murders 100 people who are sitting ducks - just like Paris.
What if a few bad apples kill over 100 students at one U.S. college - just like Kenya?
What if just a few "lone wolf" attacks coordinated on Thanksgiving week across the U.S. results in plunging retail sales for Christmas shopping season? What if the entire country is plunged into depression? What if a million Americans lose their jobs as a direct result?
Still willing to take that gamble? I didn't think so.
Reason No. 2: America is Broke
The other reason liberals give for wanting to take in thousands of Syrian refugees is "It's the right thing to do" and "America has always welcomed immigrants."
How foolish. Liberals are committing fraud by appealing to your heart, instead of your brain.
AP Photo
They are leaving out the fact that everything has changed. America used to be prosperous. Now we have over 92 million working-age Americans not working.
And 107 million Americans on welfare or other government entitlements.
And we have almost $19 trillion in debt.
You also can't compare today to the early 1900's. Because back then there was no welfare, Social Security, Medicare, disability or food stamps. Immigrants came to America to work. Today we are a welfare state. People come here to take advantage of us.
Today we can't afford to take in thousands of unskilled, uneducated, hopelessly poor refugees who will require billions of dollars in assistance from day one. Where is the money coming from? YOU.
Can you afford it? I didn't think so.
The cost to fund Obama's refugee plan: $55 billion; yes with a "B."
For a country with over $18 trillion in debt. But that's just his guesstimate. All government guesstimates are low. Ridiculously low. In 1965 our government estimated Medicare would cost $9 billion per year by 1990. The actual cost by 1990 was $67 billion.
How about long term costs? It's a fact, provided by Obama's own government, that 91 percent of recent Muslim immigrants are on food stamps; 73 percent receive Medicaid; and just under 70 percent are on cash welfare.
So stop playing on my heartstrings. Just tell the truth. Letting Syrian immigrants in will overwhelm our economy and tip our country into bankruptcy. There will be no choice, but to dramatically raise taxes.
Are you willing to live in a smaller home, drive a smaller car, buy less presents for your kids at Christmas, go without a few meals, change from steak to McDonalds ... all so foreigners who hate us, our culture and our Judeo-Christian values, can move here, threaten our children's lives and live on welfare and food stamps forever? Nice picture, huh?
So my strong conclusion is that we stop now and ban re-settlement of any Syrian or Middle Eastern Muslim refugees. Period.
But Obama and his socialist cabal will never listen to reason. So let's test their resolve.
I propose turning Hawaii into a modern day Ellis Island. Send all the Syrian refugees to Hawaii. Every single one of them.
President Barack Obama, right, with White House aide Mike Brush at back left, walks away from the 18th hole while playing golf with Malaysian Prime Minister Najib Razak and White House aide Joe Paulsen, Wednesday, Dec. 24, 2014, at Marine Corps Base Hawaii's Kaneohe Klipper Golf Course in Kaneohe, Hawaii during the Obama family vacation. (AP Photo/Jacquelyn Martin)
Hawaii is Obama's home turf. He claims it as his place of birth. He went to school there. He is planning to retire there after his presidency. Hawaiians are his people. They vote almost exclusively Democrat. They love and adore Obama and his ultra liberal policies. So this is the perfect test case.
Let's send every Syrian and Middle East refugee to Hawaii. It can be the new Ellis Island. If Democrats love diversity so much, let's see what the loyal Democrats of Hawaii think about this idea.
Let's see if the Hawaiian people want thousands of war-zone Muslim refugees in their backyard.
Let's see if Hawaiians want to risk their entire tourist industry on a bet that every one of those Syrian refugees will be good citizens and neighbors.
Let's see if their willing to risk their jobs, the value of their homes, and their children's lives on that reckless bet.
Let's see if they're so keen about importing Syrian refugees if they know the bill is on them.
Let's see if the Hawaiian people are so pro-Obama they're willing to work two or three jobs and pay yet higher taxes, so that Syrian refugees can collect welfare, food stamps and free healthcare.
How about Obama himself. Rumor has it he's already picked out his retirement mansion in Hawaii. Does he want to live among the Muslim refugees? Does Michelle want to shop surrounded by Muslim refugees? Does he want Sasha and Malia to go to school in a majority Muslim school?
Why not? If it's good enough for the rest of us, why not him and his family?
If the Syrian refugees must come here, why not Hawaii? My grandparents came through Ellis Island, then settled in New York. If it was good enough for my grandparents, why not the Syrian and Muslim refugees?
By using Hawaii as a modern day Ellis Island, we can track each and every refugee. We'll know exactly where they are. And the rest of us living on the mainland U.S. won't have to risk our lives or livelihoods.
If the Democrats of Hawaii want them, and want to pay for them, and they're willing to risk their lives and jobs on them, they are yours!
So if Donald Trump is listening…
I know you're the only one with the cajones and New York in-your-face attitude to publicly make this suggestion. Most common sense Americans will love it. I believe you could ride this proposal all the way to the White House. It will once-and-for-all expose the idiocy and hypocrisy of Obama and his socialist cabal. Trust me, they don't want any Syrian refugees in their backyard.
Besides, I'd pay a million dollars just to see Obama's reaction.
Wayne Allyn Root is known as "the Capitalist Evangelist." Wayne's latest book is: "The Power of RELENTLESS!" Wayne is a former Libertarian Vice Presidential nominee, bestselling author, international business speaker, serial entrepreneur and conservative media personality – appearing on over 5,000 interviews in the past five years. Wayne's web site: ROOTforAmerica.com.
–
TheBlaze contributor channel supports an open discourse on a range of views. The opinions expressed in this channel are solely those of each individual author.