It's official. Former Secretary of State Hillary Clinton has just thrown her hat into the ring as a potential presidential candidate for 2016.
The announcement came with all of the fanfare that a YouTube video could provide. Directed supposedly at "Everyday Americans," Clinton informed them that they needed a "champion" and that she wanted to be that person.
Anyone who is interested in seeing the video should probably rush to watch it before servers are wiped clean or before other server malfunctions occur. You just can't take any chances these days.
I looked up the definition of the word champion. Since I had been told that I needed one, I wanted to make sure I wasn't missing out.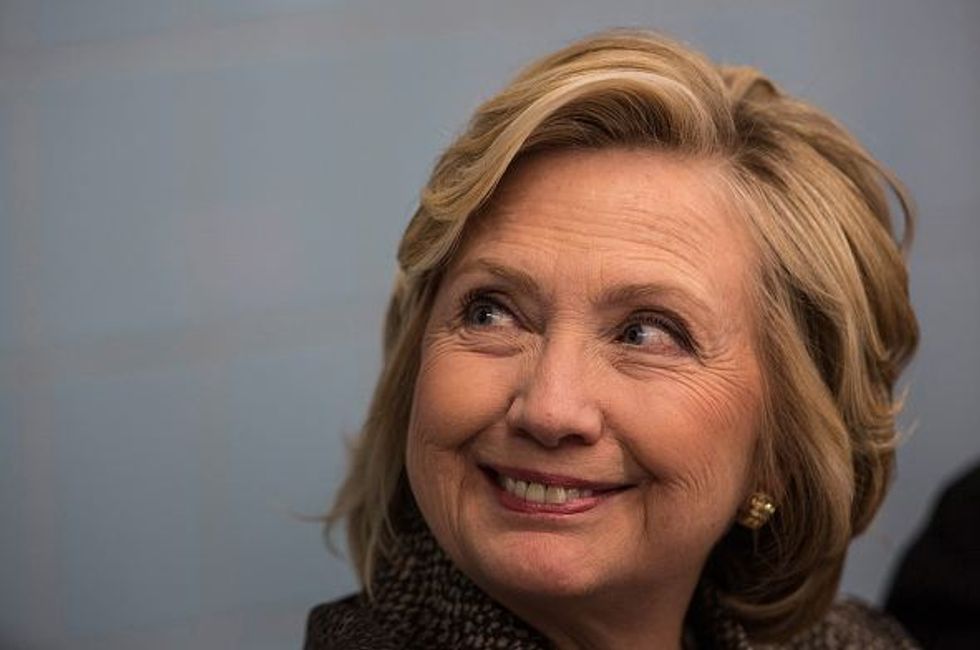 Former Secretary of State Hillary Clinton attends a round table conversation and press conference announcing a childhood development initiative with first lady of New York City Chirlane McCray on April 1, 2015 in New York City.  (Photo by Andrew Burton/Getty Images) 
A champion is "someone who fights or speaks publicly in support of a person, belief, cause, etc." according to the Merriam-Webster Dictionary.
I recall many champions in my life and for many Americans, they most likely feel the same.
Many of us know that our biggest champions have been those in our lives that love us and care for us. They are there to support and guide us when we need the help. They are in our personal inner circles.
Our parents or other caregivers are typically those we consider to be our champions. They are the ones that provide for us during childhood and can be trusted to help us through any situation in which we are unable to handle ourselves, even into adulthood.
Then there are those that we choose to advocate for our religious and spiritual welfare. We turn to these trusted individuals and invite them into our lives to help us grow.
I believe that most Americans feel that any "need" for a champion has already been satisfied by family members, trusted friends, and others who are valued.
Most Americans are not interested in having "Big Brother" or in this instance "Big Sister" in their lives to be their guardian. We've had enough of that for the last six years.
We've had a "champion" in the White House, directly or indirectly, telling us what is healthy for our children to eat, what new educational system is required for their benefit, and what our healthcare system "needs" to look like.
If anything, Americans "need" what has been lacking for many years and that is "leadership."
What we are looking for is someone who can bring this country back to a place that is even better than it was before the current "champion" stepped in to transform it beyond recognition.
Never in the history of the United States do I recall a president or presidential candidate referring to him or herself as a "champion." It's preposterous and certainly a bit narcissistic for any public official to view themselves in this way, in my opinion.
If Clinton wants to be a champion, then she should step up and be an advocate for those who died in Benghazi because it still "makes a difference" to most Americans that four men were left to die that night and those responsible have yet to be held accountable.
Clinton should be leading the charge in the investigation, not refusing to turn over the server that she claims has been wiped clean.
There are five noteworthy scandals, including Benghazi, that Clinton is alleged to have been involved in, either directly or indirectly. These include, Whitewater, her private email account, the Clinton Foundation's questionable finances, and the time she claims she landed "under sniper fire" in Bosnia.
Other questionable allegations have included Hillarycare secrecy, removing files from Vince Foster's office, Lost Rose Law Firm billing, Travelgate and more.
So, thanks but no thanks, Hillary! America needs a strong leader, not another "transparent" public servant to involve us in more controversy.
However, you can always email me if you want to try and convince me otherwise.
–
TheBlaze contributor channel supports an open discourse on a range of views. The opinions expressed in this channel are solely those of each individual author.