I feel anything but loving and kind when I hear Hillary Clinton call for more love and kindness in America.
Love and kindness? Really? Gag me.
It's not supposed to matter, but why does the most viable female candidate for president have to talk like a kindergarten teacher? We're supposed to evaluate her on her positions, policies, accomplishments, and credentials, but she makes it hard to do when she's calling us aboard the ice cream truck. Ugh.
My favorite part of her love and kindness sermon was her sagely informing us, "It works."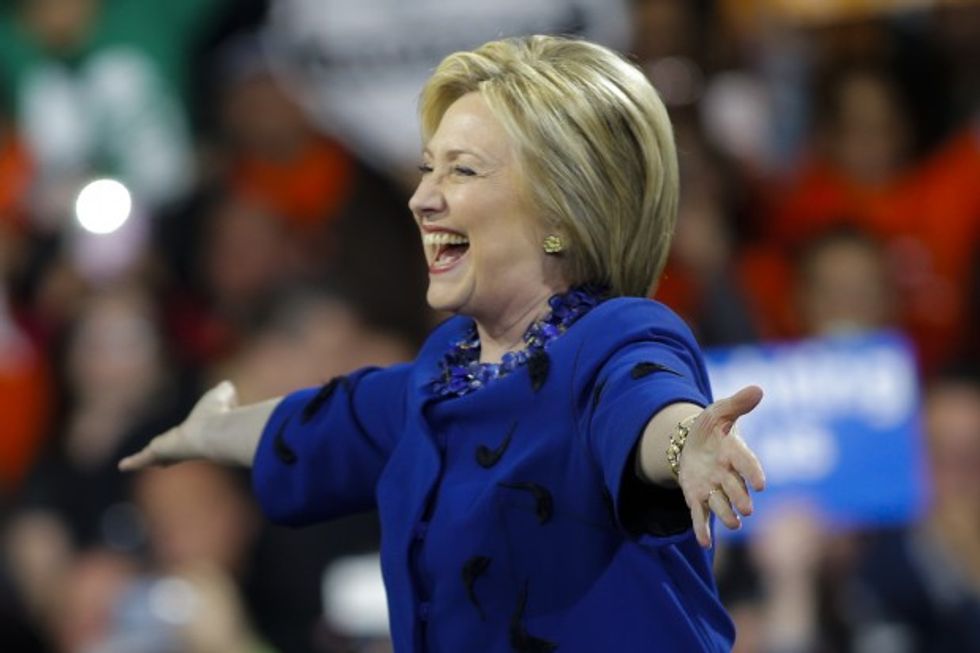 Eduardo Munoz Alvarez/Getty Images
It does, huh? I'm not sensing that. Exactly how would love and kindness do the trick? And what exactly does that mean?
The tricky part about love and kindness is that pesky eye-of-the-beholder thing. Some parents, for instance, show love and kindness by wrapping their kids in cotton and making sure they never experience disappointment or distress. Trophies for everyone! No keeping score! No red ink on test corrections! Other parents, like myself, consider it cruel to handicap a child for the real world where Harvard accepts only so many incoming freshmen, and bosses are often unreasonable.
Some Americans show love and kindness by blocking the doors to public speeches that have the potential (in their kind and loving minds) to hurt somebody's feelings. When conservative students at Cal State University Los Angeles invited a conservative speaker to their campus, University President William A. Covino lovingly rescinded the invitation, i.e., banned the speaker from campus, three days before the event was scheduled to occur.
Covino kindly suggested that standalone conservative viewpoints were anathema to the learning environment at the school and thereby indicated his ideological bedfellowship with students who perceived the speaker as a threat to their "mental health."
A university professor literally threatened to physically fight any of the conservative, "white supremacist" students. Accordingly, "hateful" (read common sense) conservative ideas could be presented only in a panel offering a "free exchange of ideas." That's code for "get the conservative alone and shoot poison darts at everything he says."
Because the disinvited speaker, Ben Shapiro, was raised by his kind and loving parents to speak truth to power, he came anyway. Despite threats to his life and safety, he stood resolutely at the podium to give his aptly titled speech, "When Diversity Is a Problem." In the atmosphere of love and kindness that abounded on campus that day, students who wanted to attend the event had to sneak in through the back door in groups of three and four. The kindly and stymied protesters, still fraught with concern over bruised feelings, lovingly pulled the fire alarm to drown Shapiro out. He—to his everlasting credit—continued and finished his talk.
Hillary doesn't mean everyone, surely, when she says we have to have more love and kindness in our hearts "and more respect for each other even when we disagree." Either she means that she and her peeps will have to do some pretty intense looking in the mirror or, more likely, she means that there is only one right set of beliefs, and you must be respected if you hold them or coerced to adopt them if you don't.
Other Americans, like myself, consider it far more loving and kind to expect decorum and a higher standard of maturity that facilitates public debate. Whose version of love and kindness trumps whose?
Perhaps Hillary would have us aspire to the kind of love and kindness with which her name is practically synonymous. Can anyone doubt the sincerity of her compassion toward Paula Jones or Juanita Broddrick? Gennifer Flowers or poor, poor, so-in-need-of-love-and-kindness Monica Lewinsky?
What about the love and kindness she showed our intelligence assets—including exposure of their real names and addresses—via her loving, kind, and self-important illegal server? I'm not so sure Ambassador Christopher Stevens subscribed to that brand of compassion.
Certainly, certainly, certainly we would all do well to replicate her exemplary loving kindness toward the families of the four American troops killed in Benghazi. She tenderly lied to them about the cause of their loved ones' murders to spare them—I'm sure—any unnecessary rage toward herself, the State Department or President Barack Obama. After all, at this point, what difference does it make?
Absolutely we need more love and kindness in America…and more puppies…and more lollypops…and more unicorns…. All are completely irrelevant in public life, however. For real world grit and struggle, we need integrity and courage to live our values. Love and kindness optional.
Donna Carol Voss is an author, blogger, speaker, and mom. A Berkeley grad, a former atheist, pagan, and hot mess, she is now a Mormon on purpose and an original thinker on 21stcentury living. Her memoir, "One of Everything," traces the path through one of everything she took to get here. Follow her on Twitter @donnacarolvoss or stop by www.donnacarolvoss.com.
–
TheBlaze contributor channel supports an open discourse on a range of views. The opinions expressed in this channel are solely those of each individual author.