© 2023 Blaze Media LLC. All rights reserved.
If Abortion Is Just Another Medical Procedure, What's With All the Adverse Reactions?
Unresolved grief could be the reason so many men and women experience adverse reactions after an abortion.
The story of Jade Rees was making its way around the internet last week, and rightfully so. It was a tragic story of depression complicated by abortion that ultimately ended in suicide.
As the original story acknowledged, Rees was far from mentally stable before the abortion, having suffered from a history of depression and eating disorders. The abortion, by all accounts, is what pushed her over the edge. The story maintained that she was listening to an Ed Sheeran song about miscarriage while she penned her suicide note.
Unfortunately, suicidal thoughts, gestures, and attempts are not uncommon in post-abortive women. The tragedy of abortion often leads to other problems in the lives of women and men who lose children because of it. While advocates love to insist that abortion is just another medical procedure, that claim ignores the myriad psychological and behavioral problems that can arise after the choice has been made.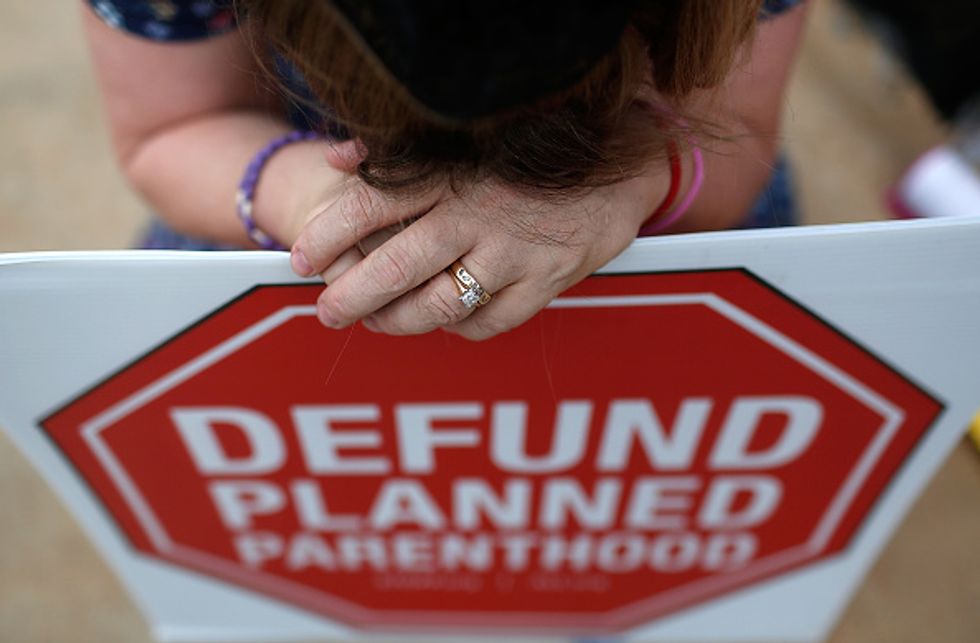 Anti-abortion activists protest at site of proposed Planned Parenthood. (Photo by Win McNamee/Getty Images)
Abortion does differ from other medical procedures in that no other procedure takes an innocent life without consent of any kind. But perhaps equally important are the studies that show adverse reactions in post-abortive women.
There are many studies that indicate an increase in suicidal behavior and mortality rates after an induced abortion, including this one, this one, this one, and this one. Then there are all of these statistics as well.
Further, as it turns out, abortion is also linked to a host of other mental health and substance abuse issues.
Here's a study that shows women with a history of abortion are more likely to use alcohol, marijuana, and other illicit drugs during their next pregnancy. Here's another study that shows women with a history of abortion are more likely to tend toward substance abuse after the fact. Here's a study that links abortion with increased risks of psychiatric hospitalization both in the short-term and long-term. Here's one that demonstrates the link between abortion and subsequent mental health problems.
Men are not immune from negative reactions after abortion either. Though they are often denied a say in the abortion discussion, it is positively, absolutely, unconditionally certain that every child who has ever been aborted has a father as well as a mother. Indeed, men often experience countless problems after their children are aborted as well.
Abortion advocates attempt to explain away the adverse reactions by claiming that the women were mentally unstable prior to the abortion, or that the abortion was somehow a symptom of the mental instability rather than the cause of it.
Indeed, advocates will rush to defend abortion just as they always do, despite what science and research tell them. But if abortion were "just another medical procedure," there certainly wouldn't be as many adverse psychological and behavioral reactions.
You can try to spin all those numbers any way you want, but they demonstrate fairly conclusively that women who have had abortions have higher rates of mental health problems than both childless women and women who chose birth and have higher rates of substance abuse and suicidal behavior that women who have not had an abortion.
If having an abortion were analogous to having one's appendix removed, then I would hypothesize that we would see increased rates of substance abuse and suicidal gesturing in persons who had undergone that procedure as well. But I guarantee, without even looking, there are no studies that link appendix removal with increased rates of mental health problems, substance abuse, or suicidal behavior. It has probably never been studied because everyone just instinctively knows that it's nonsense.
The studies above clearly show a link between abortion and adverse negative reactions, up to and including suicidal behavior. While it is true that correlation doesn't imply causation, it seems that trying to understand the correlation would be a more helpful course of action than simply denying it or blaming it on the women's (and men's) mental health problems.
One might propose that maybe there is an underlying variable that makes a person prone to mental health and substance abuse problems as well as to abortion. Or perhaps that mental health problems and substance abuse problems lead to higher incidences of unwanted pregnancy. But that still doesn't explain the increase in adverse reactions after an abortion. If anything, abortion would then lead to improved mental health functioning (one less stressor to worry about).
So what's with the correlation?
Perhaps the answer lies in the nature of the so-called procedure. Abortion takes the life of a child, whether wanted or acknowledged by the parents or not. As such, in many women it brings on a complicated grieving process. The grieving process is complicated in that women can simultaneously both long for the child and yet see themselves as perpetrating their own loss. This obviously isn't to say that all women experience complicated grieving processes after abortion, but clearly at least some of them do.
When complicated grief remains ignored or unresolved, it can manifest itself in things like depression, substance abuse, or a host of other defense mechanisms or displacement behaviors.
Further, as Theresa Burke explains in her book "Forbidden Grief," abortion is inherently linked to three aspects of a woman's self-concept: her sexuality, her morality, and her maternal identity. These three aspects make up an important part of who a woman is. When one or more of these areas have been wounded, either through abortion or otherwise, a healing process needs to take place.
In the case of abortion, it's easy to ignore that need for healing or mistake it as something other than what it is. But without addressing the need for healing, the grief remains unprocessed and unresolved, which in turn can lead to the host of problems highlighted in the studies above.
There are some who will continue to claim that abortion is just another medical procedure, but science tells us that an unborn human life is taken. This taking of human life proves that abortion is not just another medical procedure, but is rather a potentially devastating experience that, for some women (and men), can lead to a lifetime of problematic and adverse reactions in its aftermath.
Cullen Herout is a pro-life, pro-family writer. He has a passion for writing about life issues, Marriage, fatherhood, and creating a culture of life. Follow him on Facebook here or at his own blog, Ready To Stand.
–
TheBlaze contributor channel supports an open discourse on a range of views. The opinions expressed in this channel are solely those of each individual author.

Want to leave a tip?
We answer to you. Help keep our content free of advertisers and big tech censorship by leaving a tip today.
more stories
Sign up for the Blaze newsletter
By signing up, you agree to our
Privacy Policy
and
Terms of Use
, and agree to receive content that may sometimes include advertisements. You may opt out at any time.