This Republican primary season has been anything but ordinary with the addition of businessman Donald Trump.
Democratic millennials have made it abundantly clear where they stand by the unmatchable enthusiasm for Sen. Bernie Sanders (I-Vt.). Sanders has consistently won around 80 percent of the millennial voters to his revival Hillary Clinton's 20 percent in the early primary and caucus states.
But, when it comes to Republican millennials it is a completely different story and this will make Super Tuesday a toss-up for the youth vote with this GOP millennial indecision.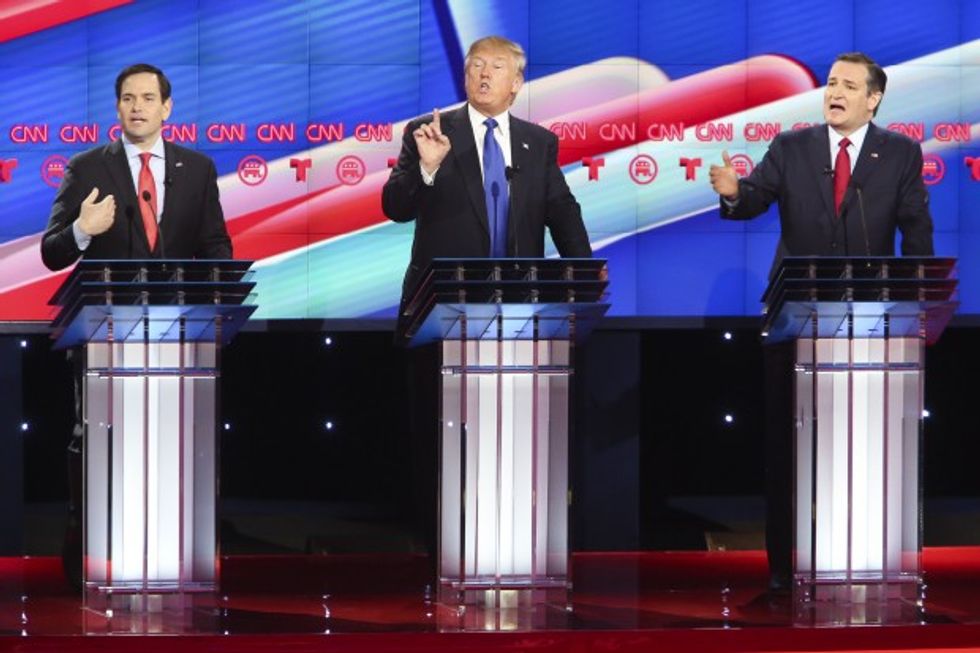 Marco Rubio, Ted Cruz, and Donald Trump during the third CNN Republican debate on Thursday in Houston. (Getty Images/Michael Ciaglo-Pool)
Republican millennials have wavered between the top three candidates in the four early states in the competition to become the Republican nominee for president of the United States.
In Iowa, Ted Cruz (R-Texas) won millennials with 27 percent of their vote, followed by Marco Rubio (R-Fla.) at 24 percent and Donald Trump rounding out the top tier at 19 percent. This was somewhat expected as Iowa Republicans are very conservative and evangelical and their views do not roughly change based on age.
A few days later in New Hampshire Trump swept the state and that included the youth vote. Trump took 38 percent of this precocious voting block. Cruz followed at 17 percent and Rubio at 11 percent.
In South Carolina Trump, again, swept this state with ease but he did not win the youth vote. Cruz won millennials, again taking 28 percent of the vote, followed by Trump at 26 percent, and Rubio rounded out the field at 22 percent.
Nevada, the last state before Super Tuesday, brought Rubio a win with millennials when he scored 38 percent of the vote, followed by Trump at 31 percent and Cruz at 18 percent.
Each of the top three candidates have won the youth vote with Cruz winning them twice. GOP millennials are still deciding state-by-state on which candidate they support for the nomination. This makes Super Tuesday in the more competitive states harder to predict.
When looking at the general attitude of GOP millennials toward the top three candidates the results show Trump having a difficult time in winning over this voting block. In fact, this is the only voting block within the GOP Trump loses consistently.
Reuters does rolling online polls covering the 2016 election and they have several that show Trump losing the youth vote to both Cruz and Rubio when they are the only two left in the race. In a match up between Cruz and Trump, Cruz wins the youth vote 46 percent to Trump's 34 percent. When Rubio and Trump are matched, Rubio wins the youth vote 41 percent to Trump's 34 percent.
But, this is not all bad news for Trump. When all three candidates are matched in the polls Trump wins the youth vote at 25 percent, followed by Rubio at 21 percent, and Cruz at 20 percent. So, as long as it is a three-man race, Trump holds an edge with young GOP voters.
The youth vote is still split between the top three candidates and, for Donald Trump, having Cruz and Rubio still in the race benefits him when it comes to the youth vote.
Trump has been unable, thus far, to connect with youth voters at the extent Rubio and Cruz have be able to do. Both Rubio and Cruz have a ground game where they are able to pay more attention to young voters and the issues they care about. Trump has not spent as much time winning over millennials or has not released concrete policy initiatives to tackle their many issues.
Trump is an amazing businessman and embodies the American Dream and is the reason he still is able to complete quite well against Rubio and Cruz when is comes to millennials. Young voter's No. 1 issue is the economy and jobs, two issues which Trump has the most authority in.
This indecision comes down to young voter turnout and the candiates ability to connect with them on the issues they care about. This makes a few of the competitive states a tossup. A few thousand votes from millennails will go a long way for the winning candiates.