As billionaire Michael Bloomberg ponders a run for the White House, advisers are already positioning the former New York City mayor as an Independent who will appeal to those unhappy with both political parties' 2016 tickets.
However, Bloomberg's 20-year paper trail of campaign finance data - mined by the non-partisan Crowdpac - shows he is not the Independent he would like you to believe he is.
To be sure, Bloomberg's initial political history swings both ways, toward Republicans and Democrats.
(AP Photo/Seth Wenig, File)
In the 1990s, Bloomberg contributed mostly to Democrats - including the Democratic Congressional Campaign Committee ($100,000), Democratic Senatorial Campaign Committee ($70,000), Democratic National Committee ($80,000), Democrat candidates including Sens. Chuck Schumer, Chris Dodd, and Al Gore, as well as numerous Democratic campaign committees.
In the early 2000s, he contributed heavily to Republicans - including the New York State Republican Party (nearly $2 million), Senate Republican Campaign Committee of New York (nearly $1 million), and a handful of Republican causes and candidates including Rudy Giuliani, George W. Bush, and then-governor of Massachusetts Mitt Romney.
However, Michael Bloomberg's campaign contributions after the 2012 election cycle reveals a more radical side on individual issues and may reveal his true colors as surprisingly deep, deep blue on the scale of liberal to conservative politics.
On specific issues from gun control to abortion, Bloomberg swings to the extreme left.
Even his own Independence USA PAC is ill-named, as it fights for issues only on the left.
Bloomberg has spent more than $17 million in just the last two years through his PAC fighting gun rights, pushing the strictest gun control in the nation, attacking Republicans, and pushing environmentalist activism (including $10 million on TV ads on carbon emissions.)
In 2014, Bloomberg also donated a whopping $2.75 million to Women Vote! which is described by Open Secrets as a "Pro-Abortion Rights" "Super PAC," and he donated another $1.15 million to Planned Parenthood Votes, the political arm of the pro-abortion national organization.
On the issue of gun control, Bloomberg has raised millions of dollars for his now-defunct Mayors against Illegal Guns and its successor, Everytown for Gun Safety, which launched a $50 million campaign for gun control.
Bloomberg's Everytown for Gun Safety Action Fund contributed $300,000 to America Votes Action Fund which states its goal is to "advance progressive policies and win elections in key states" and lists among its partners the pro-abortion group NARAL, Planned Parenthood Action Fund (yet another pro-abortion Planned Parenthood PAC), the pro-abortion EMILY's List, the National Education Association teachers' union, and the AFL-CIO.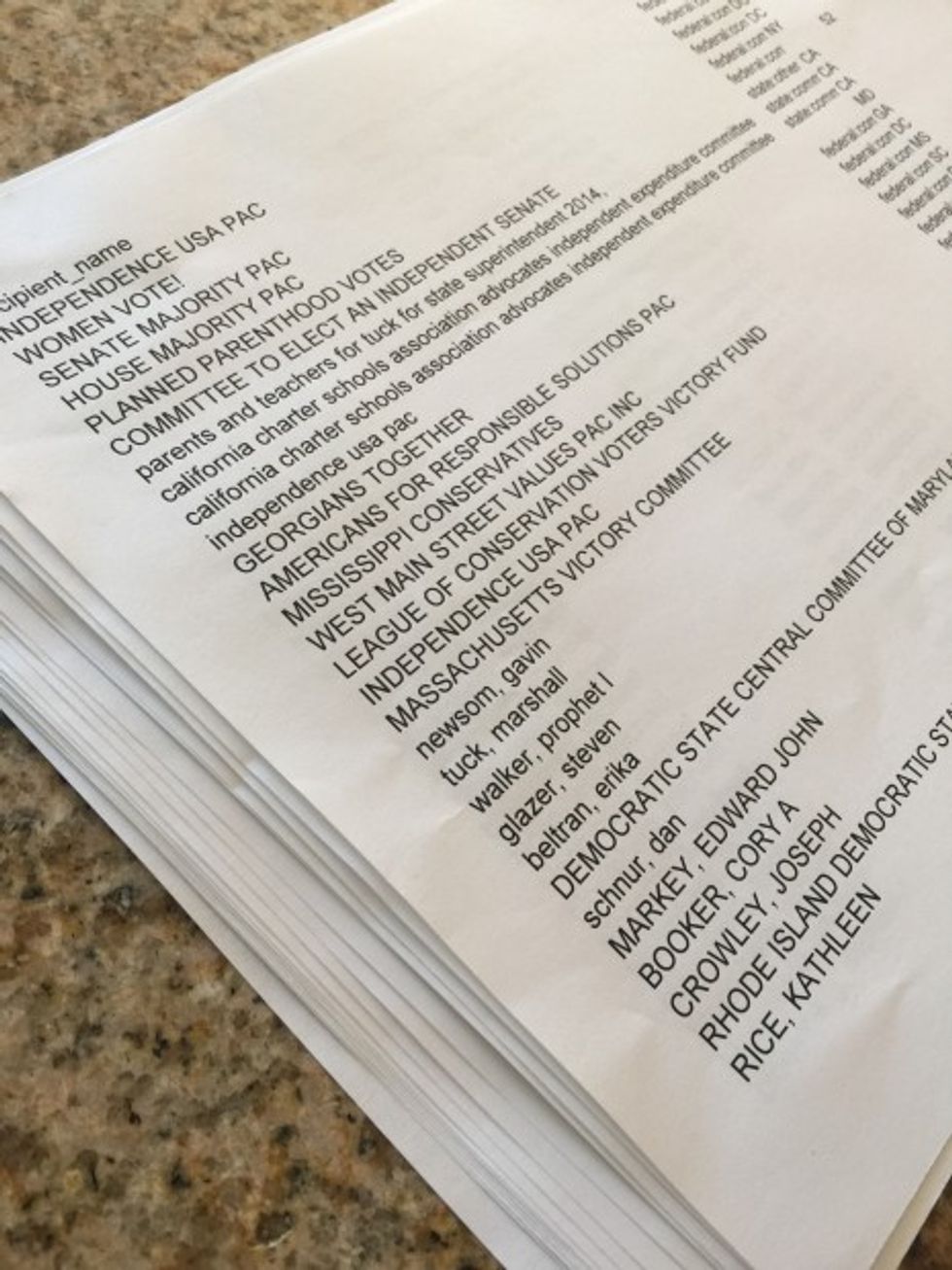 Twenty years of campaign finance records show that Michael Bloomberg is not as "Independent" as he wants you to believe. (Jennifer Kerns)
Bloomberg's Everytown for Gun Safety Action Fund also contributed nearly $50,000 to Democracy for America, a far-left organization founded by Howard Dean that is committed to "a more progressive America." On its website, the group prominently features discussions about Roe v. Wade and gun control.
Furthermore, on the issue of gun control Bloomberg has also contributed $250,000 to Americans for Responsible Solutions, former Rep. Gabrielle Giffords' anti-gun Super PAC which recently got caught exaggerating claims about guns versus automobile deaths.
He also contributed to candidates who support extreme gun control. Bloomberg donated $27,000 to California Lt. Gov. Gavin Newsom who - surprise, surprise - has committed to placing a gun control measure on the ballot in 2016.
Bloomberg also contributed to Maryland's Attorney General Brian Frosh who recently led Maryland's sweeping gun grab and even called rightful gun owners "gun nuts." He also donated to the Baltimore City Democrats, the group that has given us politicians like Baltimore Mayor Stephanie Rawlings who botched her city's response to the Baltimore riots.
Bloomberg's extreme turnabout in politics after 2012 did not stop there.
In 2014, Bloomberg also contributed $2.5 million to the Senate Majority PAC, which states on its own website was founded by "experienced, aggressive Democrat strategists." The PAC has run vicious ads against Senators Joni Ernst, Mitch McConnell and even the moderate Scott Brown from Massachusetts.
Bloomberg also spent $2.25 million in 2014 on the Democrats' House Majority PAC, which states on their own website they were founded for "holding Republicans accountable and helping Democrats win seats in the house."
If Michael Bloomberg were to enter the race today, the numbers suggest he would more closely resemble Senator Bernie Sanders and Hillary Clinton than Donald Trump; therefore, the rational conclusion is that he would steal votes from Democrats, not Republicans.
In fact, Bloomberg's positions on issues are so extreme and out-of-touch with mainstream America, it would be extremely difficult for him to become elected anywhere outside of New York City.
With the preponderance of evidence, then, one has to wonder why Michael Bloomberg is considering the 2016 presidential race?
Is it to place pressure on Hillary, to take the wind out of Bernie Sanders' sails, to become the eventual Vice President, or is it as some pundits suggest, to pick up the mantle of gun control from President Obama?
Only Michael Bloomberg knows.
One thing we do know is that by the numbers, the billionaire has contributed to far too many far-left-wing groups to win the Independent votes he claims he can win.
For that, the "Independent" candidate has got some explaining to do.
–
TheBlaze contributor channel supports an open discourse on a range of views. The opinions expressed in this channel are solely those of each individual author.