Several independent factors have surfaced—some influenced by Vice President Joe Biden, some not—to suggest he has, and may well have all along had, a plan in place to make a presidential run in 2016.
Old Joe may have just been biding his time, waiting for events, over which he lacked control, to play out. That may soon happen.
The earliest such suggestion to pop up was not immediately evident at the time to me, who actually witnessed it. It occurred before any Democratic candidate had announced their 2016 presidential aspirations. Only later, as other revelations came to light, did I reflect on its possible significance.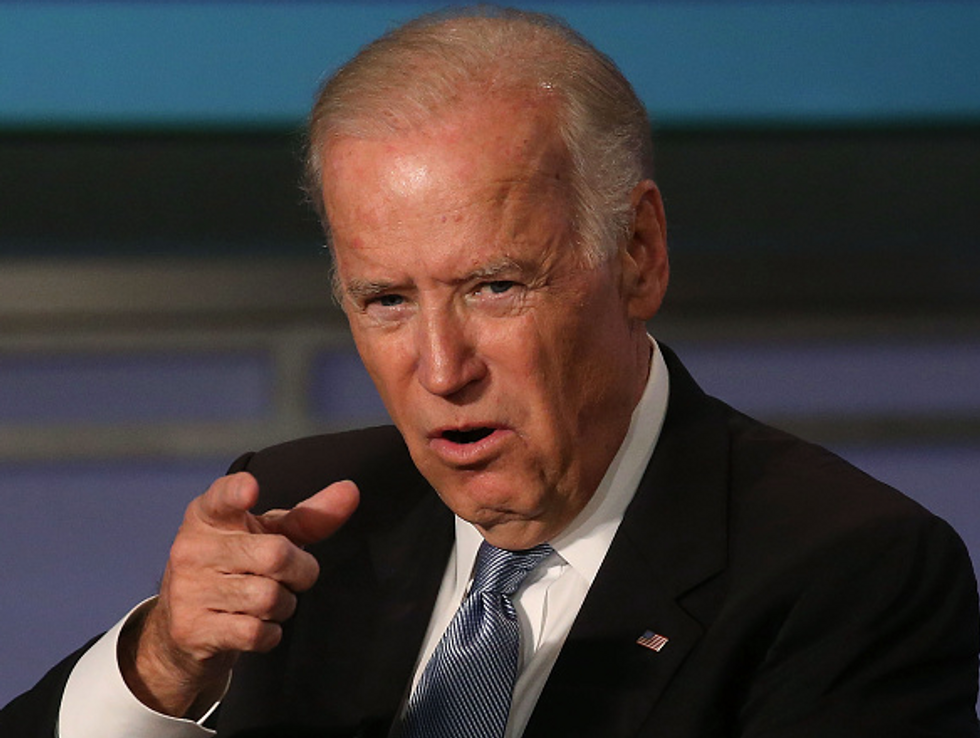 Vice President Joe Biden speaks during an event to honor former Vice President Walter Mondale at George Washington University October 20, 2015 in Washington, DC. Biden remains at the center of rumors regarding a potential campaign for the U.S. presidency. (Photo by Mark Wilson/Getty Images)
It arose during the course of a business meeting I attended in early April 2015. The meeting's focus was to discuss a unique product's marketing initiatives. Because the product had a humanitarian beneficial aspect as well, discussion turned to engaging charitable groups such as the Clinton Foundation.
A very close Biden confidante was in attendance. He immediately advised against pursuing any relationship with the Clinton Foundation.
By this time, there had been some adverse stories in the press about the Clinton Foundation's fundraising activities and sources of income. Unpublished yet was Peter Schweizer's book "Clinton Cash," detailing much of the foundation's questionable fundraising practices.
But the tone of the message communicated by Biden's confidante was such that those present clearly got the message—steer clear of the Clinton Foundation. Within weeks, his warning proved to be the tip of the iceberg concerning some very questionable fundraising activities.
In retrospect, one wonders what exactly Joe Biden knew about the Clinton Foundation's fundraising practices, when he first became aware of them and how this impacted events that followed over which he had control.
All the 2016 Democratic Party presidential hopefuls knew when Hillary resigned as secretary of state, she was preparing to run for president. They also knew Queen Hillary's perception was her coronation as the Democratic Party's champion only awaited the voters' formality. They recognized Hillary still felt the sting of having been denied the party's nod in 2008 and would not be denied again.
The combination of her access to an extensive political fundraising network, her aching hunger to claim an Oval Office she felt was her birthright and her "take no prisoners" persona to get there gave Hillary a competitive edge fellow Democratic Party contenders knew would be both difficult and exhausting to beat.
When Biden's elder son died of cancer in May 2015, the vice president may, understandably, have lost some of his drive to enter the political arena against Hillary. Delaying his decision to run for as long as possible bought him more time for events over which he had no control—such as Hillary's private email server crisis and questionable fundraising activities by the Clinton Foundation—to unfold.
Also by delaying his decision, Biden left the other Democratic hopefuls to pummel each other on the playing field as he remained quietly on the sidelines.
In late September 2015, polls began to show Hillary dominating the field of Democratic candidates—whether Biden ran or not. In less than a month, Biden announced he would not run.
But there may well have been a certain sense of recognition and coyness on Biden's part that more time was needed for the great Hillary expose fully to play out. Once it did, it might well pull him back into the presidential fray as the candidate of choice.
Biden clearly understood, as most Democratic Party leaders do, Bernie Sanders, while gaining popularity, is not electable as president. He would lack the voter attraction of a Clinton as the party's champion in a general election.
Therefore, given time to run its full course, the Clinton expose might force Hillary out of the race. Party brokers would then need a high profile, electable candidate to replace her. That would be Biden's cue to enter stage right (actually left).
This would explain why earlier this month, Biden made the point during an interview he regretted not running again for president. The comment seemed geared more towards planting the seed, if his services were later needed, he would be open to running.
Biden may well be biding his time for the skeletons to fully emerge from the closet to de-rail Hillary's coronation train. For now, Biden must await the results of the ongoing FBI investigation.
Rumor has it the FBI, which originally focused its investigation on Hillary's use of the private email server and more recently on possible corrupt Clinton Foundation fundraising practices, has reached a critical point.
As far as a 2016 Biden presidential run goes, there is both good news and bad news—with possibly more good news.
The good news, according to an analysis recently given by reporters on the Bill O'Reilly program, is sufficient evidence has been found to support charges against Hillary of gross negligence in her mishandling classified data and various actions supporting multiple counts of obstruction of justice.
The bad news, shared on the same O'Reilly program, is, despite this evidence, Attorney General Loretta Lynch will opt not to prosecute Hillary.
This might help to explain why President Barack Obama has refused to endorse a Democratic Party presidential nominee candidate for the 2016 election yet. He well recognizes how his decision to pursue, or not to pursue, charges against Hillary will impact upon his party's nomination process.
But there may still be further good news for Biden. Between his vice president and his former secretary of state, Obama probably prefers to see Biden get the nomination and may ultimately be pressured to call for Hillary's prosecution—as he did for Gen. David Petreaus on a similar offense a year ago.
By bidin' his time, Biden may well become his party's ultimate champion in the 2016 presidential "run for the roses."
–
TheBlaze contributor channel supports an open discourse on a range of views. The opinions expressed in this channel are solely those of each individual author.