Hillary Clinton recently launched her presidential campaign, along with the false narrative that she will become a heroine who will reform a dysfunctional campaign finance system.
Mere hours after Hillary's announcement, the Chair of the Federal Election Commission Ann Ravel, a Democrat, announced that the FEC will host a summit next week which will focus on how "women remain significantly underrepresented in politics at all levels of government" and how campaign finance laws may actually be hurting women's abilities to successfully campaign.
Coincidence?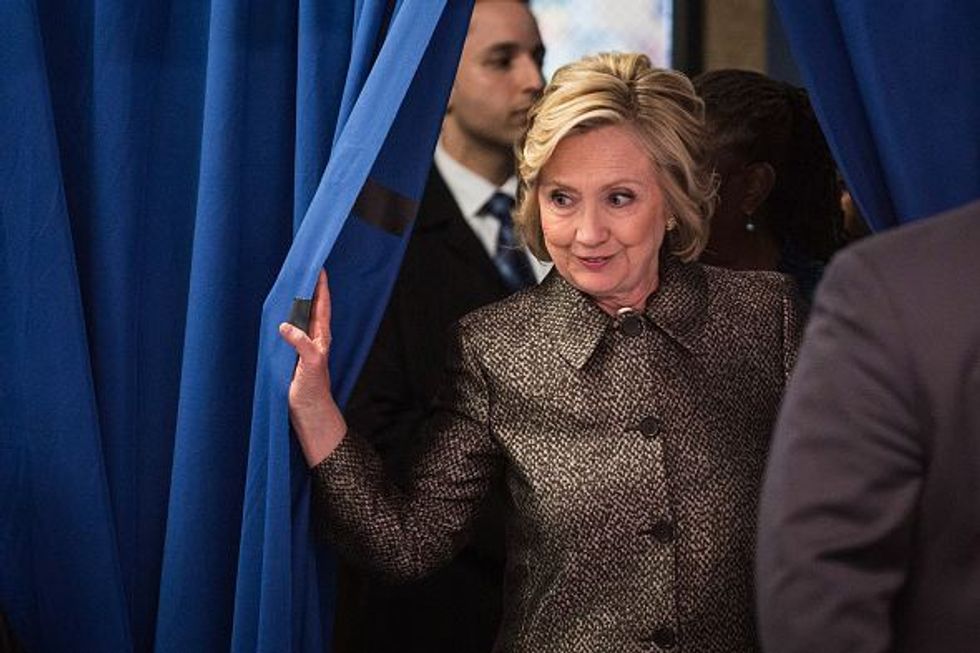 (Photo by Andrew Burton/Getty Images) 
The timing of the FEC event is uncanny at best, as is the messaging. The focus on why women are "underrepresented in elected political office" and "how we can encourage women to political office" sounds more like a commencement address at Wellesley than a taxpayer-funded governmental agency workshop.
The subject matter is completely outside the scope of the FEC's stated mission to serve as a non-partisan clearinghouse for campaign finance disclosures - not as a recruitment tool for women in politics.
Yet, that does not appear to be Ravel's modus operandi.
Ravel has released the list of speakers for the May 12th women's summit, and it reads like the "who's-who" of a far-left, feminist manifesto.
Speakers include author Rebecca Traister, a self-described "devoted Hillary Clinton supporter" and "...feminist lefty pinko liberal lady" who wrote a book called "Big Girls Don't Cry..." about Hillary's role in the 2008 presidential campaign. She has participated in at least one controversial panel about the so-called "Republican war on women" that has been criticized as having been an IRS violation of a public university's role.
Darren Rosenblum, a professor at Pace University, regularly attacks the Koch brothers and Republicans by calling them "racist" and "lily white" and he recently Tweeted about Carly Fiorina's entry into the 2016 presidential race, "The Republican field must have agreed to put Fiorina into the cabinet if she'd agree to be an attack dog against Hillary." (The Tweet, posted on April 14, has since been removed.) Professor Rosenblum has no documented campaign finance experience yet he's on the list as a featured speaker at Ravel's FEC non-partisan campaign finance summit.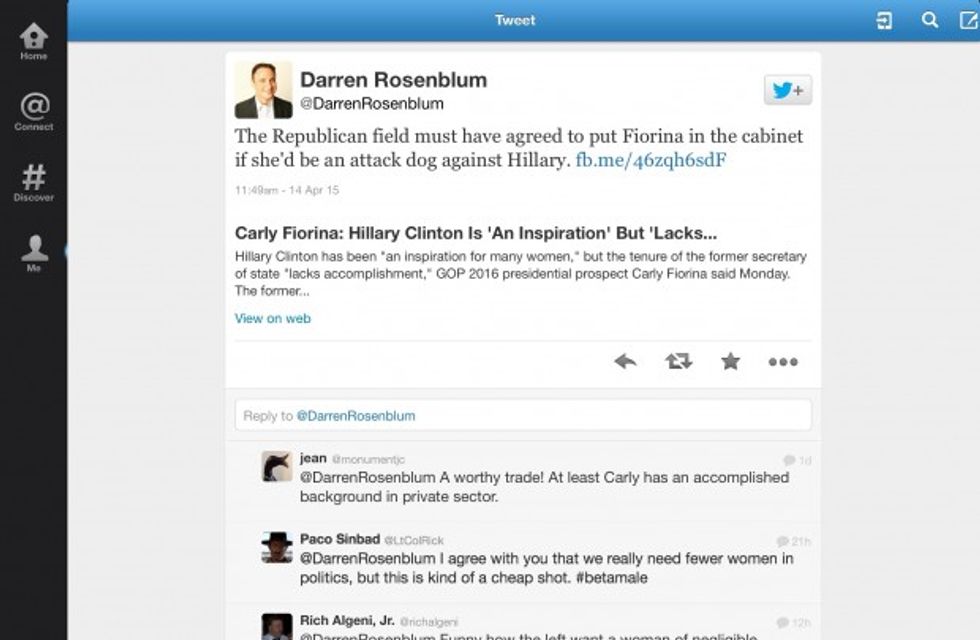 A Tweet by professor Darren Rosenblum, a speaker for the "nonpartisan" FEC women's event. The Tweet, posted on April 14, has since been removed. (Screenshot courtesy of Jennifer Kerns) 
Adrienne Kimmell, another featured speaker, works for the Barbara Lee Family Foundation but previously worked at Planned Parenthood affiliates and at Citizen Action Wisconsin - an organization that actively recruited candidates to run against Gov. Scott Walker in an attempted recall election. A search of her organization produced no results for "campaign finance."
Then there's Victoria Budson, the executive director of the Women and Public Policy Program at Harvard's Kennedy School of Government. Sounds innocent enough, until her prior history reveals she served on the Massachusetts Democratic State Committee, the Massachusetts Coalition for a Democratic future, and on the Department of State's Women in Public Service Project started by then-Secretary of State Hillary Clinton. She has also donated campaign contributions to both Elizabeth Warren and Hillary Clinton and has served as Regional Development Director for the progressive, pro-abortion Emily's List.
And the list goes on.
Although Chairwoman Ravel's office responded to request for comment for this story by pointing out that two of the 10 featured speakers are Republican, the 10 speakers have little to no experience in campaign finance and nearly all of them advocate a strongly partisan position.
An event of this nature would certainly be appropriate for a Democratic campaign rally, but whether it's appropriate for a non-partisan taxpayer-funded government agency is another question.
This isn't the first time Ravel has walked a fine partisan line.
During the 2014 midterm elections as FEC Chair, Ravel hosted anti-Citizens United events in key swing states where Democrat Senate candidates had made campaign finance reform a centerpiece of their campaigns. The move was called "unprecedented" and "totally inappropriate" by an FEC observer.
Elections experts suggest that these types of events, along with the FEC's women's recruitment summit next week reek of partisanship and don't serve the greater public good.
"While the challenges women face when running for office involve important issues that are worthy of discussion, hosting a forum on the topic is hard to square with the FEC's mission," said Brandi Zehr, an elections attorney with Wiley Rein LLP in Washington, D.C. who advises candidates, federal officeholders and organizations on campaign finance compliance. "The agency is charged with administering and enforcing federal campaign finance laws impartially, and its public outreach should focus on helping all candidates understand and comply with the law."
The blatant partisanship of the FEC's pro-Hillary pep rally demonstrates that Hillary Clinton stands to benefit from the same use of government agencies that President Barack Obama benefited from in 2012, such as using the IRS to "kneecap" the Tea Party in order to affect the outcome of the 2012 presidential election.
What remains to be seen is precisely how many other taxpayer-funded agencies are waiting in the wings to do the same for Hillary in 2016.
–
TheBlaze contributor channel supports an open discourse on a range of views. The opinions expressed in this channel are solely those of each individual author.