I don't know how you found out about the recent officer involved shooting in South Carolina of an unarmed African-American man, but I found out about it through social media.
Not only did I not see anything in the mainstream media about it, but I didn't actually see anything regarding the story at all until Monday, which is odd since the shooting occurred the previous Saturday.
Is the mainstream media taking a new approach to officer-involved incidents based upon past lessons learned?
According to what has been ascertained so far, Officer Michael Slager of the North Charleston Police Department, who is white, allegedly pulled over 50-year-old Walter Scott, an African-American, for a broken taillight.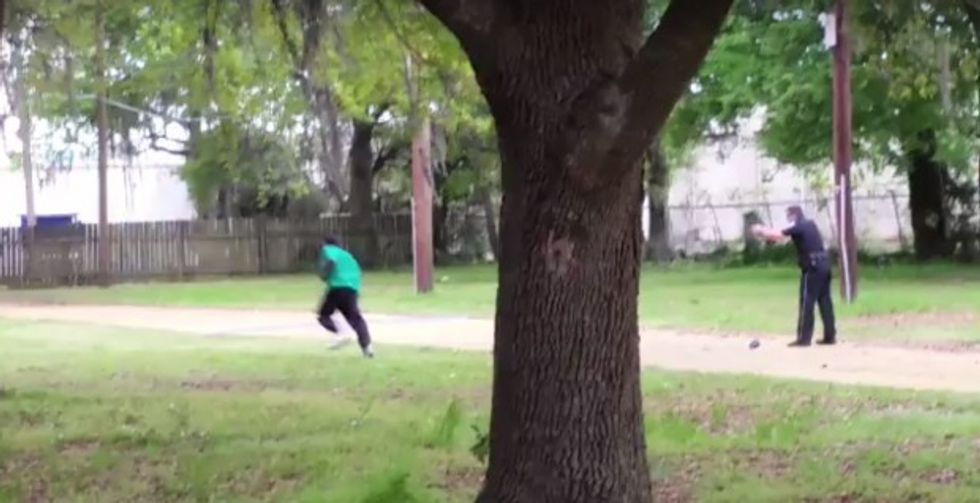 Screenshot
Slager reportedly claims that he feared for his life when Scott tried to take his stun gun during a scuffle.
What is unclear is why Slager's stun gun became involved in a "routine" traffic stop in the first place. Was it because Scott reached for it? Did Slager have a justifiable reason for having it out of its holster in the first place, if in fact it was Slager who removed it and not Scott? All of these questions will certainly be asked to determine if Slager had a reasonable fear for his safety.
All of that aside, Slager's attorney will have a difficult time supporting his claim of self-defense due to the fact that Scott was apparently unarmed and shot in the back as he ran away from the officer.
What is chilling and clear is the video that was shot by a neutral bystander who filmed the tragic incident while it was occurring. In my opinion, the video reasonably and unmistakably gives the police department the evidence they needed to charge Slager with murder for the use of unlawful lethal force in the death of Scott.
The only thing that surprises me about this incident is the lack of news coverage it has received thus far, at least, in the mainstream media.
When Michael Brown, an African-American was killed by a white police officer in Ferguson, Missouri last year, the mainstream media's coverage was non-stop.
Video taken after the shooting and prior to the shooting when Brown was seen taking cigars from a store, played repeatedly on local and national news stations.
A protester adds wood to a fire burning in Oakland, Calif., on Tuesday, Nov. 25, 2014, a day after the announcement that a grand jury decided not to indict Ferguson police officer Darren Wilson in the fatal shooting of Michael Brown. (AP Photo/Noah Berger)
Mainstream media couldn't get enough of interviewing anyone and everyone they could find to seemingly convict Officer Darren Wilson before he even had his day in court. Only a foreign news website cast doubt that Brown had surrendered to Wilson before being shot.
During the investigation, it became apparent that mainstream media may have been fostering their own agenda when it was asserted that the facts surrounding the shooting had been fabricated.
One news outlet reported that statements about the shooting from the Ferguson Police Department didn't "jibe" with eye witness accounts. This turned out to be false, when the grand jury listened to eye witness accounts and determined that there would not be an indictment based upon the facts presented.
It was later determined that Wilson, after testifying before the grand jury, would not be indicted for Brown's death because he had reasonably feared for his life. Eye witnesses also corroborated Wilson's testimony that Brown did not have his hands in the air when the fatal shots were fired but instead, was charging toward the officer when he was killed.
Nonetheless, the Department of Justice investigated the Ferguson Police Department, finding two civil rights violations against them. This investigation was also covered extensively by the mainstream media.
Then there was the Eric Garner case, in which an African-American man died after NYPD officers put him in what appeared to be a chokehold and appeared to slam his head against the sidewalk. A video captured the entire incident.
Garner said nearly a dozen times that he couldn't breathe while on the ground. (Image source: YouTube)
Officers attempted to take Garner into custody over selling untaxed cigarettes in New York. Following the incident, the officer who held Garner in a chokehold was not indicted by the grand jury. The Department of Justice once again launched a civil rights investigation.
Throughout the inquiry, coverage by the mainstream media was again widespread as the officer's actions were called into question. It appeared that the agenda was implying that racism played a part in the death of Garner rather than focusing on the facts.
The implied accusations of racism in the mainstream media fell apart when it was learned that a NYPD supervisor observing the Garner arrest was herself, an African-American woman.
What has not been covered as much in the mainstream media are recent allegations from the friend of Garner who shot the video.
Following Garner's death, Ramsey Orta, was arrested on two counts of criminal possession of a weapon just blocks from where the fatal confrontation of Garner occurred.
Reports claim that Orta has gone on a hunger strike in his jail cell claiming that he is afraid that the New York Corrections Department officers will taint his food with rat poison. Nineteen other inmates have apparently filed a lawsuit last month claiming they were sickened by blue-green pellets found in their meatloaf.
While these allegations appear newsworthy, could it be that the mainstream media is not giving full-coverage to this story because racism cannot be alleged? Or is there some other reason?
What seems obvious to me in every case involving police officers, including the most recent one, is that the facts of each case must be determined before the mainstream media or anyone else assumes that police involved killings are racially motivated.
Perhaps the mainstream media has learned this lesson and are taking a more cautious approach before presuming that race was the motivating factor.
Mainstream media may now understand that it's better to report the facts and not assume that every case involving people of different ethnicities is racially motivated. Only time will tell.
–
TheBlaze contributor channel supports an open discourse on a range of views. The opinions expressed in this channel are solely those of each individual author.