It seems that we are constantly bombarded with information on the plight of the Syrian refugees and how we must rescue them from the Islamic State terrorists.
We have all seen the horrific videos of beheadings and read countless stories about acts of brutality from those claiming to be Islamic State jihadists.
As Christians, we are torn between wanting to rescue those we feel are in harm's way while desiring to continue to protect ourselves and our family.
Refugee children looks from inside a refugee camp in Sofia on November 11, 2013. . AFP PHOTO / NIKOLAY DOYCHINOV
Many believe that transporting Syrian refugees out of the Middle East and placing them in Europe and in America is the "best" answer for their survival, but is it?
We all know from recent events, such as the deadly shooting in San Bernardino, California, that potential terrorists are not being properly vetted. The female terrorist in San Bernardino allegedly pledged her allegiance to the Islamic State before committing horrendous acts of violence that resulted in the deaths of 14 innocent people and injured 22 others.
Can we trust that the same or similar acts won't occur again if we allow refugees into our country from the Middle East?
President Barack Obama has assured the American public many times that Islam is a religion of peace and that terrorist groups like the Islamic State are a "twisted interpretation of religion that is rejected by the overwhelming majority of the world's Muslims."
Not being from the Middle East, I wanted a clearer picture about Islam and whether Obama's statement could be trusted. So, I contacted Raymond Ibrahim and asked him to come on my radio show, Stand For Truth Radio.
Ibrahim is a Middle East and Islam Specialist and a Shillman Fellow at the David Horowitz Freedom Center and an Associate Fellow at the Middle East Forum. His publications have appeared in the Financial Times, Jerusalem Post, Los Angeles Times, New York Times Syndicate, United Press International, USA Today, Washington Post, Washington Times and right here at TheBlaze.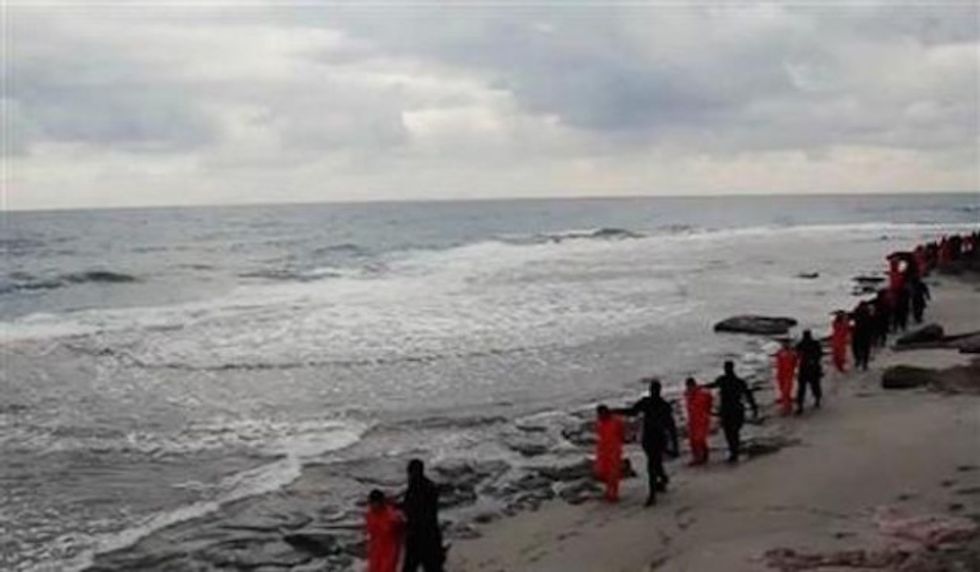 In this file image made from a video released Sunday, Feb. 15, 2015 by militants in Libya claiming loyalty to the Islamic State group purportedly shows Egyptian Coptic Christians in orange jumpsuits being led along a beach, each accompanied by a masked militant. Libya, virtually a failed state the past years, has provided a perfect opportunity for the Islamic State group to expand from its heartland of Syria and Iraq to establish a strategic stronghold close to European shores. (AP Photo, File)
He was born in the United States to Egyptian-born parents who were raised in the Middle East. He began visiting the Middle East as a child in the 1970s and has interacted with the locals there throughout the decades.
I was surprised to learn from Ibrahim that approximately 98 percent of the Syrian refugees that are being resettled in other countries are Sunni Muslims. He indicated that this is the same denomination as those Muslims belonging to the Islamic State, something that Obama has never bothered to tell us.
Additionally, I learned from Ibrahim's book, "Crucified Again: Exposing Islam's New War on Christians," that Christians have been persecuted in the Middle East under Islam rule for centuries and that this discrimination still exists today.
"Muslim justification for violence against Christians stems from Islamic tradition and historic precedent and that Islamists have repeatedly used their faith to justify attacks on Christian communities and individuals," he said.
He also discussed what is called the "Conditions of Omar" that are in existence today in the Middle East and include "heavy restrictions on Christian worship."
Ibrahim explained that these conditions are used to prohibit Christians from "building new churches, repairing older churches, showing crosses, singing loud enough to be heard outside the walls of the church, preaching the gospel, attracting the attention of Muslims" and other onerous restrictions that Muslims would never allow to interfere with their ability to worship. Ibrahim also pointed out that other countries, like Saudi Arabia, have gone so far as to forbid Christian churches in its country. Something I've also never heard the Obama administration mention about one of our closest allies.
Ibrahim also spoke about how Christians are often attacked at times by angry Islamic mobs, especially on Friday after their worship service which Ibrahim said is equivalent to a Christian's Sunday day of worship. Ibrahim also discussed how Muslim crowds can often get "whipped up" by the Friday services' message and attack Christian churchgoers or their churches.
Ibrahim believes that the "Obama administration has turned a blind eye to the violence in countries such as Egypt and Pakistan in order to fulfill its own foreign policy agenda." This may explain why Obama and others in the administration fail to point out how Christians are mistreated by Islamists in the Middle East and the possibility that these same events could be seen in America one day.
"The more Muslims there are, the more violence you'll see," Ibrahim said. He went on to say that what has been happening in Muslim countries where Christians are being persecuted could also happen in Europe or eventually the U.S.
Ibrahim also pointed out that it's beginning to happen and in fact has already begun in Sweden where recently "dozens of citizens received letters from the Islamic State telling them to convert to Islam, pay jizya, a tax that non-Muslims, including Christians must pay to Muslims, or be decapitated."
Ibrahim's book, "Crucified Again" gives countless examples along with documentation to back up his claims regarding the persecution of Christians in the Middle East that no one is talking about but should be of concern to a nation such as the U.S. that is set to welcome large numbers of refugees who practice Islam.
Raymond Ibrahim's complete interview detailing the history of the persecution of Christians in the Middle East can be heard here:
–
TheBlaze contributor channel supports an open discourse on a range of views. The opinions expressed in this channel are solely those of each individual author.