To the great despair of the average American, recent "Death to America" chants by the Iranian people did not mean anything to the Obama administration.
After two years and meetings plagued with "animosity," as President Barack Obama put it, the nuclear negotiations with Iran have ended.
To his relief, Secretary of State John Kerry did not have to jump through any more hoops to be victorious at the signing of one of the worst deals ever made.
However, Kerry's victory is by no length America's victory.
[sharequote align="center"]This "victory" is by no length America's victory.[/sharequote]
Whitewashing and granting legitimate access and status regarding nuclear capabilities, technology and processing, to a country intent on causing "Death to America" as well as to the "Little Satan," Israel, and in general to the world at large, is no small crime.
There is undoubtedly a clear difference in the tone of the American president briefing assuring them that "today, because America negotiated from a position of strength and principle, we have stopped the spread of nuclear weapons in this region."
Sure.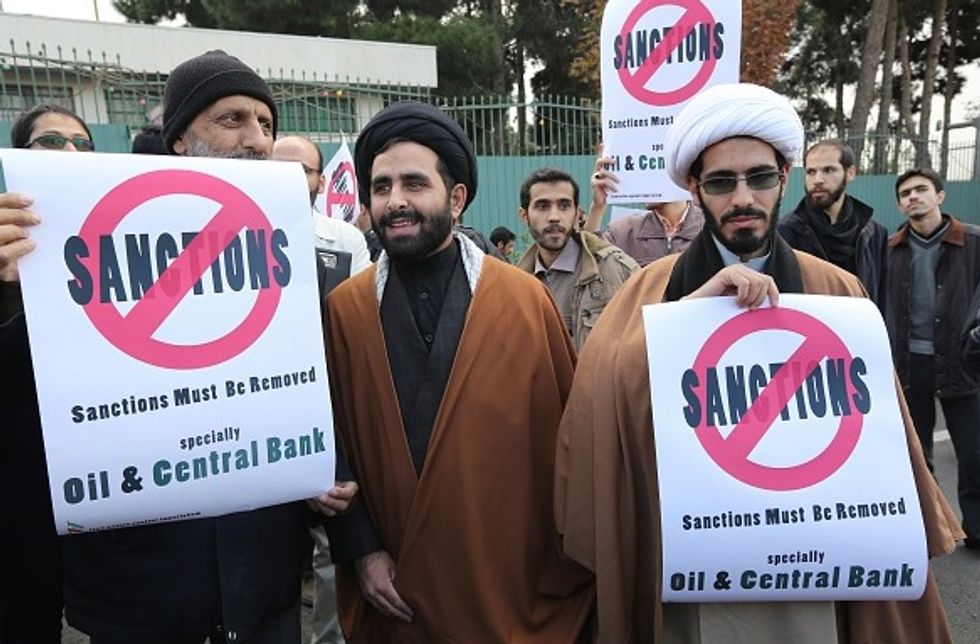 Iranian men hold placards during a demonstration outside the Tehran Research Reactor in the capital Tehran on November 23, 2014, to show their support to Iran's nuclear programme. Iran and six world powers are holding talks in Vienna to reach a lasting agreement on Tehran's disputed nuclear programme before November 24.  ( ATTA KENARE/AFP/Getty Images) 
On the other hand, the tone used by the official Iranian news agency was a winner. They reported on President Hassan Rouhani who said: "All our goals materialized under final agreement."
Obama lead five other nations to sign this agreement, which is but a surrender of American and world interests in favor of Iran's nuclear ambitions.
In Obama's words [emphasis added]:
"This deal meets every single one of the bottom lines that we established when we achieved a framework this spring. Every pathway to a nuclear weapon is cut off, and the inspection and transparency regime necessary to verify that objective will be put in place. Because of this deal, Iran will not produce the highly enriched uranium and weapons-grade plutonium that form the raw materials necessary for a nuclear bomb."
Maybe.
Meanwhile, we need not forget that this will be immediately curtailed by taqqiya, the right that Muslims have to distort the truth. It is a dispensation to tell a version of the truth without calling it a lie. Taqqiya is practiced in order to advance the agenda of Muslim world domination as ordered in the Koran.
With that in mind, then we must remember that Iran can break any deal at any time. Period.
Some argue that this is a "bad deal." Indeed it is. So much so, that one cannot fathom how any patriotic president could even consider this as an option for the country and people he is supposed to cherish and protect.
One cannot give the American president the benefit of the doubt by labelling it as "the art of the bad deal." This one is the worst deal.
We are told by the Iranian news website mehrnew.com that as part of the agreement:
"Iran's nuclear program that was unjustly introduced as a threat to global security will now be recognized as a field for international cooperation with other countries... [and that Iran] will be recognized by the UN as a country with nuclear technology and entitled to rights of peaceful nuclear program including enrichment and full fuel cycle."
Exactly. And more.
Iranians just happened to be chanting "Death to America" by an unhappy mistake as recently as July 10, when they commemorated Quds day, which is none other than "Jerusalem Day."
That said, the nitty gritty of the nuclear terminology and actual outcome in nuclear terms, will only be understood by specialized scientists.
The wise men most likely will only confirm our worst suspicions.
Key Details of the Deal
Iran comes out with a peaceful status for their nuclear program, "respect," and is to be considered an equal international cooperation partner to other countries.
Besides removing all economic and financial sanctions against Iran, billions of blocked revenues in foreign banks will be unfrozen.
Their nuclear infrastructure will be preserved and no nuclear centrifuge will be destroyed.
Contrary to initial demands, Iran's nuclear facilities will retain their activities, just as before, and Iran will continue nuclear enrichment.
Iran receives access to global markets in their capacity as producer of nuclear products.
Thanks to the deal, Iranian students will be able to study in the fields related to nuclear energy.
Likewise, as part of the deal, Iran will be the recipient of billions in unfrozen revenues that were blocked in foreign banks.
The Islamic Agenda
The negotiations have been a mere pantomime. The nuclear deal has been the masterpiece element that was missing in the larger project entertained by the Mullahs and the political-religious Islamic leadership at large.
Western leadership have been most helpful in this endeavor. They have done an amazing job confusing everyone regarding Islam.
True, there are many Muslim groups: Shiite; Sunni; Saudi; Iranian. Then they came up with the Salafis. And others. Pure confusion.
Just like there are all these Islamist, terrorist groups: Taliban; Al Qaeda; Al Nusra; now Islamic State, Boko Haram and you name it. A mess.
However there is a bottom line in all this.
They all have a few common denominators: Islam; their Prophet Mohammed; their Koran; Islam world domination; Shariah law, plus their rules and regulations.
As we have seen, they are able to commit the worst atrocities toward their own, their women, children, elderly.
As we know, the No. 1 Islamic agenda is Muslim world domination.
Therefore, my questions are:
Has any Muslim leader or Muslim moderate ever demanded to abandon the conquest of the world to subjugate Western civilization on behalf of Islam and as demanded in the Koran?
Has any Muslim leader or moderate initiated a law to stop exporting Muslim terrorism throughout the world, against innocent and defenseless populations?
Has any Muslim leader or moderate proposed a law that would allow building churches, synagogues, temples, etc. in any Muslim country?
These are key questions that will enlighten us on the path that may come ahead as a result of the nefarious nuclear deal with Iran.
There is no accountability whatsoever.
When the mullahs will call Muslims to unite, unhesitatingly, they will.
Rhetoric Change
In comes the nuclear deal at the hands of Iranians, the foremost funders of terrorism in the world.
Sure enough, the Iranian rhetoric did not take long to change.
After signing the nuclear agreement, Rouhani said on Twitter earlier today:
To our neighbours: Do not be deceived by the propaganda of the warmongering Zionist regime. #Iran & its power will translate into your power

— Hassan Rouhani (@HassanRouhani) July 14, 2015
That is his way to try to unite his almost billion and a half people.
In Islam, Zionism is the miraculous uniting factor.
Never mind that they are executing political adversaries who are their compatriots. The world is deaf and has blinders on.
Conclusion
President Obama succeeded in becoming the greatest detriment of America and the world.
Western Civilization has been trapped by the enemy within and the enemy without.
Yet, from all the Muslim groups rooting to rule the world, we can safely conclude that Iran is just an instrument.
The real winner in this nuclear deal is Islam.
©ElianaBenador
Eliana Benador is an opinion writer and commentator. She was the founder of Benador Associates. Her website is www.elianabenador.com. Follow her at @ElianaBenador on Twitter,LinkedIn,Facebook.
–
TheBlaze contributor channel supports an open discourse on a range of views. The opinions expressed in this channel are solely those of each individual author.