It might feel like old news to you, but it was just over two weeks ago that the body of 24-year-old Miami Marlins pitcher Jose Fernandez was laid to rest.
Fernandez, along with friends Emilio Macias, 27, and Eduardo Rivero, 25, died in a tragic boating accident. Lauded as one of the most promising stars in baseball, whose potential had no ceiling in sight, and known for his charismatic personality, his loss is now mourned internationally.
I cannot help but be amazed at the enormous emotional response to Fernandez' death. Tearful tributes to Fernandez have been paid by his teammates, pro-athletes, and sports analysts, and a ripple effect of baseball miracles seems to have swept through the MLB.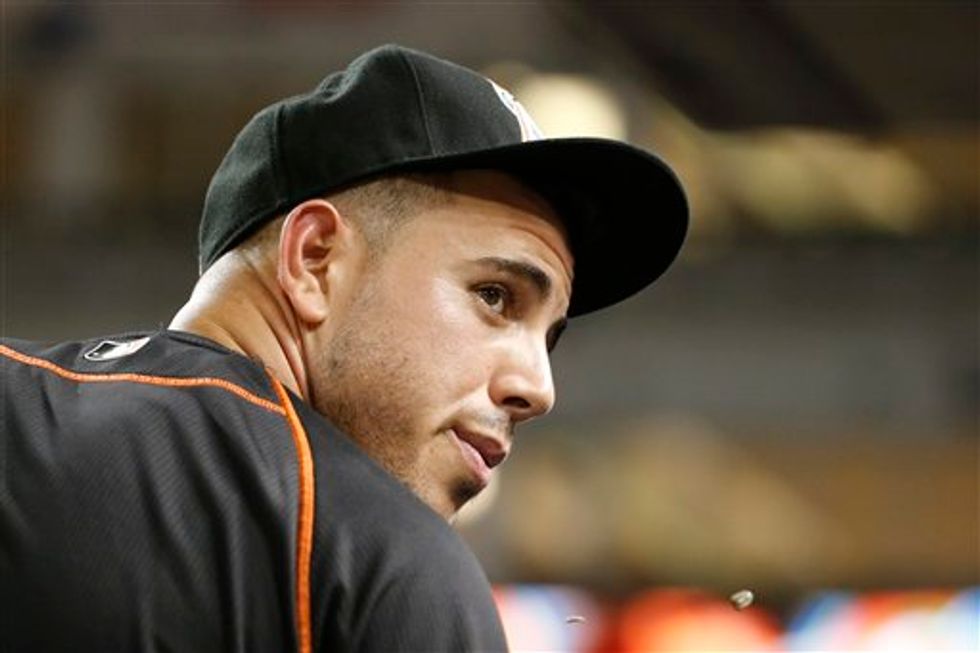 Miami Marlins' Jose Fernandez looks out from the dugout during the ninth inning of a baseball game against the San Francisco Giants, Tuesday, Aug. 9, 2016, in Miami. (AP Photo/Wilfredo Lee)
The day after Fernandez' death, the Miami Marlins faced the New York Mets in a high-stakes game for making the playoffs. In a dream-like moment, Dee Gordon, who at 160 pounds is not really considered a power hitter, hit a homerun, his first of 2016, breaking the 0-0 tie between the two teams. A teary-eyed Gordon rounded the bases, and was embraced by his teammates and coach as the stadium gave a standing ovation. The Marlins would go on to win 7-3 that night.
"I told the boys, 'If you all don't believe in God, you all might as well start,'" said Gordon in a post-game interview.
A day later, Aledmys Diaz, Fernandez' best friend since childhood, stepped up to the plate in another crucial wild-card game for his team, the St. Louis Cardinals. The day before, Diaz had been in Miami, mourning with Fernandez' family. As Diaz walked to bat, the Cincinnati Reds led the score 2-1, but the bases were loaded, and a homerun could provide the breakthrough the Cardinals needed. In yet another dream-like moment, Diaz hit the grand slam, the first of his career, and turned the game for the Cardinals, who would end up winning 12-5.
"I think the best way to honor him is to play this game 100 percent," said Diaz in reference to Fernandez. "I would think that's what he'd want. Every time I put on a uniform, just like I did today, I will think of him."
"He's the perfect example for every Cuban-American to live the American dream. He was very grateful to this country. Every Cuban that came here is grateful to this great country. We can live in freedom. We can play this game.''
In a time when America is caught in a carousel of political madness and racial division, Fernandez's story andlegacy reminds us of the individual faces and dreams that make America who she is. Here is a young Cuban immigrant, who came to the U.S. at age 15, filled with contagious joy and kindness, looking for a better life. He overcame adversity, found a home in our shores, and in the process became a hero of America's pastime.
Think about that: He lived less than a decade in America, but had such a powerful impact on our country that the stories of his kindness and joy interrupted the never-ending news cycle of doom and gloom and awakened our conscience to the preciousness of life. That's because Fernandez knew that what matters most is how we live our lives, how we use our time to show kindness and love to those around us—that's the legacy we will truly leave behind.
A few days after the news of Fernandez' death broke, the Marlins' catching coach, Brian Schneider, shared on Instagram the following story his 6-year-old son wrote for a school assignment:
"One hot day, I went to the ballgame with my Daddy. First I went in the clubhouse with Fernandez and we hit some balls. Next I went on the field with Fernandez and we threw balls. I threw the ball up (Jose taught him to throw the balls up to the fans in [left field]). Then I watched the game and Jose was pitching. Last, I had to leave and I gave Jose a hug. I felt happy because he was my buddy."
No words can truly fill the void left by a son, grandson, companion, and father who has gone too soon. The loss of Jose Fernandez will be felt forever by his family and friends, but while Fernandez might have lived a short life, he has definitely left a true and eternal American legacy we should all honor and remember.
Miles McPherson publishes regularly at www.getmilesahead.com. He is a former NFL player, speaker, writer, and a spiritual advisor to some of America's greatest pro athletes. He is also the founding Pastor of Rock Church in San Diego, CA.
–
TheBlaze contributor channel supports an open discourse on a range of views. The opinions expressed in this channel are solely those of each individual author.