Supporter or critic of Donald Trump, there's one thing conservatives can't allow – or they shouldn't, anyway— to be used by the left, especially the leftist media, for their cunning schemes.
Be very skeptical when the leftwing media all of a sudden cares about your favorite conservative's brilliant insights. They don't. They care about advancing an agenda, and your favorite conservative pundit might just fit the role for which they are looking. If you are a Trump critic, you are in vogue right now, but it is still their play.
We can't let ourselves be used by the left.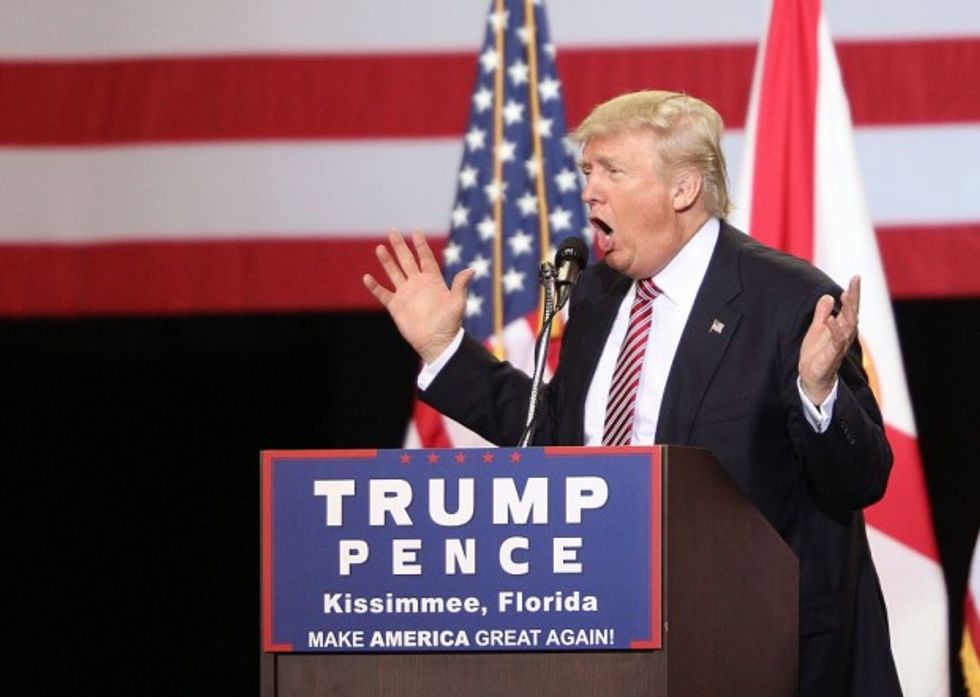 Republican presidential candidate Donald Trump addresses supporters during a campaign rally at Silver Spurs Arena inside the Osceola Heritage Park in Kissimmee, Florida on August 11, 2016. (Photo by GREGG NEWTON/AFP/Getty Images)
Never forget that they move in unison as they receive their marching orders from on high. The recentsynchronizededitorials on the nomination of Judge Merrick Garland to the U.S. Supreme Court are a perfect example of their efforts to use their vast influence within the mainstream media to drive the narrative.
All of a sudden, they are all interested in the Garland nomination, after they largely ignored it, and it wasn't even mentioned at the Democrats' convention.
The pitch seems to be that Republican Trump critics must support confirming Judge Garland now or they will be painted as really supporting the agenda of that awful (the worst of all human beings apparently, judging by the media's coverage) Donald J. Trump.
I'll let Senate Minority Leader Harry Reid (D-Nev.) explain. From a recent Reuters report:
"Senate Democrats may try to force a vote on procedural motions that, if successful, would lead to a vote on Garland before the new president takes office in January, Reid said. He invited along Republicans who want to distance themselves from their party's controversial presidential candidate, Donald Trump. "We have a couple of options and we are deciding when to do that. And if we should do that. When and if," Reid said. … "They spend a lot of time these Republicans, spending a lot of energy trying to separate themselves from Donald Trump. But as long as they're holding a Supreme Court seat open for him, they're his minions. They're his enablers," Reid said.
I know. It's a pathetic strategy that should be laughed at. That Sen. Reid is its spokesperson is just the kicker.
For all the reservations a conservative may have about Trump, his choice of Supreme Court justices is not one of them. That is actually one hisstrongest attributes. Few candidates have been clearer about the type of justices to the Supreme Court they will appoint. His list of 11 candidates was unprecedented and impressive. You can't ask for more in that regard.
Now, there is no guarantee. You might not believe him. You might point out, as many have, that a lot of Republican nominees "evolve" to become more liberal after appointed. You might say it is not enough to vote for him.
But to say we should confirm Garland now for fear of a Trump appointment is just foolish.
And saying we should confirm Garland now for fear of a Hillary appointment is not much better, which is the left's alternative sales pitch. That argument has gotten some traction. Here is Sen. Susan Collins (R-Me.) on MSNBC:
That's the very interesting scenario that I have raised with my colleagues in the Senate. … If Hillary is elected, I believe she's much more likely to nominate someone who is to the left of Merrick Garland…
What the leftwing media (and Republicans like Sen. Collins) consider "centrist" are leftists that will manipulate the Constitution to reach outcomes they like sometimes. That is not a conservative victory in any way, shape, or form. The manipulation of the Constitution to fit personal preference is the problem, not the final outcome.
Remember, the media considers Justice Anthony ("hurray abortion"/"opponents of same-sex marriage are bigots") Kennedy to be a centrist.
So, sure, they consider Garland a centrist, too. Are we supposed to cheer for someone to the leftof Justice Elena Kagan?
The whole point of Republicans withholding consent on Garland was to give "We the People" a voice on the type of justices we want at the Supreme Court. That choice is evident in Hillary Clinton and Donald Trump.
It is unfortunate that many other factors have complicated that equation. But, on this one aspect, there are two clear choices.
Mario Diaz, Esq. is Legal Counsel at Concerned Women for America, the nation's largest public policy women's organization. Title and affiliation for identification purposes only. Follow him on Twitter @legalblurbblog.
–
TheBlaze contributor channel supports an open discourse on a range of views. The opinions expressed in this channel are solely those of each individual author.