The amount of anti-capitalist regulations, tax hikes, and trillion dollar stimulus bills the Obama administration has pumped into the United States' economy has done nothing but slow it's growth to a snails pace.
It is the weakest economic expansion since before World War II.
The economy has been unable to grow past a 2 percent rate, which is a whole half of a percentage point lower than any recovery in the past 70 years, according to the Commerce Department.
Although, the Obama administration touts 5.2 precent unemployment, the fact is that there are over 90 million Americans out of the workforce. The highest number in 35 years. These individuals have given up looking for a job and, therefore, are not counted as unemployed.
This dismal recovery has hit the millennial generation the worst.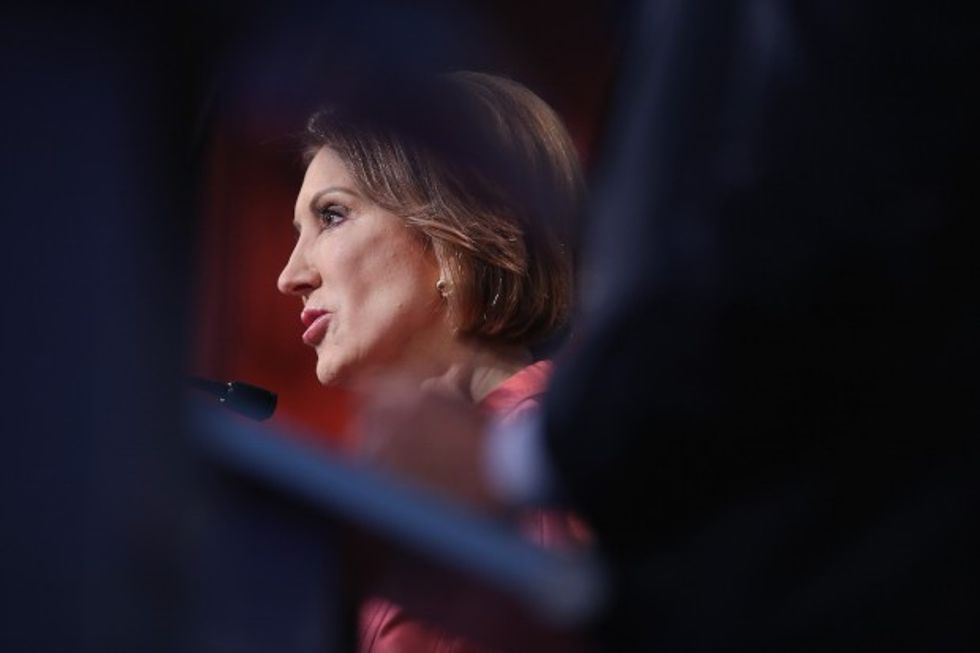 Rebulican presidential candidate Carly Fiorina fields a question during a presidential forum hosted by FOX News and Facebook at the Quicken Loans Arena August 6, 2015 in Cleveland, Ohio. (Photo by Scott Olson/Getty Images)
Millennials face a huge battle to make their mark in an economy that has forgotten them and an administration that continuously puts economic roadblocks in their way. Millennials are still facing double digit unemployment, ballooning education costs, crippling student loan debt, and are now footing the bill for Obamacare.
In past elections millennials have been driven by social issues, but 2016 will be a different story.
[sharequote align="center"]In past elections millennials have been driven by social issues, but 2016 will be a different story.[/sharequote]
The Obama administration has spent more time dealing with social issues than any other administration in recent history, ignoring other issues like the economy, foreign policy, and entitlement reform. The extreme vigor this administration has used to champion many social issues has left little room for Democrats, like Hillary Clinton, to drum up campaign enthusiasm from young Americans due to these fading issues.
This opens the door for unconventional candidates like Donald Trump and Carly Fiorina. After all, who better to handle these issues than America's most successful CEOs?
Both Fiorina and Trump have broad appeal to millennials as "get it done," job creating, tough entrepreneurs.
According to the latest Reason-Rupp survey, a full 64 percent of millennials support a free market economy over one managed by the federal government. These young Americans also believe that corporations pay too high in taxes and they deserve the profit they make. These are positions exemplified by Trump and Fiorina and the direct opposite of Hillary Clinton's positions.
With the top issues being the economy and jobs Republicans finally have their "in" with millennials. They have two experts on jobs, two individuals who have created thousands of jobs and managed top companies through one of the worst recession in recent history. Where others failed they succeeded.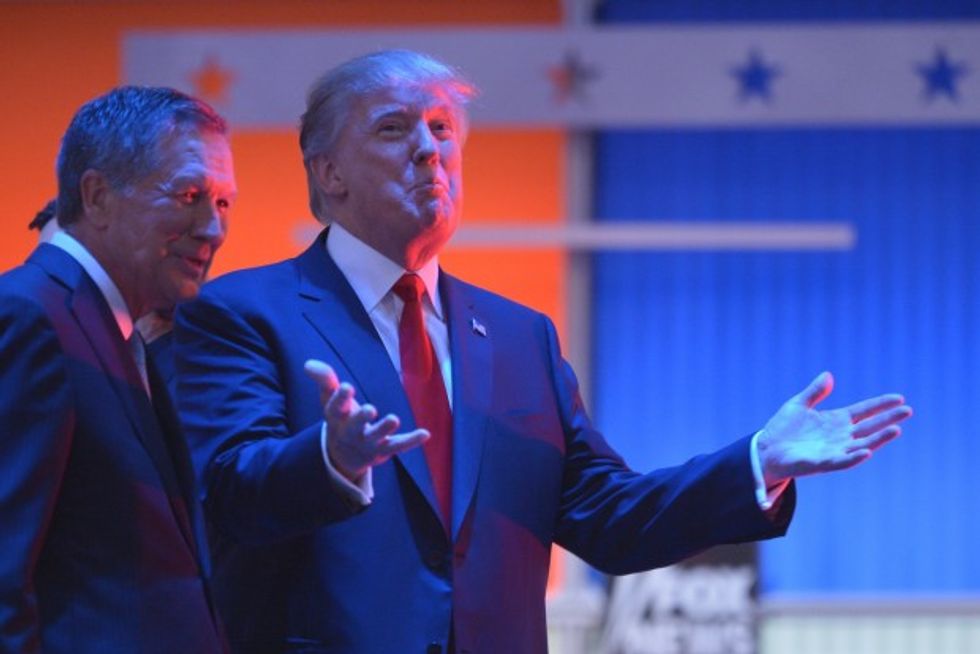 (MANDEL NGAN/AFP/Getty Images)
Millennials need hope and change when it comes to the economy. As more jobs become available millennials will need to compete with the 90 million experienced Americans who will start to reenter the workforce forcing them to take positions they are over qualified for and pay less than what is need.
Millennials have seen their median wage drop a little over $2,000 as compared from individuals in the same age bracket in the 1980's. Millennials have also seen a 43 percent drop in their net worth as compared to Generation Xers in 1995. This combined with federal debt, high unemployment, static wages, and student loan debt leaves 20 million millennials stranded and still live at home. This has prevented them from buying cars, homes, and starting families.
Millennials are looking for solutions to these issues. They want candidates who support the free market economy, less regulations, and lower taxes. Millennials realize that big government and excessive regulation has restricted the economy and prevented them from finding high paying jobs worthy of their expensive education.
Millennials, and the rest of the country, need a CEO and president who understands how a company can reach it's full potential and in what areas the government should and should not be involved. Donald Trump and Carly Fiorina have gained success through hard work and deep understanding of profit and less.
Although, both Trump and Fiorina have had their failures when it comes to business. Trump has had four businesses go bankrupt and during Fiorina's time at Hewitt Packard, the company laid off 30,000 employees and HP's stock fell 27 percent. Full vetting of a candidates past is crucial to picking the next president and issues like these deserve explanation.
Trump has said that out of the hundreds of deals he has done, only four failed and that is a great record to have. While Fiorina acknowledges her tumultuous past at HP she is quick to remind voters that while she was CEO she got HP through the worst recession in modern times while many companies went bankrupt. She also states she brought HP from a 2 percent growth rate to 9 percent, tripled it's innovation, and led HP in every product category.
Millennials are looking for candidates who can help create a booming free market economy that has room for them to succeed through merit and hard work. The most educated generation in American history needs a government who can create a jobs environment they can thrive in.
For media inquires: Sal.Lamastra@me.com. Follow Salvator on Twitter: @SalvatorDMD
–
TheBlaze contributor channel supports an open discourse on a range of views. The opinions expressed in this channel are solely those of each individual author.