© 2023 Blaze Media LLC. All rights reserved.
Gingrich is a man of vision and guts and thinks thoughts years into the future. And he is a man of action. Gingrich was changing the country while Kelly was all but 24.
It is no secret that Megyn Kelly harbors little love for Donald Trump.
Yet at the same time she must be grateful for him. His bizarre fixation with her after the GOP debates was a boom to her career, as her ratings showed. Easy on the eyes and sharp of the tongue, Kelly seems to be the consummate bulldog reporter/commentator.
But sometimes people fly too close to the sun.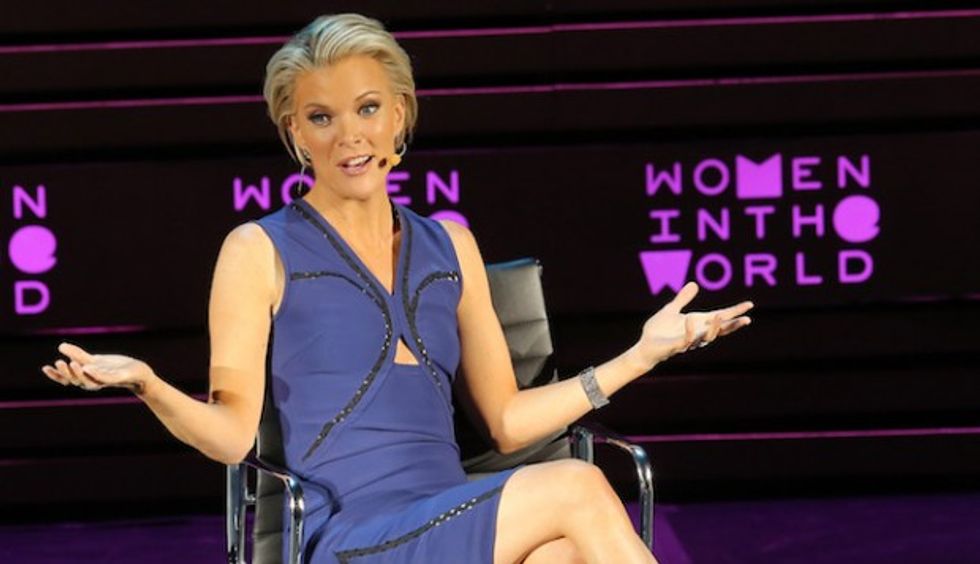 (Photo by Jemal Countess/Getty Images)
Hubris appears to have consumed Kelly to the point where she often forgets who she is speaking to.
Such was the case last night when she brought on former House speaker, accomplished historian and lecturer, and Trump supporter, Newt Gingrich.
The subject of polls came up. Gingrich tried to make the point that this election has seen so many traditional conventions upended, and so many declarations of Trump's death proven false, that one can be forgiven for being skeptical on the numbers when juxtaposed against the unpopularity of Hillary Clinton and the general mood of the country. Especially given the early voting results.
Now, I tend to agree with Kelly in that the polls are not lying.
But her interruptions and badgering of a man who did more for politics and to change the entire landscape of entrenched Washington by 1994 than Kelly and her cookie-cutter format Fox show could in a lifetime of preaching to the same captive 2.5 million viewers.
All I would like Kelly to remember is that she is a mere newscaster, indeed a television personality who, her "I am woman hear me roar" act aside, has gotten as far as she has with at least some help from her platinum blonde looks ala her photo shoots for GQ. (It's funny how when it works in their favor those who rail against objectifiying women have no problem cashing in their sex appeal for money and ratings.)
Gingrich did it the old-fashioned way.
A one-time history teacher, and then House representative, he orchestrated a genuine political revolution none thought possible in 1992 when Bill Clinton took over the White House and his party ruled both the House and the Senate.
In two years Gingrich led a team of firebrands including Ohio Rep. John Kasich (still in my mind the GOP's best candidate this year) and through his "Contract With America" pledged a renewal of the bonds of faith between the citizenry and the electorate. He was elevated to the speakership, making him third in line for the Presidency.
Since then Gingrich has become a best-selling author and popular speaker as well as run for the GOP nomination for president. Not a bad record of achievement.
Gingrich is a man of vision and guts and thinks thoughts years into the future. And he is a man of action. Gingrich was changing the country while Kelly was all but 24.
And the fact of the matter is Gingrich is right to question why it is that the media focuses 10 minutes on Trump's salacious behavior for every one it devotes to Clinton's never-ending parade of scandals, corruptions, sleazy pay-to-play deals, mendacities, incompetence and even cruelties.
And if Trump's behavior is so offensive to Kelly, how is it that she seems perfectly content to let a genuine sexual predator roam the halls of power once more? For voicing such legitimate concerns, Kelly accused Gingrich of having "anger issues."
I think it is time that someone remind Kelly that the graveyards are filled with indispensable people and there is a line beyond which hard-hitting journalism (which hasn't existed since the 1960s in any true form anyway) becomes badgering your elders. Saying "we've covered that on the Kelly File" is a nice patent deflection of Gingrich's bona fide critique of media bias, of which she is a part.
But it doesn't fly with thinking men and women who know that the speaker has a point...and very few think so hard and deeply and with so much genuine concern about the well-being of this nation as does Newt Gingrich.
Kelly should learn some respect...and remember she's speaking to a man worthy of such. I was half-expecting Moe Green to pop-up on screen and shout: "Do you know who this is? He's NEWT GINGRICH...he made his bones when you were in Syracuse!"
I'm sure Kelly would have loved that, all feigned outrage notwithstanding. Think of the ratings. But Gingrich has too much class for that. I can't say the same for Fox's latest Icarus.
Brad Schaeffer is an energy broker, columnist, historian and author. Drop him a note at: shafemans@yahoo.
–
TheBlaze contributor channel supports an open discourse on a range of views. The opinions expressed in this channel are solely those of each individual author.

Want to leave a tip?
We answer to you. Help keep our content free of advertisers and big tech censorship by leaving a tip today.
more stories
Sign up for the Blaze newsletter
By signing up, you agree to our
Privacy Policy
and
Terms of Use
, and agree to receive content that may sometimes include advertisements. You may opt out at any time.