Anyone who knows computers knows why you have to keep patching, or changing an operating system, and what eventually happens.
Any system, say Obamacare, that needs patches on top of patches, changes piled on previous changes, was designed improperly in the first place. What happens over time?
The system slows down, ceases to function, and collapses.
[sharequote align="center"]The complexity and contradictions that drive more patching promotes expansion of the bureaucracy. [/sharequote]
On Feb. 20, 2015, the Centers for Medicare and Medicaid Services announced a new, special extension to the 2015 open enrollment period for healthcare.gov. This is patch number I-don't-know-what on Obamacare. Certainly the number of changes is in the thousands. Obamacare has been altered more times than all the dresses on runway models.
It's not just the 46 major and obvious changes in the president's "established law." For every one of these big changes, there are hundreds to thousands of smaller changes that you don't see but that affect you. There are deadlines that aren't really deadlines; well-disguised taxes on top of other new taxes; exemptions, waivers, and opt-outs (for the select); exceptions for favored States; and a myriad of uncountable and intentionally uncounted rule changes.
All changes made to Obamacare are for political advantage. None will improve your health. Isn't our good health the purpose of this healthcare reform?
Today's Obamacare bears little resemblance to what the president signed on March 23, 2010 and looks nothing like what he promised the American people. The following is a very small sampling of all the changes to the president's namesake law.
Improper Patches
Congress is supposed to make laws. The Executive Branch is supposed to implement laws, not alter them.
Patches by Congress
Exemptions and Waivers
Deadlines … Delayed
Some States Are More Equal Than Others
Patches by the Supreme Court
Why is this happening? You might think it is just poor planning plus taking opportunities to gain tactical political advantage, and you would be right. However, there is a deeper, well-hidden strategic purpose at work.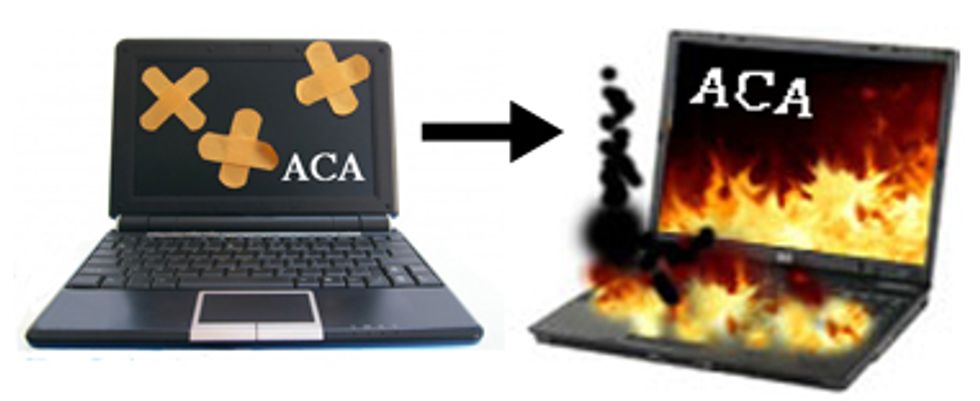 Patches on patches for Obamacare 'til it collapses, or catches fire (Dr. Deane Waldman)
All the complexity and contradictions that drive more and more patching actually promote expansion of the bureaucracy. The underlying problem is cancer – a malignant federal bureaucracy that serves only itself. What it "serves" to itself is … us.
Complexity necessitates more rules, more oversight, more penalties, and particularly, more bureaucrats. The mindless intricacies, internal contradictions, and constant patching are all part of a strategy to achieve an omnipotent bureaucratic Big Brother.
Does the Chairman of the Board of General Electric dictate the font size and typeface of the forms that line workers fill out to take authorized bathroom breaks?
Why do the president and the Congress control everything down to that level for Obamacare? That is "nano-management – a thousand times worse than micromanagement." Nano-management requires more bureaucracy and more bureaucrats, and thereby giving Washington more power, over us.
Who pays for bureaucratic expansion? We do, in dollars and life. Yes, life. Where do those dollars to expand bureaucracy come from? Answer: patient care services – cuts to Medicare reimbursements. We get new bureaucrats in exchange for losing doctors.
Cancer of bureaucracy wins. We The Patients lose. And the patches just keep on comin'.
–
TheBlaze contributor channel supports an open discourse on a range of views. The opinions expressed in this channel are solely those of each individual author.