Now that President Barack Obama has some time on his hands after solving gun control issues, for the moment at least, he can move on to another subject that is near and dear to his heart.
The subject of resettling Syrian refugees in this country is never far from Obama's list of things to do. To complete the total transformation of America before time runs out on his presidency, will require the president to step up his game.
What better way to try and convince the American public they should be happy about allowing refugees into this country that have not been properly vetted, than to put your best example of refugee resettlement on public display.
Kimberly Munley at President Obama's 2014 State of the Union, standing with First Lady Michelle Obama and her partner left, Mark Todd, the officer who fired the shot that paralyzed Nidal Hasan. AP photo
This Tuesday, at Obama's final State of the Union address, a Syrian refugee will be sitting in a seat of prominence next to the first lady in the House of Representatives gallery.
Refaai Hamo, a scientist who fled Syria in 2013 during its civil war, lost his family home when it was destroyed by a bomb, killing his wife, daughter and five other relatives.
After Hamo developed stomach cancer and was unable to receive appropriate treatment in Turkey, he was allowed to come to the United States last month after waiting two years. He now resides in Detroit.
Actor Edward Norton held a fundraising drive for him and Obama has referred to him as "an inspiration." Obama has also written to Hamo saying, "Welcome to your new home. You're part of what makes America great."
Hamo's accomplishments as a scientist are impressive and the loss of his family is tragic. However, Hamo is not the typical Syrian refugee that we have seen advancing on the shores of Greece and those with possible ties, directly or indirectly, to the Islamic State.
While there will be others sitting with the first lady, including a vacant seat for the victims of gun violence, there will be another topic that you can be assured will not be addressed by Obama.
The issue involves the allegations against some Syrian refugees who have immigrated to Europe. The subject matter will be overlooked because it involves the "ugly" problem of sexual assault allegedly committed by some of these same migrant refugees in Europe.
Many activist groups and politicians are now speaking out about what they feel is a "culture of rape and violence" in refugee centers. Activists believe that refugee males view unaccompanied women as "fair game" in these unsegregated living conditions. It is also feared that many assaults are going unreported.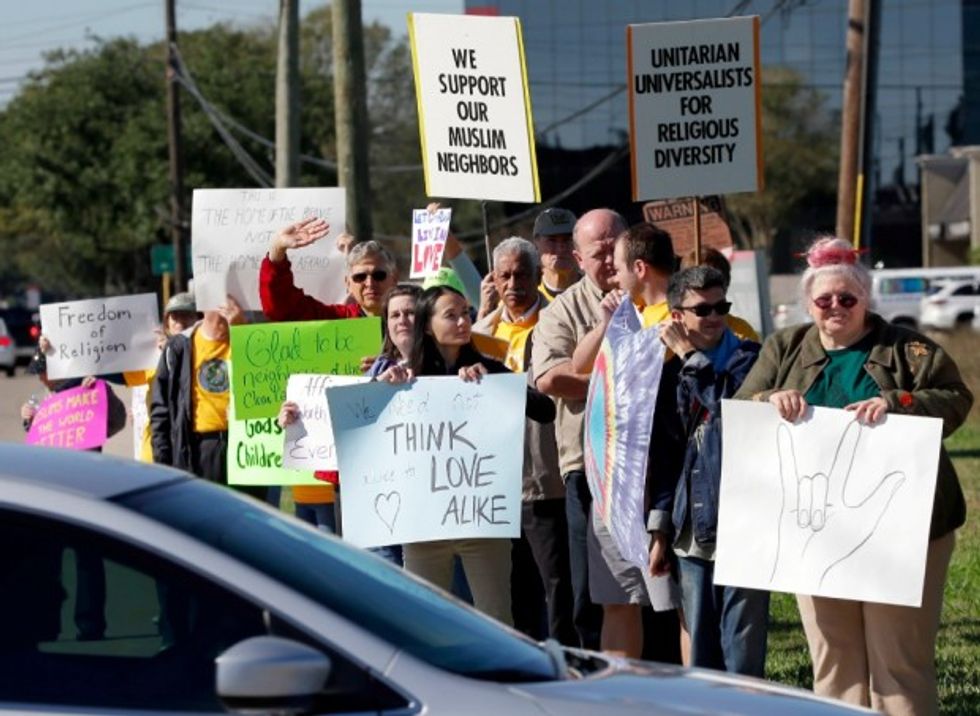 People hold signs during a rally to show support for Muslim members of the community near the Clear Lake Islamic Center in Webster, Texas, on Friday, Dec. 4, 2015. Members of several Unitarian Universalist churches and the Unitarian Voices for Justice group showed their support as attendees made their way to the center for Friday prayers. Organizers said the rally was scheduled prior to Wednesday's mass shooting in San Bernardino, Calif. (AP Photo/David J. Phillip)
You can also be certain that Obama will not mention the New Year's Eve celebration in Germany in which it is alleged that 1,000 migrant refugees launched fireworks into the crowd and sexually assaulted women while others were molested and raped.
One victim said the group that attacked her was made up of "exclusively young foreign men" and Cologne's Chief of Police Wolfgang Albers confirmed that the attacks had been done by migrants, all of whom were carrying official immigration paperwork.
Nor will Obama bring up the fact that other sexual assaults, allegedly by Syrian refugees and some described as being "southern or Arab" or "North African in appearance," took place on New Year's Eve in other German cities, including Hamburg, Frankfurt, Stuttgart and Dusseldorf.
Additionally, Obama won't address the issue of migrant women who are being raped by human traffickers promising to take them to Europe and even young migrant men from their own country who are also looking to resettle in Europe.
Finally, you won't hear him speak about the warnings that were issued to women, not only in Germany, but in Finland, Sweden, Switzerland and Austria, after reports of sexual assaults and groping allegedly by gangs of migrant men came to light.
No, indeed, Mr. Obama's final State of the Union address will be all sunshine and lollipops when it comes to how he, his administration and other Democrats have tried to do the right thing while fear-mongering, compassionless Republicans are standing in the way of helping other Syrian immigrants like Mr. Hamo have a better life in America.
While Obama may choose to show only a one-sided view of the Syrian refugee issue and ignore the other potential concerns that must be addressed, the American public recognizes the victims who have been betrayed by their governments.
You can keep your empty chairs Mr. Obama. The American public and the victims who have suffered because government failed to protect them, deserve better.
Feature Photo: Getty Images
–
TheBlaze contributor channel supports an open discourse on a range of views. The opinions expressed in this channel are solely those of each individual author.