The biggest takeaway from the Democratic Party's recent presidential debate – particularly in light of the recent attacks in Paris – comes in learning who they will or will not demonize, and whether the media will let them get away with it.
Everyone remembers Martin O'Malley's reference to "that immigration-bashing carnival barker, Donald Trump." It's no surprise that Democrats excoriate Trump. For one, he deserves it: his description of Mexican illegal immigrants as being mostly rapists, criminals, and drug-dealers was false and inflammatory. The media covered that name-calling from every angle, and Democrats are right to stand against it.
(Though keep in mind that Democrats – for example, President Barack Obama – have dismissed as "anti-immigrant" pretty much everyone who opposes so-called "comprehensive immigration reform," regardless of whether or not they've said anything like what Trump did.)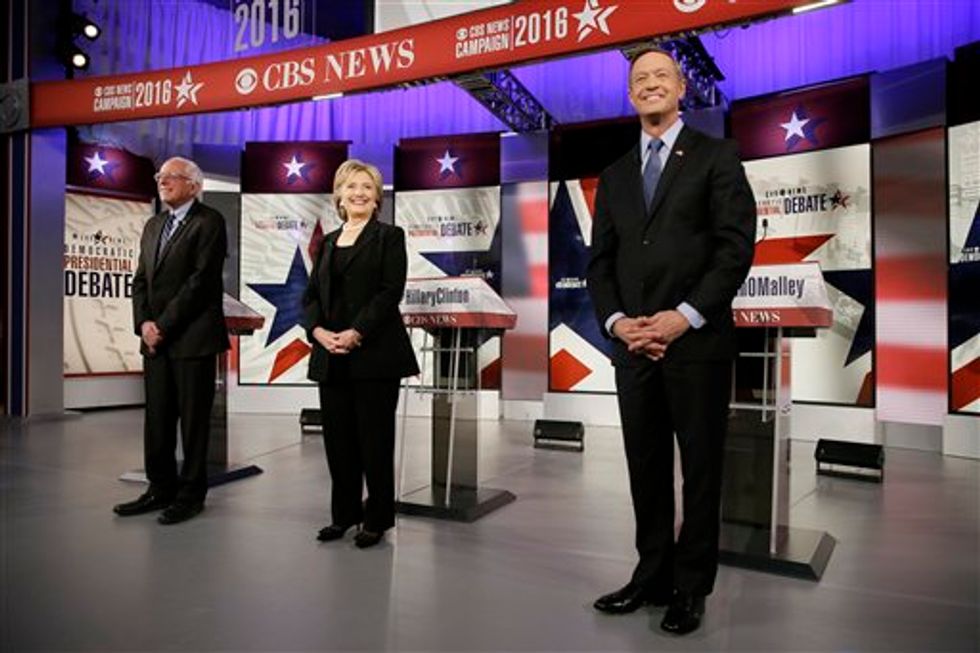 Democratic presidential candidates Bernie Sanders, left, Hillary Rodham Clinton and Martin O'Malley take the stage before a Democratic presidential primary debate, Saturday, Nov. 14, 2015, in Des Moines, Iowa. (AP Photo/Charlie Neibergall)
So, as Democrats choose their presidential candidate, derisive generalizations about illegal immigrants are off-limits. Fair enough.
Democrats are also against stereotyping Muslims, though they have an arbitrary standard about what rhetoric is over the line. For instance, Hillary Clinton wouldn't say that we're at war with "radical Islam" because that implies we're at war with Islam and all Muslims.
But she's wrong, declaring war on radical Islam doesn't imply anything of the sort. Fighting radical Islam only means fighting Muslims who use terror in the name of religion: Muslims who practice their religion peacefully aren't radicals and aren't the ones being targeted. In fact, peaceful Muslims are victims of radical ones perhaps as much as anyone else.
Given that Clinton is perfectly fine saying we're fighting "jihadists" – a distinctively Islamic term – I don't see any reason why she couldn't also be comfortable saying we're fighting radical Islam. It's inconsistent, but whatever, we don't want to stereotype all Muslims as terrorists or all terrorists as Muslims, and we don't want to deride illegal immigrants, I'm on board with that.
Here's where they lose me:
"The business model of Wall Street is fraud. That's what it is. … Their business model is greed and fraud."
Thank you, Bernie Sanders. Up until now, I thought the financial sector was like most other industries in the United States, staffed by a mix of good, bad, and benign people providing services that are sometimes beneficial, sometimes counterfeit, sometimes "meh."
Apparently, I was wrong: Inspector Sanders has determined that everyone in finance is a criminal. They might as well be peddling other deceptions, like fizzy tablets that "boost your immune system," male enhancement pills (I'm not speaking from personal experience – really! – but I hear they don't work), or Scientology (yes, I said it).
But it's not just that Sanders said it, it's that his words were met with applause from the audience, and received virtually no push-back whatsoever. Not from the moderators, not from the media. (It's not like this is the first time Sanders has said this, either.)
In fact, the only resistance Sanders met was from O'Malley, who countered that, "there's lots of good people that work in finance." Notice that O'Malley didn't get any applause, or press coverage. Sorry, that's wrong, the press covered O'Malley's trash-talking of Donald Trump to the hilt. Coverage of O'Malley's protest of Sanders' invective? Blink and you missed it.
So, it's not OK to demonize Muslims or immigrants, but it's perfectly fine to demonize Americans who work on Wall Street or the financial sector. You won't be called out for it, and the audience will actually urge you on.
That's where the Democratic Party – and the media – stand today.
–
TheBlaze contributor channel supports an open discourse on a range of views. The opinions expressed in this channel are solely those of each individual author.