The Obama administration did not develop a national security strategy for five years. Without a coherent global view there is no basis for determining what is or is not in our national security interest.
The reset button in our relations with Russia was embarrassing, but let's cut a bit of slack for a State Department wanting to do something, but having no strategic framework within which to determine what that should be.
In a speech in Cairo in June 2009, President Barack Obama apologized for U.S. behavior over the last decades, but he did not frame a vision for a successful future between our nation and the world.
The lack of a coherent global view became apparent in our response to popular uprisings in the Middle East beginning with Iran in 2009 and extending into the Arab Spring of 2011.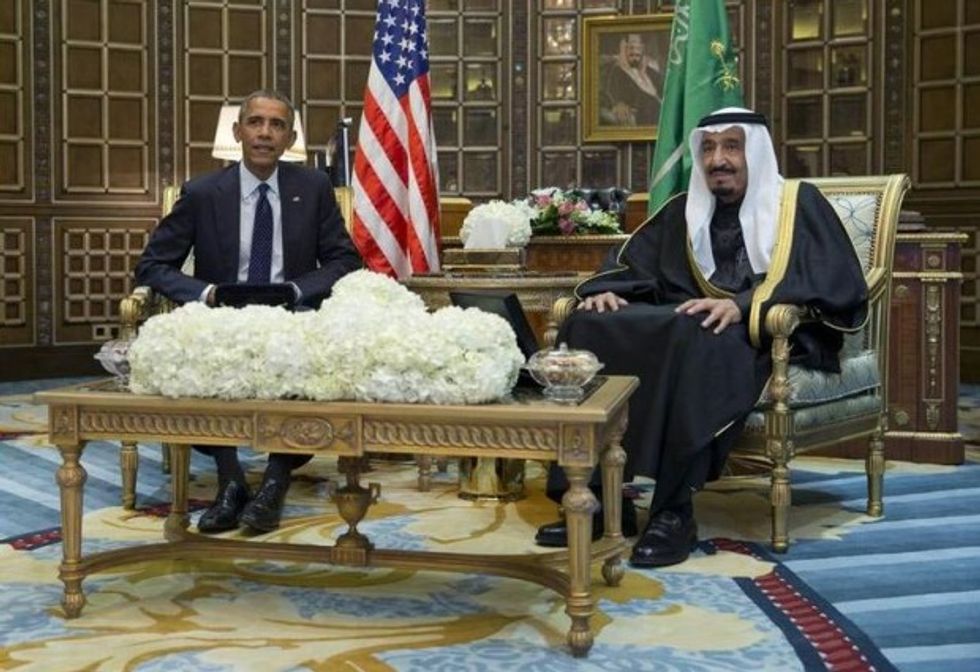 President Barack Obama and new Saudi Arabian King Salman bin Abdul Aziz, are photographed as they participate in a bilateral meeting in Riyadh, Saudi Arabia, Tuesday, Jan. 27, 2015. The president has come to expresses condolences on the death of the late Saudi Arabian King Abdullah bin Abdulaziz al-Saud. (AP Photo/Carolyn Kaster)
In Iran we silently abided a brutal put down of popular protests. During the Arab Spring we moved with dispatch to side with the protestors against the long-time rulers with whom we had friendly relations.
In 2013 we stumbled all over a red line in Syria that was first handed off to Congress and then to Russia. Putin knows what his interests in Syria are. It seems that we do not.
America decided that it was in our interests to end Saddam Hussein's reign in Iraq. Whether you agreed with that decision or not, your representation in the Congress did agree and voted overwhelmingly to approve the action. At significant cost of blood and treasure we succeeded in ushering in a secular government that included all three factions in Iraq.
While the government was fragile, it was held together by an American presence. That all changed when the president decided that it was no longer in our national security interests to remain there. There was no debate. There was no Congressional action. Just a campaign promise and as commander-in-chief, the president ordered the American presence ended.
When Russia invaded Ukraine in contravention of a 1994 agreement to protect Ukraine's borders in return for Ukraine's eliminating its nuclear stockpile, we offered Ukraine food, blankets and psychological counseling. They are begging us for bullets and guns. We said no.
The Islamic State is a well-armed, well-trained and well-funded terrorist army without borders. It is brutally marauding across Iraq and Syria, leaving in its wake destroyed cities, crucified Christians, Jews and Muslims, little girls raped and little boys buried alive.
The Kurdish peshmerga forces are battling the Islamic State and reclaiming territory with stick and stones. They are begging us for bullets and guns. We said no.
After the beheadings of some Americans we decided to drop a few bombs on Islamic State to teach them a lesson.
They seem to be slow learners. Last week they produced a video of a Jordanian pilot being burned alive.
While we have made a substantive change in our strategy from destroying the Islamic State to defeating it – and leaving the defeated to return - Jordan's King Abdullah II vowed to lead the effort to destroy them. He committed to fight this enemy "until our military runs out of fuel and bullets."
At some point we must decide whether it is in our national security interests to end these serious threats to global order. In the context of a coherent global view that question would answer itself.
Last Friday National Security Advisor Susan Rice outlined the president's first national security policy assessment in five years. Ms. Rice celebrated the administration's victories with Ebola, Iran's nuclear program and sanctions against Russia over Ukraine. (I am not making this up.)
She then stipulated the issues that our future security would be framed by. They included the way we dealt with global warming, food security, trade, jobs and transgender issues. (I am not making this up.)
In the 29-page report, one page was devoted to terrorism, but we were assured that this was not an existential threat. In the administration's view this is hardly World War II. Our new guidance is "strategic patience."
Later in the day the president counseled that, "We must always resist the overreach that comes when we make decisions based upon fear."
While the president continues to "lead from behind," King Abdullah is prepared to lead from the front. He concludes that there is no such thing as overreach when dealing with brutality. He has asked for predator drones to destroy the Islamic State. We said no.
Absent a coherent global view we are left to the vicissitudes of the president's state of mind. That is a dangerous place to be with a president who seems increasingly empathetic to the nostrums of Islam and says no to entreaties to help end the terror that issues from it.
–
TheBlaze contributor channel supports an open discourse on a range of views. The opinions expressed in this channel are solely those of each individual author.