When people talk about things like transgender bathrooms and co-ed locker rooms in schools I immediately think of California or New York. I don't think of a little town in the Midwest, surrounded by cornfields.
And yet, that is exactly where I came face-to-face with it when Bellevue, Nebraska, the oldest city in the state, became the first in the state to adopt a radical transgender policy promoted by Planned Parenthood and the ACLU.
Bellevue was just one of the school districts across America that received a letter from the ACLU strongly urging them to adopt a transgender policy citing potential lawsuits if they didn't. After months of school board meetings filled to capacity with upset parents, Bellevue Public Schools voted to implement the policy despite parent protests. Parents are infuriated with the School Board's decision and for good reason.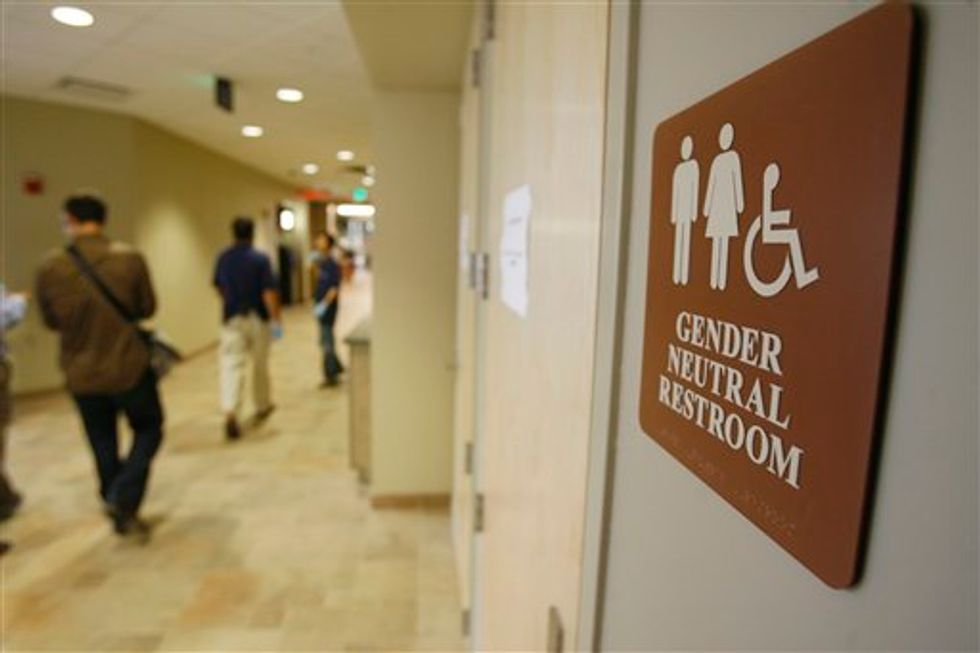 (AP Photo/Toby Talbot)
Bellevue's policy (which isn't really a policy at all but a list of rights for students declaring themselves "transgender") states that "transgender students have the right to discuss and express their gender identity and expression openly and to decide when, with whom, and how much to share private information."
Anyone with even a modicum of common sense can see the negative implications and inevitable ramifications of such a broad statement. All a student has to do is say they're transgender and they can pretty much do whatever they want, whenever they want, with whomever they want. That single paragraph takes all authority from teachers and school staff, creates unnecessary chaos, and puts our children in a very vulnerable position. A detailed synopsis of the policy can be found at the Meeting of Moms website, created by moms to inform parents about these radical policies sweeping our nation.
The school policy, like all the others being promoted across the country, provides "definitions" to help enlighten parents and teachers on this new way of thinking. A phrase used repeatedly is "assigned at birth." According to the definition, the gender of our birth which is "not to be confused with the gender we identify with." They define that as "a person's deeply held sense or psychological knowledge of their own gender, regardless of the sex they were assigned at birth."
This certainly seems an Orwellian attempt to convince a bunch of ordinarily sensible, intelligent people their assigned gender isn't really who or what they are and then dictate the rest of us just accept it on face value. Unfortunatley their biggest target is our children.
Last year teachers in every school in Lincoln, Nebraska were sent a full-color flyer of the "Genderbread Person" to better help them and their students better understand these new definitions. The flyer, which has been circulated in schools across the country states, "Gender is one of those things everyone thinks they understand, but don't."
I'm pretty sure it's not we who are the confused ones.
Sam Killerman, the founder of Its Pronounced Metrosexual and creator of the Genderbread Person states, "This tasty little guide is meant to be an appetizer for understanding. It's okay if you're hungry for more."
Why would he use a cute familiar object from a popular children's story if not to specifically target our children and create confusion in their hearts and minds?
It is clear this is an orchestrated attempt to force society (and our children) to separate gender and sex as if they were two different things and then try and make us feel stupid if we don't "get it" and bigoted if we don't accept it. These two are the same thing no matter what they try to convince us of or how many times they shove their ridiculous definitions in our faces.
It's time for a dose of mommy sense. Apparently parents are the only ones sensible enough to see it and courageous enough to say it.
Parents in a California school became outraged when their 13-year-old children came home reporting they felt their teachers were pushing them to have sex. The teachers as it turned out, were actually staff members of Planned Parenthood (who promote the definitions on their website) using the Genderbread Person to teach students about sex and "gender identity."
These definitions have filtered into the transgender policies being pushed on our schools.
The Bellevue Public School Policy, for instance, requires teachers, staff, and fellow students to use the "pronoun that corresponds with the student's gender identity, as determined by the parent and student." That is of course when the parents are included in the conversation. The policy disallows school staff from telling the parents their child has identified as transgender unless the child says it's okay. Just to make things clear for school personnel, they are directed to use the student's legal name when contacting parents unless the student or parent specifies otherwise.
It is a true sign of the state of decay our society is in, when a school policy has to explain which pronoun we use to reference a child when communicating with their parents.
Aside from the obvious issues with shared-sex bathrooms and locker rooms, these transgender policies go beyond any recognition of civility or common sense, create an unsafe environment and promote chaos and confusion. But then, that is clearly the objective.
If you want to learn more about these radical policies being forced our schools and our children visit the Meeting of Moms website. If this is happening in a small town surrounded by cornfields in fly-over country, you can bet it's coming to a school near you—unless of course, it's already there.
Kimberly Fletcher is the author of WOMEN: America's Last Best Hope and the president and founder of HomeMakers for America Inc. The views in this article are solely of the author and not representative of HomeMakers for America Inc. Follow Kimberly on Facebook and Twitter @proudhomemaker
–
TheBlaze contributor channel supports an open discourse on a range of views. The opinions expressed in this channel are solely those of each individual author.