Planned Parenthood and its supporters in the media are working extra hard to cover the truth about their "business" dealings after the recent undercover videos by the Center for Medical Progress.
The left fears nothing more than exposure. The videos, showing how Planned Parenthood haggled over the price of aborted babies' hearts, lungs, brains, and other body parts, are a crude reminder of the evil that is the abortion industry.
But the videos are not about abortion. Neither are they about "reproductive rights" or politics or video editing. The left wants to make it about that and any other thing they can think of, but the truth in a desperate attempt to obscure what is plainly evident to any reasonable observer. The videos are, unequivocally, about a "non-profit" organization, receiving more than $500 million in taxpayer funds, profiting from the sale of aborted fetuses' body parts.
This practice is illegal according to 42 U.S.C. 289g-2, which makes it a crime "to knowingly acquire, receive, or otherwise transfer any human fetal tissue for valuable consideration if the transfer affects interstate commerce." Exactly what we see happening in these videos.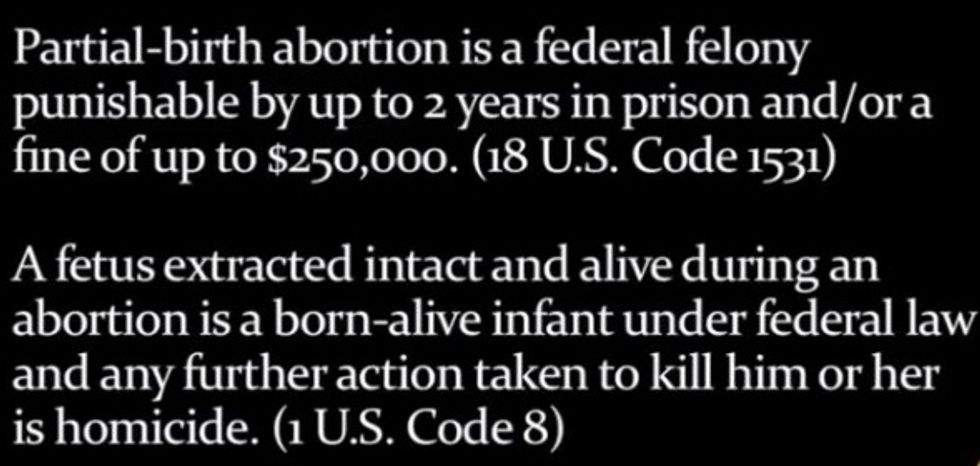 Screenshot via YouTube
The latest video features Cate Dyer, the CEO of StemExpress (the company who has partnered with Planned Parenthood to procure baby parts), who makes it clear that Planned Parenthood is being well compensated for their cooperation.
"Do you feel like there are clinics out there that have been burned, that feel like they're doing all this work for research, and it hasn't been profitable for them?" she asked, "I haven't seen that."
That is a very clear statement. The term "profitable" refers to profits. You might fairly say the statement was not made by a Planned Parenthood representative, but that would just demonstrate you haven't watched all the videos yet.
The previous video featured Melissa Farrell, the Director of Research for Planned Parenthood Gulf Coast, who made an incredibly damning statement, shedding light into the organization's illegal practices. She actually bragged about how much she makes for the company through this unethical research:
"I think everyone realizes, especially because my department contributes so much to the bottom line of our organization here, you know we're one of the largest affiliates, our Research Department is the largest in the United States. Larger than any [of] the other affiliates combined."
The video before that showed Savita Ginde, vice president and medical director of Planned Parenthood Rocky Mountains, discussing a contract for aborted body parts. She also confirms that Planned Parenthood is playing with the number to maximize profits. When the buyer suggests that they change the pricing scheme to paying per organ, she says, "I think a per-item thing works a little better, just because we can see how much we can get out of it."
Again, "how much you can get out of it," speaks of profits, not costs.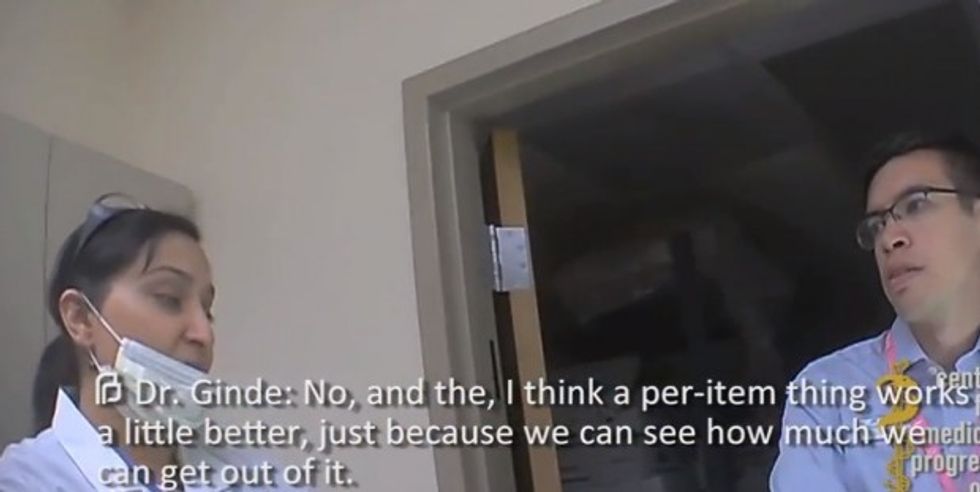 Screenshot
Ginde confirms they are knowingly engaging in this illegal activity. She is heard saying, "Putting it under 'research' gives us a little bit of an overhang over the whole thing. If you have someone in a really anti-state who's going to be doing this for you, they're probably going to get caught."
Then there is the infamous "Lamborghini" video, featuring one of Planned Parenthood's top officials, Planned Parenthood Federation of America's Medical Directors' Council President Dr. Mary Gatter.
The buyer asks her, "What would you expect for intact [fetal] tissue?"
"Well, why don't you start by telling me what you're used to paying," Gatter replies. "You know, in negotiations whoever throws out the figure first is at a loss, right?"
I mean, if Planned Parenthood is only "recovering costs" from this activity, it would not need to be asking the buyer how much he pays in other places, it only needs to assess how much it costs them to do it. She even admits they really have no cost for this, yet are paid for it.
She said, "It was logistically very easy for us, we didn't have to do anything. So there was compensation for this."
Also indisputable is Planned Parenthood's admission that it is willing and does alter its medical procedures solely for the purpose of obtaining the organs they are looking for from the aborted babies. The Federal Code requires "no alteration of the timing, method, or procedures used to terminate the pregnancy [is] made solely for the purposes of obtaining the tissue" (42 U.S.C. 289g-1(b)(2)).
But in that same video, Gatter says it is perfectly fine for them to break that law by altering the abortion procedure to get the baby's organs intact:
"I wouldn't object to asking Ian, who's our surgeon who does the cases, to use an IPAS [manual vacuum aspirator] at that gestational age in order to increase the odds that he's going to get an intact specimen."
And there is plenty more evidence that this is already happening.
In the first video, Planned Parenthood Federation of America's Senior Director of Medical Services, Deborah Nucatola, admits they use ultrasound when they are performing a procedure in order to get better preserved organs:
"I'd say a lot of people want liver. And for that reason, most providers will do this case under ultrasound guidance, so they'll know where they're putting their forceps."
She callously says, "We've been very good at getting heart, lung, liver, because we know that, so I'm not gonna crush that part, I'm gonna basically crush below, I'm gonna crush above, and I'm gonna see if I can get it all intact."
Does it get any clearer than that? She is not "gonna crush that part," she'll crush the baby below certain sections in order to harvest its organs. That is a precise admission of a violation of federal law.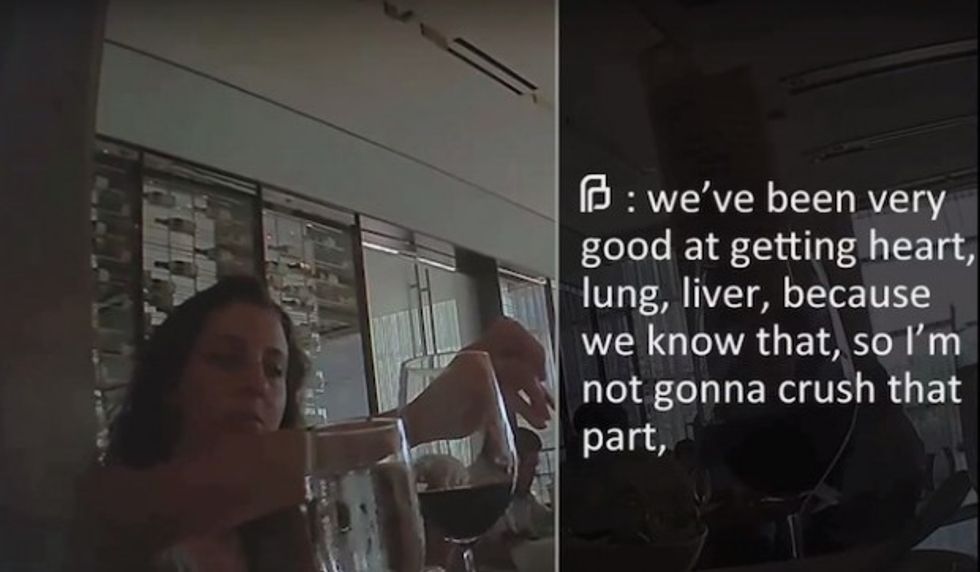 Image source: Screenshot
And there is still more evidence. Farrell said unreservedly that when the buyers ask for a specific organ, "We bake that into our contract, and our protocol, that we follow this, so we deviate from our standard in order to do that."
Ginde suggested they do training to show doctors how to alter the procedure, "We'd have to do a little bit of training with the providers or something to make sure that they don't crush" a baby's organs during second-trimester abortions.
The evidence in these videos is very clear to any reasonable observer, which is why the left is rabidly against anyone watching the videos. Instead, they want to debate the merits of using a baby's organs for research.
One Planned Parenthood supporter asked on Facebook, "Well, do you prefer they throw these organs away?"
Do you see the sleight of hand? That question gets us to debate research, instead of Planned Parenthood's illegal activity to obtain the organs in the first place and its illegal profiting from the sale of aborted baby hearts, lungs, and brains.
No, the left wants to move everyone away from the facts and into the theoretical. That's how they win. It explains why the campaign to suppress the videos has been relentless. Of course they went to court to suppress them, but the more revealing aspect has been the liberal elite's unwillingness to even watch the videos, sending a clear command through their ranks: Any real "reproductive rights" supporter would not watch these videos.
The examples came from the highest levels.
Remember White House Press Secretary Josh Earnest condemning the videos as "fraudulent" without having watched the videos? No, they simply take Planned Parenthood's press releases as their official positions. Democrat Sen. Kirsten Gillbrand from New York echoed the White House. No need to watch the video, Planned Parenthood's word is good enough, whatever the evidence suggests. The same was true of Hillary Clinton.
When Gov. Bobby Jindal (R-La.), who commenced an investigation into these Planned Parenthood practices, heard that its supporters would come to the governor's mansion to protest, he decided to play the videos outside for the protestors to see, but it should be no surprise that they refused to see it, standing far away from the mansion.
Planned Parenthood operates and depends on blindness for its existence. Its success comes from the suppression and obfuscation of facts and on driving discussion away from what it does to what it represents in theory. That's what its supporters defend, which is why they shamelessly and blindly defend them without watching the videos.
Don't fall for their call to willful blindness. Watch the videos and make up your own mind.
Feature Image: Andrew Burton/Getty Images
–
TheBlaze contributor channel supports an open discourse on a range of views. The opinions expressed in this channel are solely those of each individual author.