If there were any questions as to the depths of the Obama administration's devotion to the big-abortion industry, let this week's announcement remove all doubt.
On the heels of a series of undercover videos implicating Planned Parenthood in the alleged trafficking of aborted babies' tissue and organs, the Barack Obama White House decided to do something unprecedented – give them more of your money.
According to Planned Parenthood's own calculations, the abortion-giant receives more than half a billion dollars in federal funding each year. But in Obamaland – where babies are called a punishment, churches shouldn't talk about abortion, and God apparently blesses the destruction of innocent life – that simply is not enough.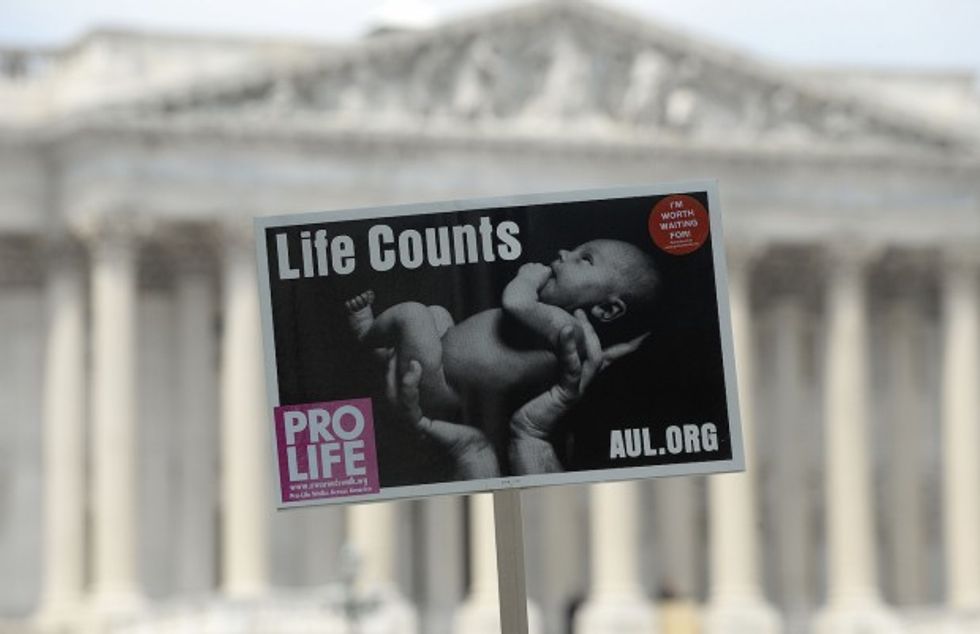 Anti-abortion activist sign is held aloft during a rally opposing federal funding for Planned Parenthood in front of the U.S. Capitol on July 28, 2015 in Washington, D.C. (Photo by Olivier Douliery/Getty Images)
So what is a radically pro-abortion president to do?
The Obama administration had to get creative. They used a backdoor maneuver to unilaterally boost funding to three Planned Parenthood affiliates in Iowa, Missouri, and Montana by more than $1 million through Obamacare navigator grants – the money that is given to nonprofits and health centers that agree to recruit enrollment in the Obamacare exchanges.
Of course, this should not be all that surprising, but it is telling. As we speak, three Congressional committees are investigating Planned Parenthood for possible wrongdoing. A growing body of evidence suggests that the organization may have participated in partial-birth abortions, may have altered abortion procedures to obtain intact fetal tissue, and may have illegally profited from the sale of this tissue.
The Obama administration's decision to cut them yet another check from Uncle Sam shows that protecting their prized political ally is, in their view, more important than enforcing the law. It reeks of an arrogant administration once again thumbing its nose at Congress and taxpayers and, most importantly, it demands a response from Congress.
Give credit where credit is due. The Obama administration is profoundly wrong on the issue of Planned Parenthood, but they have shown time and again that they are willing to go to the mat to defend their cause. Their determination must be matched by a Congress that will work even harder to defend those innocent lives that are in the crosshairs of this lawless abortion mill.
That is why I introduced H.R. 3134, The Defund Planned Parenthood Act of 2015.
My legislation would use Congress's power of the purse to place an immediate moratorium on all federal funding to Planned Parenthood for the span of one year while Congress investigates. This week's administrative power grab is all the more reason for the House to immediately call up this bill for a vote when Congress gavels back into session on September 8.
I've been fully transparent in saying that my end goal is to permanently and fully defund Planned Parenthood but, until then, there are more than enough lingering questions to warrant this modest and reasonable step. Americans of all political persuasions deserve to know that our laws are followed and that their tax dollars are spent with integrity. A "timeout" on all funding to the nation's largest abortion provider will help ensure this is the case.
While we await Congressional action, I'm reminded of the words of Deitrich Bonhoeffer who famously said "Silence in the face of evil is itself evil ... Not to speak is to speak. Not to act is to act."
The American people expect a bold response to the atrocities at Planned Parenthood. It's time Congress delivered.
–
TheBlaze contributor channel supports an open discourse on a range of views. The opinions expressed in this channel are solely those of each individual author.