Watching a significant segment of the conservative movement embrace Donald Trump's bid for president is both bewildering and painful. Not only has Mr. Trump switched his political affiliation at least four times, he has consistently attacked the very same conservatism so many of his supporters say they want.
The reality is, as hard it may be for many who like Trump to believe, the reality star/real estate mogul is absolutely not a constitutional conservative. He may be a successful businessman, an exceptional negotiator, and someone who knows how to control the left-leaning media—as he proved when he had activist-journalist Jorge Ramos removed at a press conference earlier this week in Iowa—but the evidence against the claim Trump is a true conservative is overwhelming and well-documented.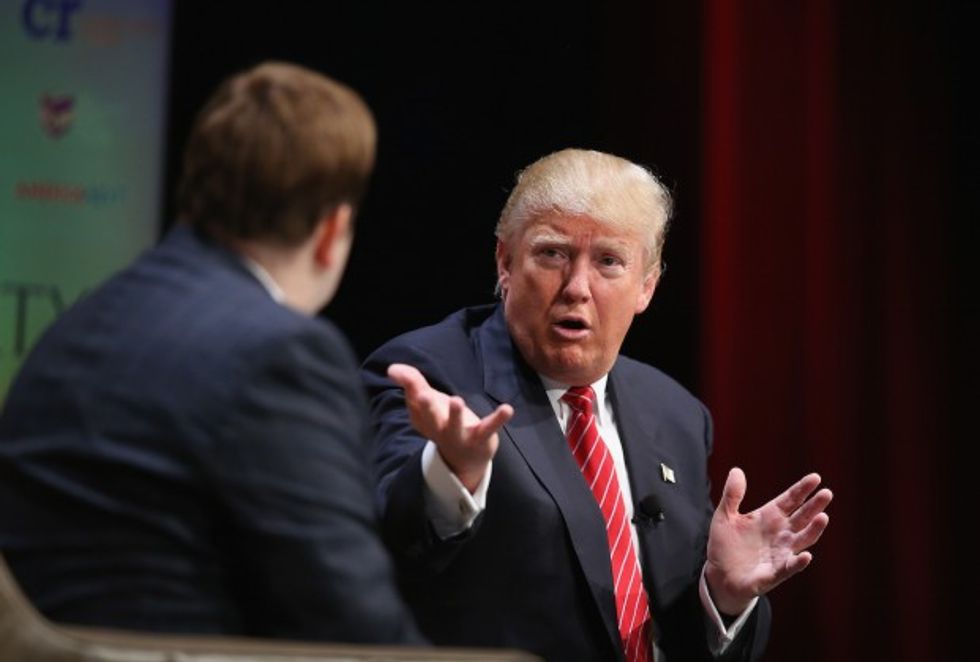 Republican presidential hopeful businessman Donald Trump fields questions from Frank Luntz at The Family Leadership Summit at Stephens Auditorium on July 18, 2015 in Ames, Iowa. (Photo by Scott Olson/Getty Images)
Rather than spend time accusing Trump of promoting leftist policies and attacking true conservatives, let's look at what Trump has himself said about small government conservatives over the years.
In 1999, former conservative presidential candidate Patrick Buchanan said he believed that in the early stages of World War II, Adolf Hitler presented no serious threat to the United States. In response, Trump called Buchanan a "Hitler lover" and then presented a series of repugnant personal attacks against him, as reported by The New York Times.
"I guess [Buchanan is] an anti-Semite," Trump reportedly said. "He doesn't like the blacks. He doesn't like the gays. It's just incredible that anybody could embrace this guy."
The same year, Trump appeared on Meet the Press with Tim Russert to discuss, among other things, why he decided to leave the Republican Party. Speaking candidly, Trump told Russert, "I really believe Republicans are just too crazy right. I mean, just what's going on is just nuts."
These, of course, are the same "crazy right" Republicans the Tea Party has denounced as being far too liberal over the past five years.
During the same interview with Russert, Trump incredibly said this when asked if he supported allowing partial-birth abortion: "I'm very pro-choice. I hate the concept of abortion ... but I still just believe in choice."
It wasn't long after the interview Trump published "The America We Deserve," where he criticized Republicans who oppose government-run health care, and then said this: "We must have universal healthcare. I'm a conservative on most issues but a liberal on this one. We should not hear so many stories of families ruined by healthcare expenses."
[sharequote align="center"]"I'm a conservative on most issues but a liberal on this one."[/sharequote]
While it's true many of these comments were made over a decade ago, little appears to have changed.
Trump still engages in ruthless and baseless personal attacks on members of his own party, as he did in July, when he attacked Arizona Sen. John McCain for being shot down during the Vietnam War.
"He's not a war hero," said Trump. "He's a war hero because he was captured? I like people who weren't captured."
McCain may not be a conservative, but what reasonable person would question his patriotism or sacrifice?
Despite Trump's continuous attacks on Republicans, especially conservative Republicans, polling data show pro-liberty Americans continue to support Trump. In Quinnipiac University's recent survey, 23 percent of respondents who identified themselves as belonging to the Tea Party said they would choose Trump over all other Republican candidates. The next closest candidate was Wisconsin Gov. Scott Walker at 17 percent, followed by Texas Sen. Ted Cruz at 10 percent.
The Quinnipiac poll also revealed 20 percent of those who identified as "very conservative" favor Trump, making him the most popular amongst that demographic. Amazingly, he was also most popular amongst those who said they were "moderate or liberal."
Trump has tapped into a large segment of the population who is sick of the illegal immigration problem not being solved, tired of political double speech, and frustrated by the rampant political correctness ruling the nation. In Trump, they see a bold solution to all of these problems, but in reality, Trump will just as quickly destroy your Constitutional rights as the current president has, albeit it for personal reasons rather than ideological ones.
With all of the issues dragging down Hillary Clinton, it's very possible any Republican candidate coming out of the primaries could win in 2016, so this election offers a potentially history-altering opportunity for conservatives that may not come around again for decades, and if liberals have their way, maybe conservatives will never get another better opportunity to restore American liberty. After all, it's very likely the next president will have the opportunity to fill two Supreme Court seats and fundamentally change the way the Constitution will be interpreted for the next century or more.
Do you really trust Donald Trump, based on all that he's said and done in the past, to make the right choice? We need a real champion of the Constitution, not an out-of-touch, flip-flopping, political opportunist who has proven over and over he'll say and do nearly anything to further his own interests over those of others.
Republicans, wake up! Time is running out.
–
TheBlaze contributor channel supports an open discourse on a range of views. The opinions expressed in this channel are solely those of each individual author.