The Bible tells a story in the sixth chapter of the Gospel according to Mark that isn't discussed much from the pulpits of the average modern megachurch. The story pertains to John the Baptist, who by then had finished his work preparing the way for Jesus and found himself languishing in a prison cell on the orders of King Herod.
According to both the Biblical account and secular history, King Herod was exactly the sort of amoral petty tyrant figurehead administrator who flourished in the outer reaches of the Roman Empire. The Bible tells us that he had no use for morality or righteousness, but he kept John near to hand because, like many godless rulers throughout history, some remaining part of his soul was captivated by the stentorian preaching of a truly righteous man.
The events that led to John's imprisonment and beheading at the hands of Herod were relatively straightforward. It came to John's attention that Herod had taken his brother Phillip's wife as his own, a clear violation of dozens of principles of Jewish law, even if it was not especially shocking to the conscience of his day.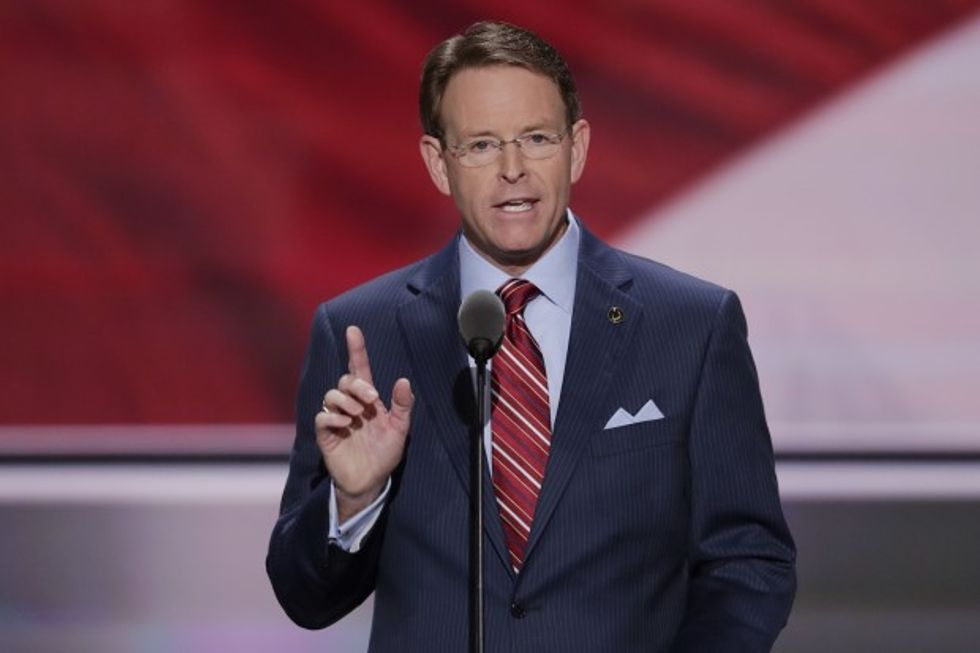 Tony Perkins, President of the Family Research Council speaks during the final day of the Republican National Convention in Cleveland, Thursday, July 21, 2016. (AP Photo/J. Scott Applewhite)
Surely John knew that to condemn a powerful man in a position of near-absolute authority on a point of law that was dismissed with a wink and a nod by many of his day was to invite serious trouble into his life. John might well have concluded that the safest course of action would be to simply ignore Herod's unlawful marriage and continue his work elsewhere, for the sake of greater freedom to spread his message of repentance to all people.
Of course, that isn't how John was wired, and it isn't how God's messengers have ever been called to behave. John's job wasn't to successfully navigate the difficult political situation of his time, it was to declare the truth wherever it needed declaring; sorting out the earthly consequences was left entirely in God's hands. It was a decision John paid for with his life, along with countless other Christian martyrs throughout history — men and women who have trusted that they would be rewarded by God in the next life for having suffered persecution at the hands of men in this one.
I've had reason to think about John the Baptist often in recent months as I have watched numerous men who I once respected openly compromise their principles in support of Donald Trump, all in the hopes of avoiding relatively benign persecution at the hands of Hillary Clinton. I don't fancy myself a Christian leader and I'm not even much of a Christian these days. That having been said, I'm familiar with what Biblical Christianity looks like, and it bears no resemblance to the cowering existence currently being practiced by men who head prominent and well-funded tax exempt organizations that purport to lobby on behalf of Christianity with the United States Government.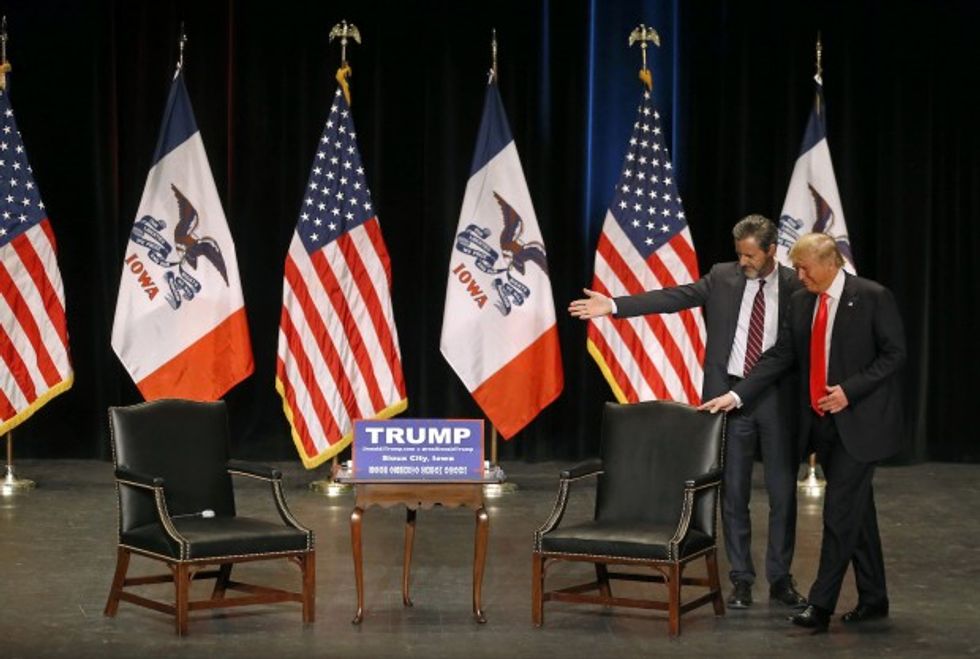 Jerry Falwell, Jr., left, president of Liberty University, guides Republican presidential candidate Donald Trump to his seat during a campaign event at the Orpheum Theatre in Sioux City, Iowa, Sunday, Jan. 31, 2016. (AP Photo/Patrick Semansky)
I watched with interest an episode of Dana Loesch's TV show earlier this week featuring Fox News radio host John Gibson, whose purpose on the panel seems to have been to excuse virtually everything Trump has done or might do. Specifically, he excused the Christian leaders who have clung to Trump even in the wake of the revelations that Trump's personal habits were even more anti-Christian and amoral than previously believed by remarking that the professional Christian lobbyists have "so much to lose" if Hillary Clinton becomes President.
By that I guess he means that people who go to worship every Sunday in posh buildings that are nicer than the literal palaces of Jesus' day might have to divert additional money from their budget to fight lawsuits brought by the Department of Justice. Or, quelle horror, the professional Christian "non-profit" lobbyists might not be able to act as a tax write off for their donors, which would probably put a serious crimp in their interior decor budget.
I am sure John the Baptist, whose head was severed from his body for condemning a sin that Trump brags about on a regular basis, will need to pull himself off the fainting couch after hearing of this impending terror at the hands of Hillary Clinton.
On the whole, is it a positive thing that the Christian religion has been a protected practice throughout most of the history of America? Of course it is. The Bible tells us in 1 Peter 2 that we are to pray for kings and all who are in authority that we might live quiet and peaceful lives in our daily walk with God. Note the distinction: prayer for a lack of persecution at the hands of your government is directed towards God, not towards the kings themselves. And the Bible is especially emphatic in rejecting the idea of compromising Christian principles in order to obtain earthly piece for the Christian faith.
From the earliest days of the faith, when the lives of the Apostles were threatened in Acts the 5th chapter, they responded with boldness and clarity that would shame the Christian leaders of today: "We ought to obey God rather than men!" The rest of the book of Acts is basically a lengthy testament to the Apostles' willingness to refuse compromise in their message, even on the pain of imprisonment or death.
What is going on here is actually worse than mere cowardice, however. What Trump did to endear himself to these professional Christian lobbyists is to promise that he would push for a revision of the tax code to remove the prohibition against overt political activity for 501(c)(3) tax exempt organizations — like churches.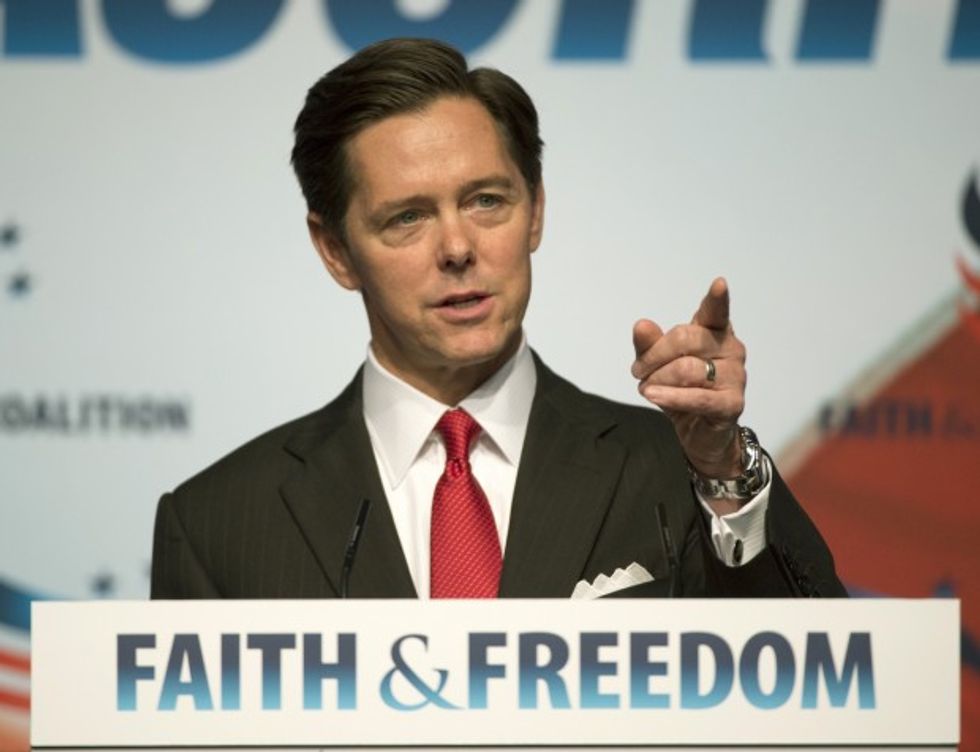 Ralph Reed, Chairman, Faith & Freedom Coalition, speaks during Faith and Freedom Coalition's Road to Majority event in Washington, Saturday, June 21, 2014. (AP Photo/Molly Riley)
The theoretical reason for this is to take the shackles off modern preachers who want to promote politicians from their pulpits (as though Jesus would approve of using his name in this manner), but the end of this path isn't difficult to see from the beginning. Many churches — and religious lobbying organizations — will become just like employee unions have become: organizations that have lost their way from their original purpose because they have become obsessed with the bloodsport of winning political elections. Meanwhile, the leaders of churches will use their now-bloated budgets to enrich themselves, to the extent that this is not already happening.
We have come a long way from the Apostle Paul singing joyfully in a Philippian prison, and not necessarily in a good direction.
Christianity is a religion that was born in the midst of persecution, nursed in the midst of persecution, and spread across the globe in the midst of persecution. And I don't mean the persecution of paying fines or hiring lawyers, I mean physical torture and mass murder persecution.
Would it be a good thing for churches to avoid the lawsuits and petty invasions of the Clinton Department of Justice? Absolutely. Is it worth the souls and principles of people who claim to be teachers and leaders to align themselves with the most overtly godless man who has ever run for president?
That isn't to say that Christians can't or shouldn't vote for Trump. It's perfectly defensible for Christians to believe that Trump might make a better president than Clinton and to vote for him accordingly. But the spectacle of these prominent men, whose purported job is to help the spread of the gospel message, standing on stage with Trump and giving him their blessing is damaging both to their reputations and to the power of the gospel witness.
"For what partnership has righteousness with lawlessness?" the Apostle Paul asked rhetorically in the venerated epistle Two Corinthians. "Or what fellowship has light with darkness?"
And even more explicitly in what I guess Trump would describe as One Corinthians, "But now I am writing to you that you must not associate with anyone who claims to be a brother or sister but is sexually immoral or greedy, an idolater or slanderer, a drunkard or swindler. Do not even eat with such people."
Donald Trump might well have earned the vote of many evangelicals, and if so, I would encourage those evangelicals to go ahead and render that vote unto Donald. But what Donald Trump has unquestionably not earned — and does not deserve — is the intermingling of the Christian witness by so many with the call to vote for a given candidate. Avoid the temptation to render to Trump the things that are God's.