"Congress shall make no law respecting an establishment of religion, or prohibiting the free exercise thereof; or abridging the freedom of speech, or of the press; or the right of the people peaceably to assemble, and to petition the Government for a redress of grievances."
At least, that's what the First Amendment of the United States Constitution says. But with every administration since Bill Clinton, we have seen the rapid expansion of a concept called "Free Speech Zones": a specified zone where protests are sanctioned to take place.
This is not to say that Clinton is solely responsible for this. Far from it.
Speech suppression has occurred in this country for some time in various ways. We saw "legal" suppression of speech and other rights during wartime, such as with World War I and the Sedition Act of 1918, or Japanese internment and suppression of Japanese civil rights during World War II. Outside of any legal action there has always been social ostracism towards groups, (i.e.) German Americans during World War II or American soldiers during the Vietnam War.
During the 1960's and early 1970's universities like Columbia and Kent State were epicenters for unrest. And often this placed great strain on the daily operations of these universities. They began to relegate protests to designated areas. This practice came back into use in the 1980's during G8 summits, as well as during the 1988 Democratic National Convention. Since Bill Clinton's presidency, George Bush and Barack Obama have liberally used these zones.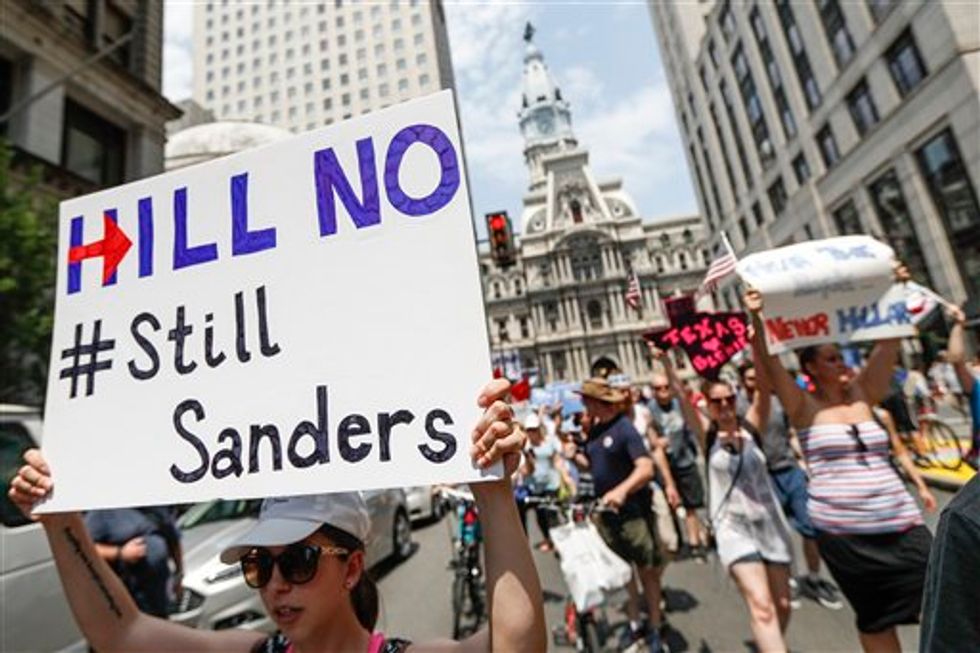 Supporters of Sen. Bernie Sanders, I-Vt., make their way around downtown while a protesting, Monday, July 25, 2016, in Philadelphia, during the first day of the Democratic National Convention. (AP Photo/John Minchillo)
A further effort to limit free speech came on Feb. 13, 2013 when President Obama signed into law HR 347, "Federal Restricted Buildings and Grounds Improvement Act" also known as the "Trespass Bill."
In short, HR 347 allows for federal agents to remove and detain peaceful protestors and then charge them with felonies. As well, HR 347 prohibits free speech and protest in areas designated as "No Free Speech Zones" by the U.S. Secret Service. Violators can be punished with arrest and up to one year in federal prison. It bears note that your mere presence in one of these "No Free Speech Zones" regardless of intent can get you arrested.
This offers tremendous opportunity for silencing dissent through discretionary enforcement.
According to Gabe Rottman of the American Civil Liberties Union in an article from March, 2012:
"H.R. 347… could be misused as part of a larger move by the Secret Service and others to suppress lawful protest by relegating it to particular locations at a public event. These 'free speech zones' are frequently used to target certain viewpoints or to keep protesters away from the cameras. Although H.R. 347 doesn't directly address free speech zones, it is part of the set of laws that make this conduct possible, and should be seen in this context."
Today, a mere four years later, we see that instead of establishing these "Free Speech Zones," the DNC decided to wall off the entire convention by building a 4-mile fence. Within the confines of this enormous "no free speech zone" there is quite a number of attendees requiring Secret Service protection, making even a minor breach of the perimeter a federal offense. Effectively, this made the DNC a no-go zone for any person or group that is unwilling to walk in lock-step with the party platform. At the very least, if dissent is not punished, it will be silenced.
During the 2012 elections, President Obama mocked Mitt Romney's view on foreign policy when Romney stated that Russia was a threat to America. Mr. Obama stated: "The 80's called, they want their foreign policy back."
If this is valid, then based on the 2016 DNC and what it has exposed, Mitt Romney might well be justified in saying to the Democrats, "Russia called. They want their propaganda machine back."
Michael De Luca works in Medical Dosimetry and freelances as a writer. You may contact him at delucam@yahoo.com
–
TheBlaze contributor channel supports an open discourse on a range of views. The opinions expressed in this channel are solely those of each individual author.