Russia recently imposed new restrictions on religious groups outside the Russian Orthodox Church. Is this something new? Is it a return to the Stalinist past? No, restrictions on individual liberties are nothing new in Russia. But, this foretells increasing restrictions on anything considered as "foreign influence" in Russia.
Vladimir Putin recently signed a law extending a 1997 law, signed by Boris Yeltsin, restricting the activities of religious individuals and groups. Although billed as an anti-terrorist measure, restrictions include the ability to meet in public, to have foreign pastors or missionaries visit, restrictions on publishing, zoning and permit requirements, and other legal intrusions.
These restrictions should also be understood in light of the 2012 "foreign agent" law in Russia. The purpose of that law, ostensibly, was to restrict the activities of foreign agents and foreign money coming in to Russia to alter the political landscape. The actual target, however, was NGOs and human rights organizations. Indeed, it is estimated that one third of NGOs operating in Moscow have shut down since the 2012 law.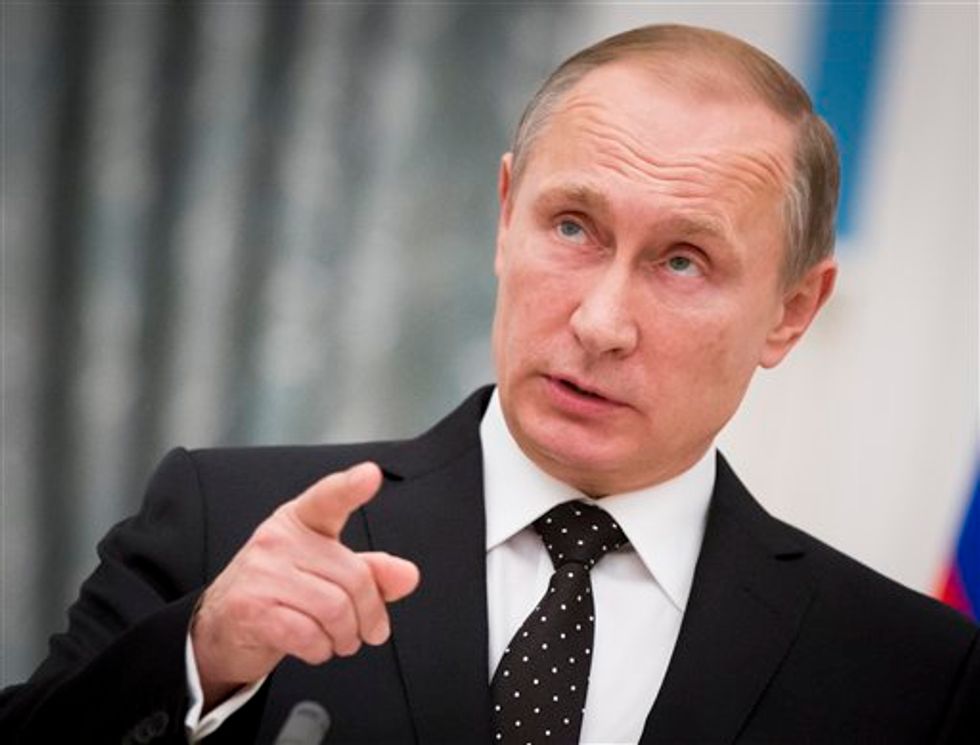 (AP Photo/Alexander Zemlianichenko)
What is Putin trying to do? The Kremlin has argued that these are anti-terrorist measures directed at violent jihadis. They point to shutting down mosques and some radical preachers. But the law has also been used to target Jehovah's Witnesses, the Church of Scientology, and more traditional evangelical Christian groups. It is hard to understand how Jehovah's Witnesses or Scientologists can be seen as a threat to Russian national security. The law is designed to keep outsiders out.
Is important to understand what religious freedom is. Individual religious liberty is not just being alone with one's god in a closet because religion is a collective activity. It includes meeting with other believers, discussing one's faith with others, talking about faith with one's children, reading and publishing religious materials, and the like. Many fundamental rights are involved with religious liberty that directly stem from this "first freedom" including the right to assemble, freedom of speech, property rights, and the right to educate one's children in the faith. Russia has long restricted these things and the updated 2016 rules make it increasingly difficult for evangelicals, in particular, to practice their faith openly in Russia and associate themselves with global evangelical networks.
The penalties are draconian. The law carries a fine of up to nearly $800 for individuals and over $15,000 for organizations who violate the rules. Foreign visitors, such as missionaries, can be immediately deported. These rules, like the 2012 foreign agents law, allow for intrusive inspection and audits by government officials.
What can be done? Does the U.S. have leverage on these issues?
The U.S. already has a legal framework for dealing with these issues. The 1998 International Religious Freedom Act (IRFA), signed by President Bill Clinton, set up government institutions in Washington to identify and recommend action on violations of religious liberty abroad. The Act set up an independent U.S. Commission on International Religious Freedom (USCIRF) and a separate, important Office of International Religious Freedom at the U.S. Department of State. At the State Department, the office is headed by an Ambassador-at-Large for International Religious Freedom. The current ambassador, Rabbi David Saperstein, is an intelligent, winsome, convincing advocate and the staff of both of these agencies are knowledgeable, dedicated, and worldly-wise. Each year, the State Department publishes a massive, comprehensive report on the state of global religious liberty that is widely recognized for its quality.
The 1998 act gives the president, delegated to the secretary of state, the authority to sanction governments that violate religious liberty. The U.S. has targeted extreme violators of religious freedom in the past, such as Vietnam, Iran, and North Korea. So what has been with regards to Russia this year on this issue?
USCIRF issued a robust statement about the law this summer.
"These deeply flawed anti-terrorism measures will buttress the Russian government's war against human rights and religious freedom," said USCIRF Chair Thomas J. Reese, S.J. "They will make it easier for Russian authorities to repress religious communities, stifle peaceful dissent, and detain and imprison people. Neither these measures nor the currently existing anti-extremism law meet international human rights and religious freedom standards."
USCIRF has also ranked Russia as a Tier 2 religious freedom violator, alongside countries like Laos and Afghanistan. But, the State Department's website lists no statements or press releases on this specific issue. In fact, the State Department seems to be a year behind the times: it just released its annual report on the state of global religious freedom in 2015. Perhaps it is not surprise that the Obama Administration has little to say about Russia on this issue—this is an Administration that took more than a year to nominate its first ambassador for religious freedom and which has consistently dodged these issues for a variety of reasons over the past seven years.
Russia argues that Americans do not want unregulated foreign cash pouring into their society influencing law, politics, and culture. Russia also argues that the fundamental purpose of these laws is to target terrorists. Moscow's arguments are clever but they are smokescreens for attacks on individual liberty, religious freedom, diversity, and evangelical Christianity. It is not clear that in the current state of Russo-American affairs that the U.S. has leverage at this point on these issues. One could hope, however, that a new U.S. president could deal with the Russians in a strategic way that recognized both commonalities of interests (e.g. containing the war in Syria, fighting violent Islamism, an eye on China) and yet could also persuade Russia that religious diversity is not a threat but rather a sign of societal health.
Eric Patterson, Ph.D. is Dean of the Robertson School of Government at Regent University in Virginia Beach, VA. He is the author or editor of a dozen books, including Politics in a Religious World: Toward a Religiously Literate U.S. Foreign Policy.
–
TheBlaze contributor channel supports an open discourse on a range of views. The opinions expressed in this channel are solely those of each individual author.