Saudi Arabia has made the first move in what may turn out to be a game of chess with the United States government. It is now up to the U.S. to make the next move.
Recently, the Saudis threatened to sell off approximately $750 billion in U.S. assets, including Treasury securities, if the U.S. Congress passes a bipartisan bill that will allow American citizens who were injured or lost family members on 9/11 to file lawsuits against foreign countries, including Saudi Arabia. Sadly, it's been almost 15 years and the question over suing foreign governments has yet to be decided.
Some believe that Saudi Arabia may have a connection to what happened on 9/11 since 15 of the 19 hijackers and Osama bin Laden were from Saudi Arabia.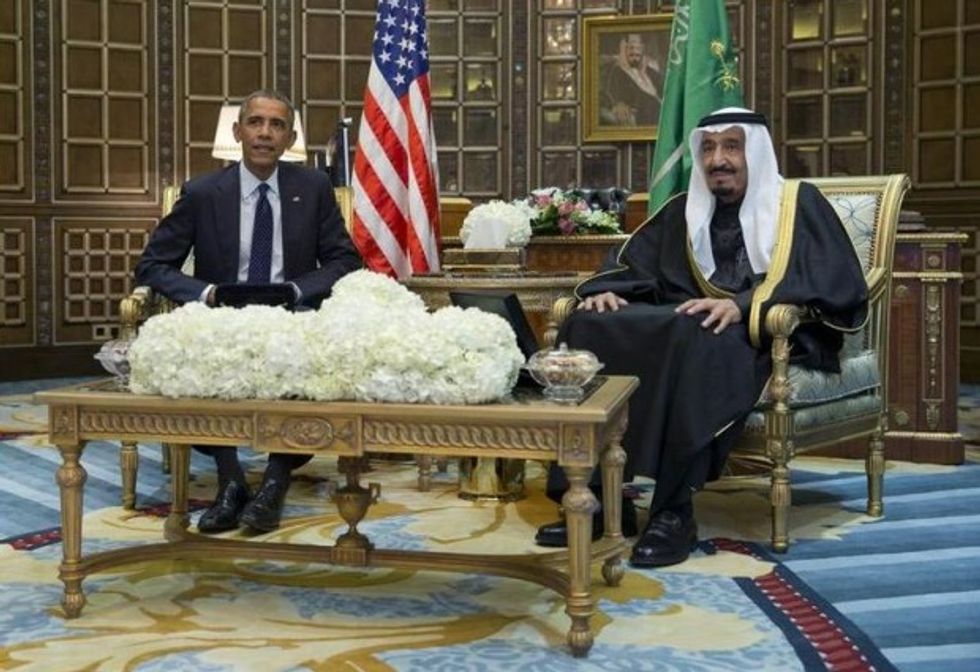 President Barack Obama and new Saudi Arabian King Salman bin Abdul Aziz, are photographed as they participate in a bilateral meeting in Riyadh, Saudi Arabia, Tuesday, Jan. 27, 2015. The president has come to expresses condolences on the death of the late Saudi Arabian King Abdullah bin Abdulaziz al-Saud. (AP Photo/Carolyn Kaster)
As you may recall, a press conference was held in Washington, D.C., on June 2, 2015 with very little fanfare. Sen. Rand Paul (R-Ky.), former Sen. Bob Graham (D-Fla.) and other members of Congress along with representatives of the 9/11 families announced that a bill had been introduced to declassify the 28 pages from the original Joint Congressional Inquiry into 9/11. Former President George W. Bush also previously declined to declassify the same 28 pages because he claimed unsealing the documents would jeopardize national security.
What you may not know is that President Barack Obama has reportedly been applying "heavy pressure" on Congress to kill the bipartisan bill. So far, it looks as though Obama is winning.
When asked if Obama would veto the bill if passed by Congress, a senior Obama administration official responded by saying that "rather than entertain a hypothetical, we believe there needs to be more careful consideration of the potential unintended consequences of its enactment before proceeding with legislation." The official added: "We would welcome opportunities to engage with the Congress on that discussion." In other words, in typical Obama administration speak, my interpretation is that Obama would veto the bill.
Why has all of this about the bill and Saudi Arabia's reaction come to light now? How many of us knew that Congress was even working on such a bill since 9/11 was so long ago? Perhaps we just assumed that the issue had already been resolved.
The reason we are hearing about the bill now is because it coincides with Obama's decision to either declassify the 28 pages pertaining to 9/11 or keep them sealed. Obama has until June 2016 to decide. In the event the documents show a Saudi connection, declassifying the sealed documents could open Saudi Arabia up to multiple lawsuits and judgments that could hurt them financially. However, if Congress does not get its bill passed, Americans will not be able to proceed against the Saudis.
Allowing Americans to sue could put Saudi Arabia on the hook for billions. What better way to avoid any implications and loss of funds than to denounce the bill and warn the U.S. that they will pull billions in U.S. assets unless America buckles to their threat?
Some may perceive this as a bold move from an ally. What could possibly make them take this course of action with the U.S.? There are a couple of reasons that come to mind but there is one I haven't seen discussed which may explain it. Is it possible that Obama struck a deal with King Salman in late 2015? Did Obama promise not to release the 28 pages and pressure Congress not to pass legislation that could be detrimental for Saudi Arabia in exchange for the Saudi King's support of Obama's nuclear deal with Iran?
You may recall that Obama wanted to convince Saudi Arabia to get on board with his Iran nuclear deal. At first, the King was in favor of the Iran nuclear deal. Then he withdrew his support from it but was later convinced by Obama to once again support it after receiving assurances from Obama regarding his ability to put safeguards in place. Are the families of 9/11 victims paying the price for an Obama deal?
Is a possible deal also why Secretary of State John Kerry said in February that the proposed bill could "expose the United States of America to lawsuits and take away our sovereign immunity and create a terrible precedent?" Were the words he used an accurate description of what may happen or just words to back the "agreement" with the Saudis?
We may never know the answers but what you can be assured of is that Obama may be bowing just a little lower when he greets King Salmon and other Saudi officials this Wednesday during his scheduled trip to Riyadh. Obama will most likely have a lot of explaining to do as to why he hasn't yet made the current issues go away for Saudi Arabia.

–
TheBlaze contributor channel supports an open discourse on a range of views. The opinions expressed in this channel are solely those of each individual author.