Sen. Mark Kirk (R-Ill.) is under extreme pressure in his home state where he is being challenged by Democrat Tammy Duckworth for his senate seat. And that is the least of his problems. A quick Google search for Illinois or Chicago news paints the picture of a state in deep need of public leaders laser-focused on spending every second they have bettering the lives of their constituents.
There is much to do for the Prairie State. Much that can be done. A recent Chicago Sun-Times report talked about something Concerned Women for America has been fighting around the country for a long time - an "Illinois State Police swamped with DNA tests on rapes, murders." That must and can be fixed.
Kirk on the other hand, finds time (and the gall) to attack other states for their attempts to protect its citizens, especially women and children, from predators. Kirk was one of just six senators so radical and aggressive in their promotion of transgender "rights" that they sent a letter to the National Basketball Association demanding they move the league's 2017 All-Star game out of North Carolina.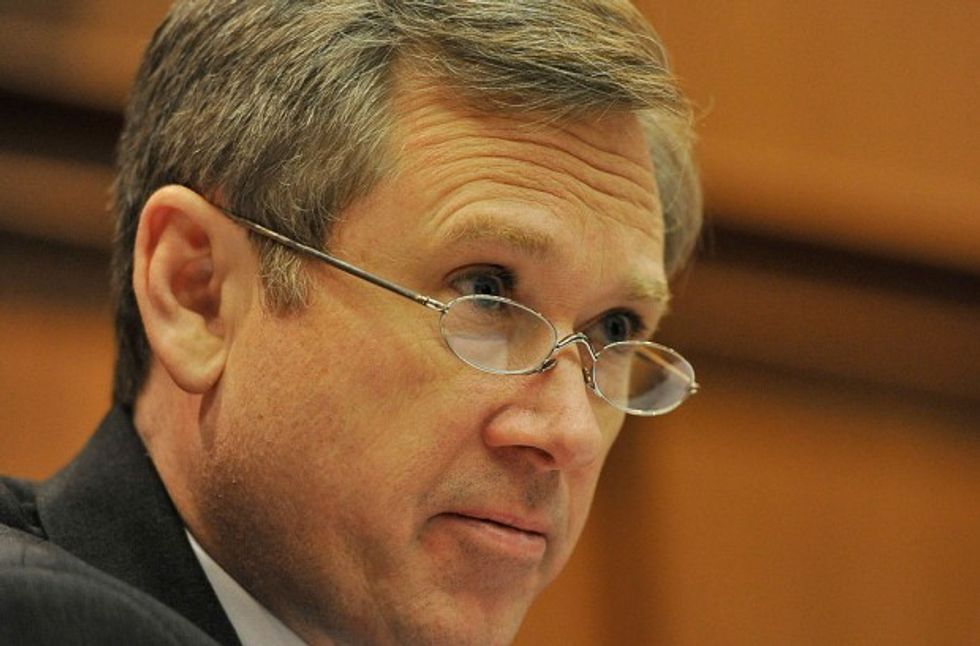 CHICAGO, IL - MARCH 25: Sen. Mark Kirk (R-IL) questions a group of nuclear experts at a public forum on the safety of Illinois nuclear power plants on March 25, 2011 in Chicago, Illinois. (Photo: Brian Kersey/Getty Images)
The reason for such an extreme action is that North Carolina passed a law that allows private establishments to decide on their bathroom/locker room policies freely and establishes a state-wide policy of primarily using biological sex when it comes to government facilities.
Any reasonable person can see that there is nothing discriminatory about asking men to use the men's room and women to use the lady's room. This policy has been around for centuries, and it has never, ever, ever, been about hurting transgender people. In the many problems and challenges you have seen in your city, is trangenders not being able to use the bathroom of their choice in the top 1,000 problems you deal with every day? Seriously.
This "problem" is made up by people whose full-time job is to push the envelope and break down the barriers of "normal." Why are we falling for it? Why would we put our daughters at risk for this non-problem?
A policy that allows men to decide what facilities to use based on how they feel in their minds opens the door for easy abuse by vicious predators. The effect of allowing any men to use the women's facilities is to curtail freedom for most Americans. I know as a father of two young daughters, I will not allow my girls to go into a public restroom or locker room that I know is open to that type of abuse. I'll have to make other arrangements.
Kirk, not only disagrees with me, which would be totally reasonable, but is so militant in his stand, that he believes I and everyone who believes like me should be punished for our reasonable concerns: Businesses shouldn't do business with such concerned families.
Shame on him.
I am confident the people of Illinois - even a state that liberal - are much better in their opinion on this matter than Kirk is. They can see that it is completely reasonable for parents to support a law like North Carolina's and that for a senator from another state to use his power and influence to persuade companies to punish them for their reasonable concerns is completely reprehensible.
The pressure of the election seems to be pushing Kirk beyond reason, to do anything and everything he can to separate himself from his party. It's all so inauthentic though - it even approaches parody.
Republicans have been incredibly unified on their contention that the senate should abide by the "Biden Rule" at this point in history and give "we the people" a voice on the matter by waiting until the next president is chosen before selecting a replacement for the late Justice Antonin Scalia.
Kirk, again, is not only the odd man out on this, but he says his colleagues need to "man up" and go along with the president's nominee.
His approach, again, is disturbing. Are Republicans merely not "man enough" to take on the nominee? Or do they have some concerns that deserve serious consideration?
The problem we face is that we have a Supreme Court that continues to abide by a "living, breathing constitution" that it can manipulate to fit the justice's personal policy positions and therefore oversteps its constitutional authority with incredible regularity. Scalia suggested the Justices acted as a "super legislature."
The same is happening in the Executive Branch under President Obama, who continues to insist on using executive orders to bypass Congress' traditional constitutional role in many different areas. Some particularly wicked voices want to push him to bypass Congress even on this nomination.
With these continued violations of the checks and balances established by the founders to guard our freedoms, it is entirely reasonable for the Legislative Branch to push back and try to bring back some sort of balance to the constitutional equation. That is exactly what they are supposed to do - the way our form of government is supposed to work. The idea is to sound the alarm and let the American people have a voice on the type of justice they want at the Supreme Court: one who abides by the constitution as written, or one who believes in a living constitution they can manipulate.
Kirk is apparently perfectly fine with justices who continue to write-in new constitutional rights into the Constitution. In that sense he will use any weapon he can to force men in women's restrooms - businesses now, the Supreme Court tomorrow.
Mario Diaz, Esq. is Legal Counsel at Concerned Women for America, the nation's largest public policy women's organization. His book Be Spent: Winning the Fight for Freedom's Survival is available now at BEspent.com or Amazon. Follow him @legalblurbb

–
TheBlaze contributor channel supports an open discourse on a range of views. The opinions expressed in this channel are solely those of each individual author.