© 2023 Blaze Media LLC. All rights reserved.
SNL took some cut throat shots at millennials in 41st season premiere.
Saturday was the premier of the 41st season of "Saturday Night Live," and they did not hold back satirical criticism of anyone — and millennials were the prime target. "SNL" went for the millennials' throat, skewering them on everything from entitlement to social media obsession. Millennials could be the greatest American generation, but their reputation in the media would tell a different story.
Millennials need to fire whoever is running their PR, because the largest generation in American history is currently the one everybody loves to hate.
"SNL" started the sharp sketch focusing on the millennial gernation's feelings of entitlement. A young girl, frantically texting on her iPhone, approaches her boss and, without looking up, asks for a promotion. The boss, who had spent his whole life working his way to the top of the company, asks how long the girl had been there, to which she replies, "Three days." She goes on to say she would like to be directer of communications or "pictures" because she is good at photoshop. The boss just looks at her like she's an entitled and uneducated brat.
Image source: Hulu.com
Millennials have been characterized as entitled and uneducated, especially in the media. The media want to paint millennials as uneducated, but in fact, they are the most educated generation in American history. At the same time they are also the least prosperous, thanks to an economy and government that have disinherited them.
Millennials might come off as entitled once they reach the workplace because some expect to rise faster in a their careers — but it's largely due to having spent so many years achieving a tough and expensive degree. They feel they need to achieve promotions faster to keep up with their student loans and the entitlement programs, used by boomers, they have to pay for.
Furthermore, millennials have seen many in their generation become quite wealthy from what appears to have be very little work. Facebook, Twitter, Instagram, SnapChat, the Kardashians — all of this success seems like it required very little work, which might contribute to many thinking they deserve more than the actual work they have put forth.
The next scene of the "SNL" skit cut to a girl, played by ultimate millennial Miley Cyrus, and a guy talking about gender — while of course never looking up from their iPhones. The guy says he identifies as gay but only sleeps with women, and Miley claims she is just "gender lazy."
Now, this is one area where millennials have earned the reputation of ditching the traditional roles and identifying characteristics of gender. In fact, a third of millennials do not identity as fully straight or gay, giving boomers a reason to poke fun at their inability to be grounded in who they are. Many millennials believe in the fluidity of gender, something that is quite foreign to older generations and one that might cause them to question millennials. Most millennials believe you cannot confine gender to male and female, giving boomers more reason to hate on this precocious generation.
The entire skit had a tone of social media obsession. The last scene of the skit featured a guy looking like he is about to jump out a window because he "can't even." He goes on to say "don't try and stop me", meanwhile the boomers are saying "just do it!" Finally, he says he is taking a break from social media, quickly snaps a selfie and tosses his phone out the window. He then realizes he cannot live without his phone and jumps out the window after it. The other millennials scream "nooooo" and run to the window to take photos and selfies. The skit ends.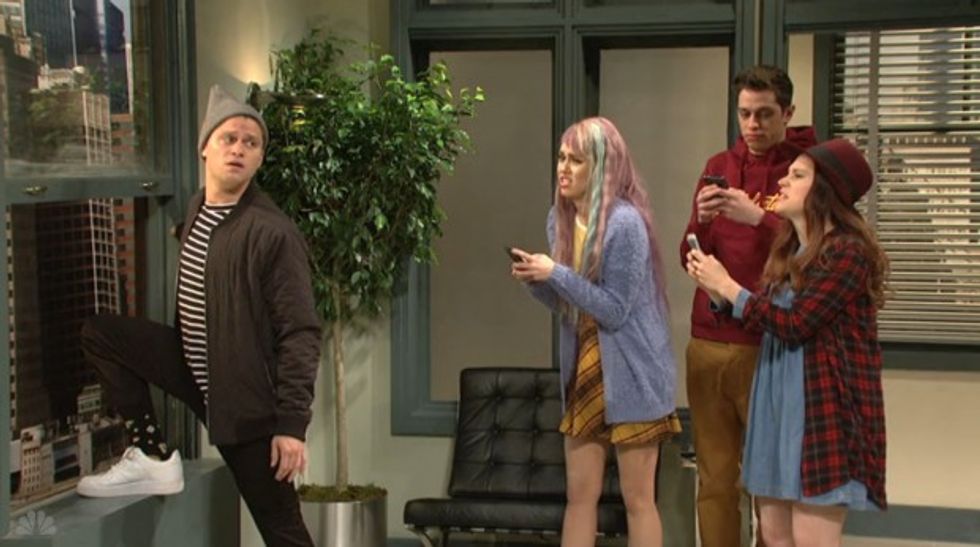 Image source: Hulu.com
A new report by Luster Premium White, claims young adults will take around 25,000 selfies in their lifetime. During the entire "SNL" skit, every millennial is constantly and frantically typing away at their iPhones. It is 2015, after all, so of course millennials like to have their phones and tablet with them to easily access their social media accounts — which is where a majority of them get their news.
Millennials have given the media plenty of ammunition for ridicule, but for the most part, millennials have already made America better than it was before their existence. The invention of social media has connected the entire world, giving voices to those who would not have one. Millennials being the most educated generation in history have already advanced science and medicine greatly. Millennials have also become an incredibly charitable generation and helping those in developing countries across the world through microloans and nonprofits.
With all their great contributions to the world, millennials need to work on their PR, hard. Millennials have such a bad reputation even millennials do not like millennials, which most likely adds to the ammunition aimed at this diverse generation.
For media inquires: Sal.Lamastra@gmail.com. Follow Salvator on Twitter: @SalvatorDMD
–
TheBlaze contributor channel supports an open discourse on a range of views. The opinions expressed in this channel are solely those of each individual author.

Want to leave a tip?
We answer to you. Help keep our content free of advertisers and big tech censorship by leaving a tip today.
more stories
Sign up for the Blaze newsletter
By signing up, you agree to our
Privacy Policy
and
Terms of Use
, and agree to receive content that may sometimes include advertisements. You may opt out at any time.