**The following is an in-depth review of "Sully" and does contain spoilers**
Tom Hanks has come a long way from his days playing a cross-dresser opposite Peter Scolari on "Bosom Buddies."
In a career that spans decades - with roles ranging from the most screwball of comedies to the most tear-jerking of dramas - Tom Hanks has never ceased to amaze audiences with his range and talent as an actor.
Hanks' latest film, "Sully," is no exception.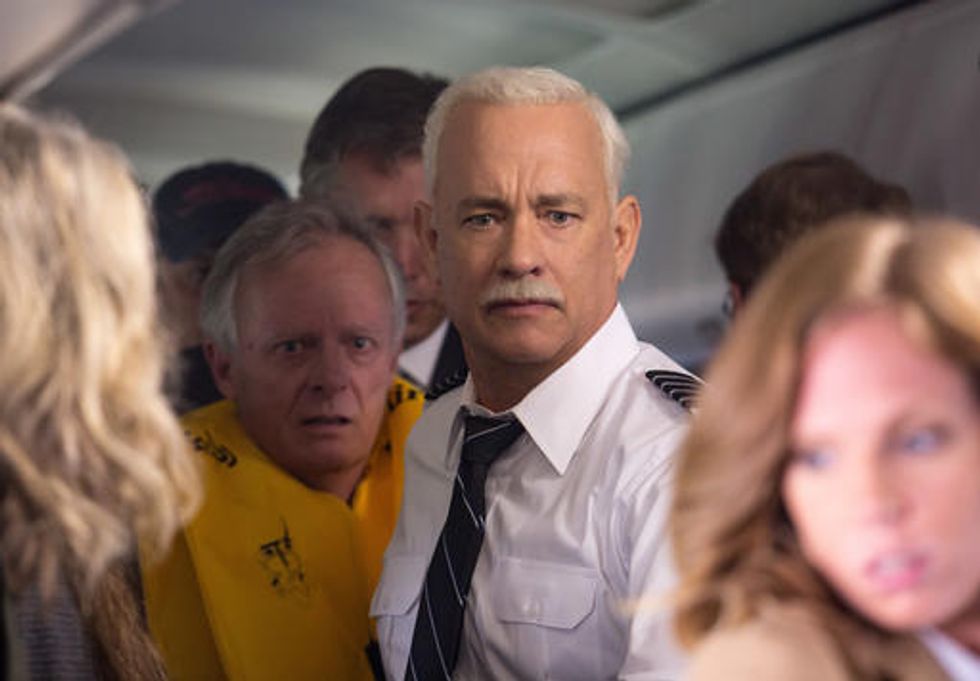 This image released by Warner Bros. Pictures shows Tom Hanks in a scene from "Sully." (Keith Bernstein/Warner Bros. Pictures via AP)
"Sully" is the story of a tragedy that wasn't. In 2009, US Airways flight 1549 was hit by multiple birds on takeoff and lost both of its engines. If not for the quick thinking of the flight's pilot, Chesley Sullenberger - the Sully of the film's title - many might have died if the plane had crashed into New York City, instead of landing in the Hudson River.
"Sully" is a little different from what you would expect from a film about the event that has come to be known as the "Miracle on the Hudson." The story isn't about the near crash of flight 1549 - the movie begins after the event already took place - it's about the subsequent NTSB investigation.
Even though Captain Sullenberger was able to safely land the plane - Sully makes the distinction several times during the film that it was a forced water landing, not a crash - and not a single life was lost, he still stood to lose his career over it. The film does a great job of showing his public confidence and his private anguish. He even wonders whether he actually did make the best decision. Hanks brings a humanity to his performance and the audience feels as they get to know Sully as a man and not just a character in a movie.
Aaron Eckhardt turns in a wonderful performance as well as co-pilot Jeff Skiles. Skiles is portrayed as a man who may have questioned his partner's decisions, but was willing to defend them to the end with both the NTSB and the public.
Whether its real life or dramatic license, the film presents the NTSB as an entity that is trying to find someone to lay blame on. Several attempts are made by the head of the NTSB investigating committee - played by former Nickelodeon game show host Mike O'Malley - to steer the narrative toward pilot error instead of an unforseeable accident. O'Malley does a great job of crafting a completely unlikable government bureaucrat.
One of the best parts of the film isn't actually part of the film at all, but is during the end credits. The real life Sully and all the passengers and crew are reunited and Sully gives a great speech that truly brings tears to your eyes. It's a beautiful few moments and really serves as a great button to the film.
I did find myself at various times questioning the timing of the film's release. Several times during the movie, as Sully replays the events of that day, he envisions the plane crashing into buildings in downtown New York City instead of landing in the Hudson. For some, this might evoke a feeling of insensitivity on the weekend of 9/11. Then again, this beautiful and heart-warming story could be just what people need to remind them that sometimes crisis is averted and God does intervene.
"Sully" is an extremely well put together film and is certainly one both director Clint Eastwood and star Tom Hanks should be proud of. If you aren't already considering seeing this movie I would strongly urge you to reconsider.
"Sully" currently holds an 83 percent on Rotten Tomatoes.
William Avitt will be appearing at Cincinnati Comic Expo in Cincinnati, Ohio on Saturday September 24. He will be hosting a panel on film criticism at 11am in Rm. 233 and will be on the convention floor all day.
–
TheBlaze contributor channel supports an open discourse on a range of views. The opinions expressed in this channel are solely those of each individual author.