It's no small feat to raise children who eagerly serve others – especially in today's culture that promotes selfishness and narcissism as acceptable character traits.
But how do we go against the grain of cultural cues and raise kids who are moved to serve others? I think most parents would like an easy tip, trick or formula to turn that chorus of "It's all about me," into, "You first, I insist," or "It would be my pleasure to serve you."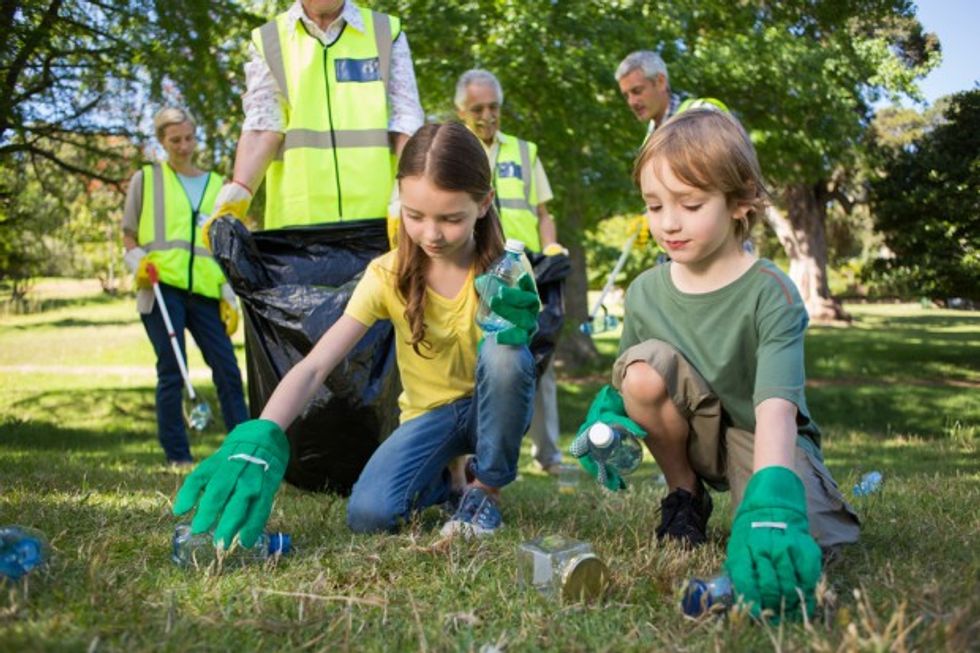 Photo Credit: Shutterstock
I haven't figured out a quick trick for igniting service, altruism and compassion in children. However, according to a recent study conducted in the Hildebrand household, steady, continuous reinforcement and rewarding of those traits is yielding promising results.
Several months ago our family instated a reward and recognition system that encourages our children to serve others. We call this highly technical system "warm fuzzy jars." Whenever we witness our kids serving others, they can choose a "warm fuzzy" (craft store pom pom) to put into their designated jar. When their jar is full they may choose a special reward.
Our children earn warm fuzzies for going out of their way to serve others – helping a sibling with homework, doing chores for a family member, encouraging others, or just making someone's proverbial load lighter. They also get a warm fuzzy each time they are recognized for serving others at school.
A few weeks ago I had a special lunch planned with our daughters at the American Girl Bistro. Our 8-year-old son had other plans, but at the last minute, his plans fell through and he had to come with us. My son let me know this wall-to-wall pink restaurant with flower chandeliers would be his "82nd choice" of places to go. Totally understandable for an 8 year-old boy.
Instead of sulking or disengaging during lunch, he was joyful and participated in the fun – which made the whole lunch such a treat. He served the women in his family with a great attitude and laughter even though he didn't want to set foot in the American Girl Bistro. He received a warm fuzzy and kids got the message that you can serve others just by having a positive attitude – even if circumstances aren't to your first – or 82nd – choice.
The warm fuzzy jar has triggered conversations about serving others and brought this often relegated topic to the forefront of our family discussions. Even better, it's turned those words into actions.
Our goal is to teach our kids to serve others in everyday situations. While organized service projects are absolutely wonderful – and our family does participate in them – we want our kids to see that serving others isn't just a field trip endeavor, but a day-in-and-day-out, right-where-you-are discipline.
And even though our kids are young (the oldest is 10), they are getting the message that they don't have to wait until they are older to do great things. Right now, at their tender ages, they are mighty. They are difference-makers now.
In teaching our kids to serve, I've also been very honest with them. Serving is not always fun and it's not always easy. Hardly ever is it convenient and it usually costs us something. Serving is sacrificing.
I confess that I am often not eager to serve anyone (except myself). But God knew it would be difficult, wearisome and hard. I'm positive that's why Paul wrote in Galatians 6:9, "Let us not become weary in doing good, for at the proper time we will reap a harvest if we do not give up."
Serving others can be exhausting. I want my kids to know they may not always enjoy serving and that doesn't make them less useful or selfish. It also doesn't let them off the hook. It's important to not sugar-coat serving as something that is always fun. It's not. But we serve anyway.
Let us not become weary in doing good.
The warm fuzzy jars have been a creative way to reward a behavior we want to see lived out in our children. Selfishness and egoism may be the message of our culture, but we want to provide our kids with a different message: Serve others in love. (Galatians 5:13)
In order to grow into productive serving adults, kids need to learn – to be taught—to serve. And the goal isn't merely to become a productive, serving adult. The goal is to be more like Christ, who didn't come to be served, but to serve.
"Each one should use whatever gift he has received to serve others, faithfully administering God's grace in its various forms." (1 Peter 4:10)
–
TheBlaze contributor channel supports an open discourse on a range of views. The opinions expressed in this channel are solely those of each individual author.