District attorneys in Texas have a track record in the political indictment business. It goes back a quarter of a century.
Tarrant County District Attorney Ronnie Earle convinced a grand jury to indict Republican Kay Baily Hutchison in 1993 after she won the U.S. Senate seat to replace Sen. Lloyd Bentsen after he resigned to serve as President Bill Clinton's Secretary of the Treasury.
She was indicted for using state employees and equipment for personal and government business.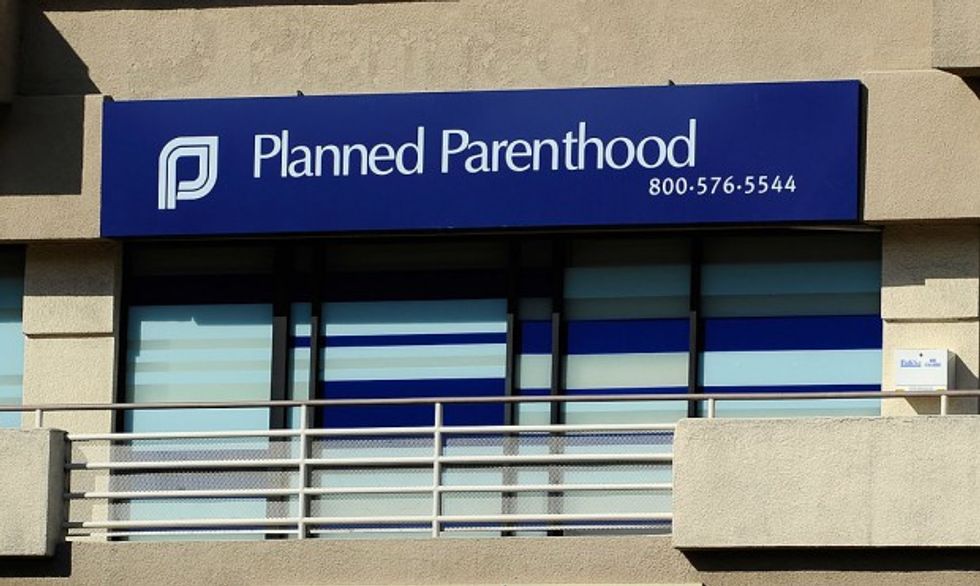 Planned Parenthood in Burbank, California. (Image source: Kevork Djansezian/Getty Images)
Minutes before the trial was to begin the case was thrown out of court.
In 2005, after U.S, House Republican Leader Tom DeLay was very effective in electing Republicans to the Texas House, Ronnie Earle tried to get him indicted for criminal conspiracy. The grand jury refused to indict.
Earle then claimed to a second grand jury that he found new evidence. They indicted DeLay for a criminal conspiracy.
Not satisfied, Earle empaneled a third grand jury and got an indictment for the more serious charge of money laundering.
Texas law prohibits the use of corporate contributions in political campaigns. DeLay had raised significant corporate cash that could not be used in Texas. He gave that cash to the national party, which could use corporate contributions to fund their overhead costs. They, in turn, gave DeLay money they had raised from individuals that he could give to candidates for the Texas General Assembly.
I did the same thing when I was chairman of the National Republican Congressional Committee, as did my counterpart for the Democrats, Martin Frost. We traded dollars in much larger numbers, but we weren't Republican leaders and escaped Ronnie Earle's wrath.
Five years and millions of dollars in legal costs later DeLay was convicted. Three years after that the verdict was overturned by the Texas Court of Appeals. DeLay remains broke and in debt.
Ronnie Earle retired and was replaced by a lady with serious alcohol problems who, when not drunk, found a grand jury to indict Texas Gov. Rick Perry for vetoing a bill and for demanding that she resign her position after a drunk driving conviction.
One of the counts has been thrown out, but the other remains.
Now the Harris County, Texas DA's office has decided to weigh in on politics.
David Daleiden, the founder of the Center for Medical Progress, arranged meetings with Planned Parenthood senior officials under the guise of wanting to purchase parts of aborted babies for medical research.
Daleiden secretly captured the meetings on video during which the Planned Parenthood employees casually discussed the methods they used during abortions to preserve babies organs. They also discussed the money they received for different parts of the baby.
It is illegal to "sell" aborted baby parts. That fact is not being debated.
Planned Parenthood argues that they were not being paid for the baby parts, but were merely being reimbursed for "processing and transportation costs."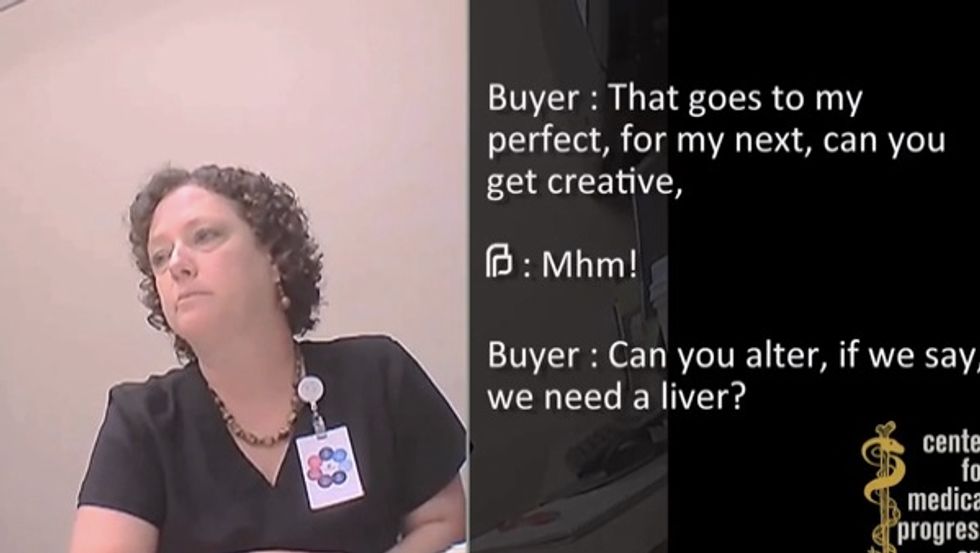 YouTube screenshot
That is what is being debated. Is the money a payment or a reimbursement?
Texas Lt. Gov. Dan Patrick asked the Harris County district attorney's office in Houston to look into whether Planned Parenthood broke the law by selling baby parts.
Harris County District Attorney Devon Anderson empaneled a grand jury and it concluded that Planned Parenthood had done nothing illegal, but they brought criminal charges against David Deleiden for attempting to purchase baby parts. Deleiden was indicted on one felony charge and one misdemeanor.
Planned Parenthood is celebrating this as a major victory. They may be in for a big surprise.
The Center for Medical Progress will find a competent team of attorneys anxious to defend them against these charges. Since Planned Parenthood activities are the proximate cause of the supposed criminal activity they will clearly be the center of interest for the case.
The Center for Medical Progress will argue that they are citizen journalists seeking to disclose criminal activity by Planned Parenthood. They will subpoena records to make that case. For example:
If Planned Parenthood were only being reimbursed for processing and transportation costs why did it cost more to process and transport brains than livers?
How many companies were competing for the baby parts and did they ever make the parts available to the lowest bidder?
How many wellness visits do they provide and what percent of their revenues came from wellness visits as compared with abortions?
How are their costs allocated to ensure that none of the $500 million they receive from the taxpayers are reimbursements for abortions?
To date, everything we know about the internal records of Planned Parenthood has come from their statements and assurances. Wouldn't it be nice to have them answer these questions under penalty of perjury?
If you would like to be added to John Linder's distribution list please send your email address to: linderje@yahoo.com or follow on Twitter: @linderje
–
TheBlaze contributor channel supports an open discourse on a range of views. The opinions expressed in this channel are solely those of each individual author.