Despite decades of myth to the country, lemmings don't mindlessly follow the furry fellow in front of them off the nearest cliff.
In fact, they don't have any partiality towards suicide at all.
Nevertheless, the myth is so common that virtually all of us have use the word "lemming" to describe a person or group that mindlessly or carelessly wanders through life, often to their own destruction.
Let's assume for a minute though, that the myth is true—thus rendering any emotionally-driven, unthinking person a proverbial "lemming."
For these human lemmings, their "mind is made up," as the saying goes, "so don't confuse them with the facts."
We'll get back to the lemmings in a minute.
Photo Credit: Shutterstock
We have a constitutionally-established judicial system entitling a person to a speedy and fair trial by a jury of their peers with the express purpose of obligating the decision makers in a case to face the facts.
And to let the facts—and the facts alone— decide the case.
It's what differentiates us from so many nations in the world that operate with arbitrary and unfair judicial "proceedings" where the accused have little or no voice to plead their innocence.
That's the beauty of it. You're not hauled out in the middle of the street and stoned because the court of public opinion has decided you're guilty.
You're not guilty until proven innocent.
Let that sink in.
Now let's head to Baltimore.
In a controversial decision, it was determined that the six police officers involved in the April 2015 death of Freddie Gray will indeed stand trial in Baltimore, despite serious concerns about public perception and bias.
This is the same city that was utterly besieged by raucous, violent protests in response to Gray's death; riots that caused roughly $20 million in expenses (not including $9 million in damages to businesses) and built on the anger ignited in the officer involved shooting of Michael Brown in Ferguson.
And as we listen to Black Lives Matter organizers and protestors claim that it's "open season on killing white people and cops," and as we watch protestors openly call for frying cops like bacon, (with nary a peep from the White House), the racism and anti-cop sentiment aren't going anywhere anytime soon.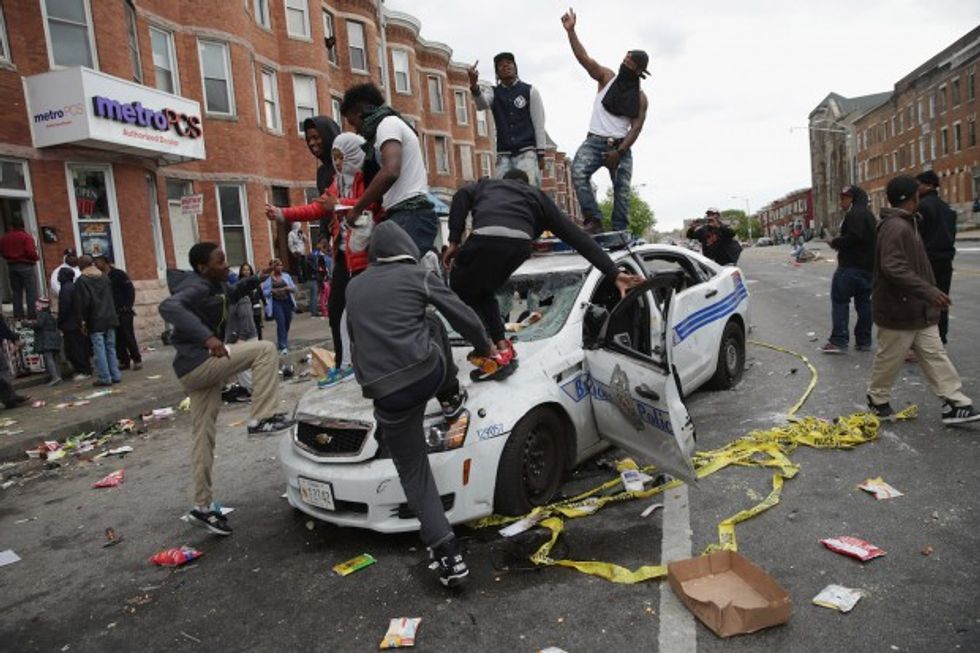 Demonstrators climb on a destroyed Baltimore Police car in the street near the corner of Pennsylvania and North avenues during violent protests following the funeral of Freddie Gray, April 27, 2015. (Image source: Chip Somodevilla/Getty Images)
It's a national epidemic, and in a sense the judge who decided to keep the trial of the six officers in Baltimore has point: "it would be nearly impossible to find a place not inundated by publicity about the high-profile case."
But in a city where rioters caused $30+ million in damages—physically harming over 100 police officers (one critically) in the process, is it intellectually honest of this judge to determine that Baltimore doesn't present any more bias than anywhere else?
This is also the same city, mind you, in which Mayor Stephanie Rawlings-Blake all but granted official permission for the violent riots.
This is the same city where Baltimore City State's Attorney Marilyn Mosby made it crystal clear she had little intention of seeking "justice" for anyone other than Freddie Gray. This is the same Mosby, I might add, who favorited two controversial tweets referring to the officers as "those 6 THUG cops" and another praising Mosby for how she "INFURIATES a certain kind of white person."
And now, this is the same city that has elected to pay Freddie Gray's family a settlement of $6.4 million dollars—purportedly to heal the city and avoid litigation—before the trial of the officers even begins.
Keep in mind, by the way, that the businesses that suffered $9 million in damages weren't given a multi-million dollar settlement. The affected businesses had limited choices, including disaster loans (with and without interest, depending on the source); some of which could then possibly "be converted into grants if certain benchmarks are met."
And what about the dozens upon dozens of officers who were physically harmed in the riots that Rawlings-Blake herself sanctioned by saying rioters needed space to "destroy"? Where is their settlement? (For that matter, where are the settlements for the families of cops killed in the line of duty?)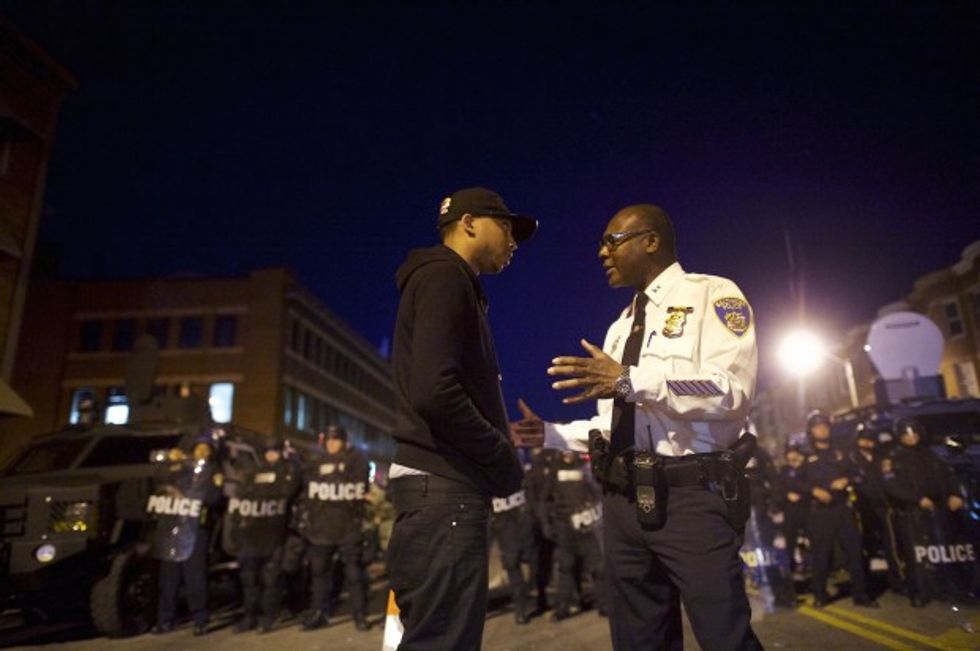 A Baltimore police captain tries to calm a protestor the night after citywide riots over the death of Freddie Gray on April 28, 2015 in Baltimore, Maryland. (Photo by Mark Makela/Getty Images)
But I've digressed.
The critical point here is that by granting a massive settlement to the family of a person whose death is still part of an ongoing legal process is nothing short of a very expensive, tacit admission of guilt.
To be certain, the city's not officially placing blame on the cops; per Mayor Rawlings-Blake the settlement isn't supposed to be seen as "as a judgment on the guilt or innocence of the officers facing trial."
So why not wait until the officers have had a fair trial, and are either convicted or acquitted on the sole basis of the facts, and not the emotional court of public opinion?
In all reality, aren't we talking about a government and a populous whose minds are largely already made up? A government and a populous who aren't keen to be bothered with the facts—regardless of what they may or may not be—because they've already picked a side?
You tell me: would you want to stand trial in a place like that?
Would you want to stand trial in a place where, as attorney Ivan Bates pointed out, each taxpaying juror will be contributing to the tax burden of a settlement that all but screams that the officers are guilty?
We can't let our judicial system be run by these kinds of people: lemmings who do nothing but allow themselves to be swept up in the emotional court of public opinion to the ultimate demise of our judicial process; and those who are too scared of the wrath of public opinion to do anything but follow it.
Look, I wasn't with the officers as they arrested Freddie Gray, so I don't know what really happened.
Neither were the city officials of Baltimore. Those were the events that the trial was supposed to uncover, separate from biases and personal feelings.
And is that really possible now?
Mary Ramirez is a full-time writer, creator of www.afuturefree.com (a political commentary blog), and contributor to The Chris Salcedo Show (TheBlaze Radio Network, Saturday, from noon to 3 p.m. ET). She can be reached at: afuturefree@aol.com; or on Twitter: @AFutureFree
–
TheBlaze contributor channel supports an open discourse on a range of views. The opinions expressed in this channel are solely those of each individual author.