© 2023 Blaze Media LLC. All rights reserved.
The DNC hack not only is telling about Hillary's character but should raise concerns over not-yet-released emails a foreign power might use to blackmail a Clinton presidency.
In the aftermath of the hacked Democratic National Committee email release, we have yet to hear Hillary Clinton air her infamous plea made in frustration during the Benghazi hearing, "What difference does it make?"
It makes a load of difference, particularly since there apparently is much more to come.
In a world in which ever more effective technology provides both friend and foe the capability to deny anyone privacy, we need to recognize loose lips can sink ships—or secret political party initiatives—as the case may be.
Clearly, the DNC's email server was not much more sophisticated than Hillary's, begging the question "why?"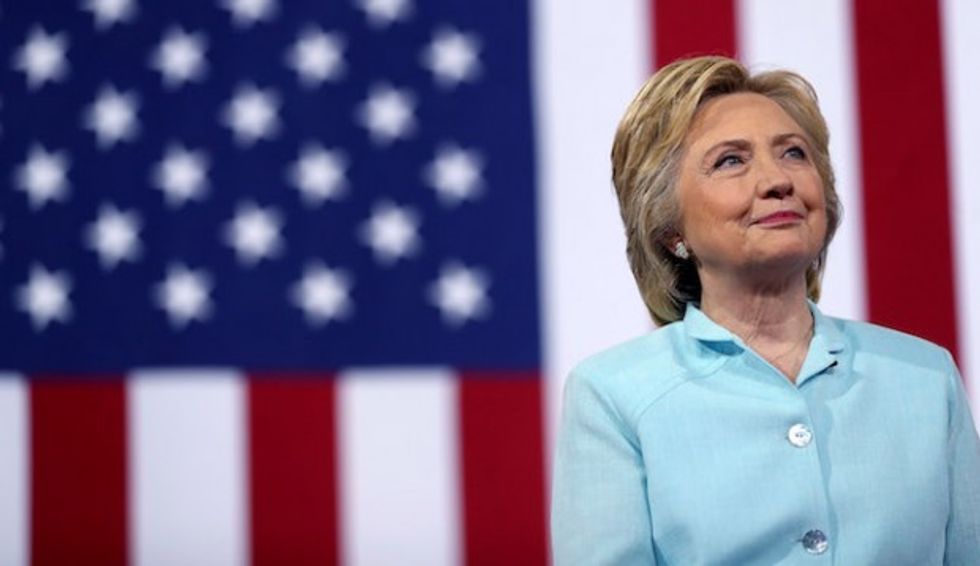 (Photo by Justin Sullivan/Getty Images)
Hillary Clinton's campaign, endeavoring to take the spotlight off substantive discussions—i.e., the contents of the released emails—seeks to shine it instead on possible Russian complicity. It is suggested the release was timed to give Republican presidential nominee Donald Trump a boost just before the Democratic convention.
But this would also suggest a failure in Secretary of State Clinton's vaulted foreign policy skills, showing her 2009 effort to "reset" relations with Moscow were unsuccessful. And, even more importantly, could Moscow be holding back other, more revealing emails with which possibly to blackmail a President Clinton later?
It should be no surprise, just like the U.S. has been involved in spying on its allies and just like China reads the emails of top U.S. officials, Russia is in the spy business as well.
Assuming the Russians were involved, outrage is being voiced that President Vladimir Putin is attempting to influence our presidential election. We should not be so offended—after all, President Barack Obama made an effort to influence last year's re-election bid by Israeli Prime Minister Benjamin Netanyahu.
The first emails—19,000 of them—were released by the anti-secrecy group WikiLeaks' founder Julian Assange on July 22. Assange says a lot more material is to come, refusing to identify the source for the material.
While the FBI acknowledges it is investigating the hacking—the results of which clearly will not be available until after the election—the spotlight should now turn to what the emails' substantive content reveals about Democratic Party elites.
For a political party promoting social equality, it is obvious while that banner flies high overhead, some of the party's leadership do not fully embrace it. A few emails suggest a throwback to the Democratic Party of old—once very much segregationist—based on racially and religious minority-charged comments.
Additionally, former Democratic presidential candidate Bernie Sanders had every right to believe the DNC sought to tilt the playing field in Hillary's favor as the emails reveal.
Revealing too about DNC emails is how money trumps compassion. Bumped from a seat next to Obama at a roundtable discussion was a donor fighting cancer, replaced by a healthy donor bringing deeper pockets.
In an interview, Assange said the emails reveal Hillary's corrupt character. He also criticized her actions following Debbie Wasserman Schultz's resignation as DNC head. Clinton immediately called Schultz a great friend, incorporating her into her campaign and supporting Schultz's own campaign. Clinton's actions thus signaled, "if you act in a corrupt way that benefits Hillary Clinton, you will be taken care of."
Additional embarrassing revelations for Clinton included paying people to make on-line comments of support and dispatching interns to protest at Republican political events.
As pointed out by Sean Hannity, several emails used language describing ethnic and religious minorities such that, had they been originated by Republicans, would have led to allegations of racism and xenophobia.
Some media stalwarts also were embarrassed. One set of exchanges revealed supposedly unbiased NBC "Meet the Press" host Chuck Todd was not so unbiased, having been responsive to a Schultz demand "this must stop" referencing comments by another NBC host. Another email makes reference to The Washington Post hosting DNC fundraisers.
Bernie Sanders' supporters undoubtedly were shocked to see email traffic between his campaign and Hillary's negotiating a buy out—more appropriately a "sell out"—of his vow to take his "political revolution" to the convention floor. He quietly surrendered the revolution for personal greed guarantees—speaking opportunities at fall campaign rallies and the provision of a fully funded campaign aircraft.
Like the newspaper headline about professional baseball player "Shoeless" Joe Jackson taking a bribe to throw the 1919 World Series, "Say it ain't so, Joe," Sanders supporters looked for similar assurances from Bernie. However, his campaign did not deny it.
As one pundit describes it:
"That's right, the leader of the socialist revolution, a self-proclaimed outsider, an environmental activist who thinks global warming is a greater threat to mankind than Islamic terrorism and a man who everyone said stuck to his principles sold out his millions of devoted disciples for a big plane that pollutes the atmosphere and a couple speaking slots."
Interestingly, separately from the hacked DNC emails released by WikiLeaks, another rather unorthodox source, "Anonymous," has made damning claims Google "search" initiatives intentionally favor Hillary by burying derogatory information.
Anonymous produced a video comparing searches on Google with those on Yahoo. As one types in words to start a search, the most popular phrases are supposed to pop up. Thus, in searching for "Hillary Clinton indictment," as each letter is typed one would perhaps get as far as "Hillary Clinton ind…" before "Hillary Clinton indictment" popped up. At least, that is what happens on Yahoo. However, on Google, if one types "Hillary Clinton ind…" totally irrelevant pop-ups appear to what is being sought, such as "Hillary Clinton India."
It is very telling with all that has happened, both ethically and not, to pave a road to the White House for Hillary, she has ultimately proven to be her own worst enemy by creating detours. The release of more emails in the months ahead may well determine Hillary's fate—whether she completes the journey to the White House or is diverted onto the path of self-destruction.
–
TheBlaze contributor channel supports an open discourse on a range of views. The opinions expressed in this channel are solely those of each individual author.

Want to leave a tip?
We answer to you. Help keep our content free of advertisers and big tech censorship by leaving a tip today.
more stories
Sign up for the Blaze newsletter
By signing up, you agree to our
Privacy Policy
and
Terms of Use
, and agree to receive content that may sometimes include advertisements. You may opt out at any time.