Today we're being treated to a "controversy" surrounding Melania Trump's speech at the Republican convention.
It ripped off Michelle Obama and, apparently, Rick Astley. Two very odd and very hilarious targets for plagiarism. The whole dumb scandal, which should be good for nothing more than a few laughs, has been exacerbated by the Trump campaign's monumentally stupid and sadly predictable decision to initially claim that the striking similarities were a mere coincidence. Still, all told, it's a non-issue. And it certainly pales in comparison to other convention-related outrages, particularly one that will occur next week.
We already know that Democrat convention kicking off on July 25 will be a heinous pagan spectacle where the attendees will, as they've done in the past, cry out in rebellion against God and truth, and cheer as they hand the nomination to a lying crook who hates this country and everyone who lives here. That much we must expect. It's hard to imagine that any specific moment will stand out as more debased or diabolical than the next, but I have an early candidate for that distinction: the headlining speech to be delivered by Lezley McSpadden, the mother of Michael Brown.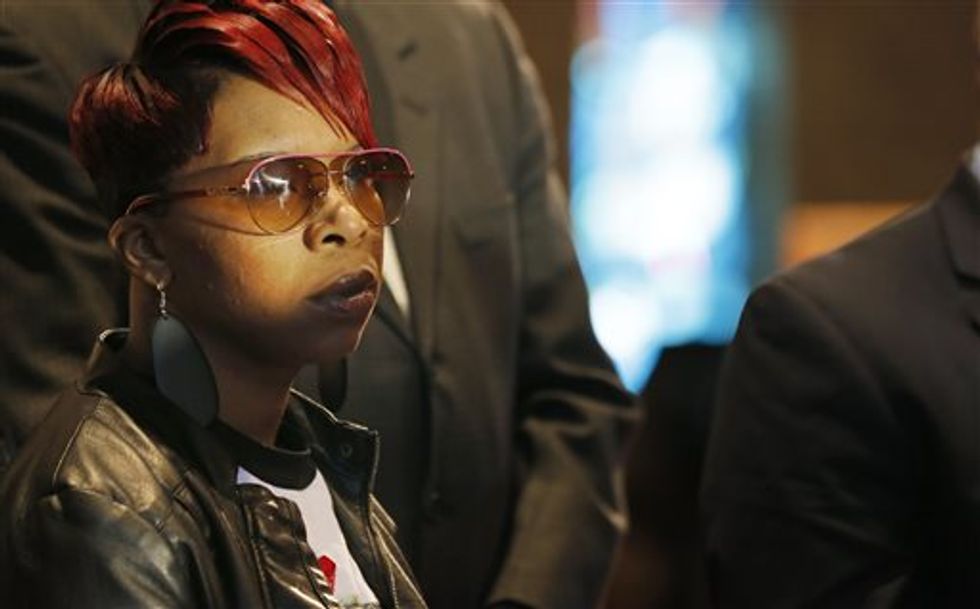 In this March 5, 2015, file photo, Lesley McSpadden, mother of Michael Brown Jr., listens to the family attorney during a news conference in Dellwood, Mo.  (AP Photo/Charles Rex Arbogast, File)
We've grown so accustomed to blatant race baiting and mob incitement on the part of the Democrats that this move may not seem extraordinary. Indeed, there appear to be very few people making a big deal out of it. And I admit it's not necessarily surprising that today's Democrat Party would honor the mother of a violent brute on such an important stage. But that doesn't make it any less disgusting, especially considering the current climate.
[mattwalsh-social-instory]
For anyone who may have forgotten by now, Michael Brown was a thief and a thug who tried to kill Officer Darren Wilson. Video evidence, eye witness testimony, and forensic analysis have all confirmed -- and both a grand jury and Obama's own Department of Justice agreed -- that Michael Brown was not the victim of a murderous cop. He was, on the contrary, a bully who viciously assaulted an innocent law enforcement officer.
Brown began the crime spree that would eventually lead to his death by stealing from a convenience store. When the store clerk tried to stop him, Brown grabbed the poor man by the neck and shoved him to the side. Brown and his friend then strolled down the middle of the street, brazenly holding their stolen goods in plain sight. When Officer Wilson asked them to move to the sidewalk, they refused. They had just robbed a store and now they were going out of their way to provoke a confrontation with a police officer.
Wilson eventually noticed the stolen property in their hands and attempted to get out of his vehicle and confront the suspects. Brown, as forensic evidence proved, began to assault Officer Wilson while he was still inside his police cruiser. He grabbed Wilson by the throat (he was quite fond of that move, evidently) and scratched and punched him in the face. Brown then attempted to grab Wilson's gun, but got himself shot in the hand in the process. Brown retreated and ran a few hundred feet before turning back and charging at the officer he just nearly overpowered and murdered. Wilson had no choice but to fire at him until the threat was neutralized.
To review: Michael Brown stole from a store, assaulted the shop keeper, provoked an altercation with a police officer, assaulted the police officer and tried to take his gun, then charged at the police officer. Yet, during a month when cops across the country have been targeted, attacked, and murdered, the DNC will be handing the microphone over to the mother of this attempted cop killer. Disgraceful doesn't even begin to describe it. Contemptible comes closer, but still does not capture it. And it makes you wonder what will happen at the 2020 convention. Will they have the mother of Omar Mateen come speak about the dangers of Islamophobia? Anything is possible with these people.
By the way, when this revolting production happens next week, we ought to remember the reaction Pat Smith, the mother of one of the Americans killed in Benghazi, received after her speech at the Republican convention last night. Liberals in the media got their collective Underoos into a twist over it, claiming that grieving mothers should never be exploited and used in such a way. They called it unseemly and offensive, and shamelessly accused her of lying. Chris Matthews of MSNBC once again gave credence to the rumors that he is actually not a human but a giant bellowing wart when he declared, "I don't care what that woman up there — the mother — has felt. Her emotions are her own."
Pat Smith speaks from San Diego. (Photo: Fox News)
But we all know that these same people will conveniently forget their opposition to emotionally manipulative convention addresses when the mother of a brutal hoodlum who tried to assassinate a police officer speaks in front of an adoring crowd in a few days. I feel empathy for any mother who loses a child, but McSpadden is not a voice for peace or unity. Perhaps her message could have some positive impact if she admitted that her son got himself killed by his own actions and then urged other parents to teach their children discipline and respect so as to avoid her son's awful fate, but that's most emphatically not her message. She still claims that her son's civil rights were violated and that the cop was a racist killer. In McSpadden's view, her son apparently had the civil right to beat and throttle a police officer without fear of consequence. 
It's perhaps understandable that a mother would struggle to come to terms with the fact that her son's death was his own fault -- although it's somewhat less understandable that McSpadden got into physical fights only days after the incident over who gets to sell Michael Brown merchandise, and that her husband stood up in front of protesters and urged them to "Burn this bitch down." Still, the reluctance to confront the full reality of the situation can be forgiven. Lord knows what I would say if, God forbid, my son got himself shot and his last two acts on Earth were to violently rob a convenience store then set upon a police officer and savagely beat him for no reason. My only hope is that consistent, attentive, and competent parenting will prevent him from turning into the kind of young man capable of such wickedness.
In any case, the point isn't to judge the mother. The point is to judge the Democrat Party for taking this mother and giving her such an enormously elevated platform from which to continue spinning a dangerous and dishonest narrative that Barack Obama's own Justice Department already thoroughly debunked; and to judge them for doing it in a time when police departments around the United States are having to change their procedures because there have been so many attacks and threats of attacks against police, fueled by that very narrative; and to judge them for implicitly justifying Michael Brown's attack against a police officer by treating his mother with the kind of respect we (conservatives, anyway) usually give to the mothers of fallen soldiers. My point is to judge the Democrat Party for using their convention to purposefully foment violence, especially violence against police.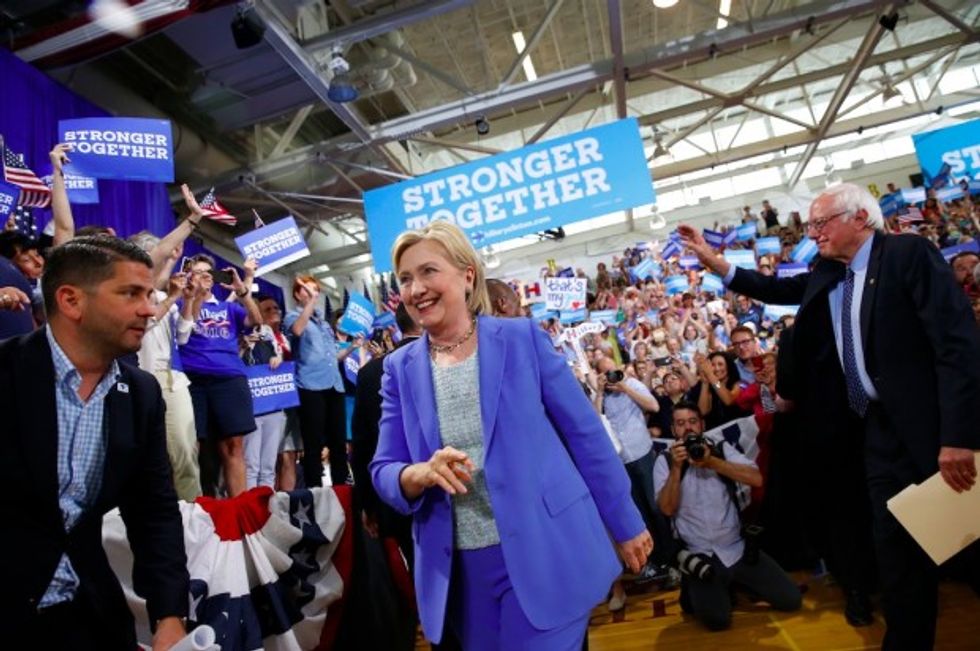 Democratic presidential candidate Hillary Clinton, followed by Sen. Bernie Sanders, I-Vt. arrives for a rally in Portsmouth, N.H., Tuesday, July 12, 2016. (AP Photo/Andrew Harnik)n
Let's imagine something for a moment. Imagine some hateful right winger ruthlessly assaulted a homosexual. Imagine that, in an act of self-defense, the homosexual pulled out a gun and killed his assailant. Now imagine that conservatives canonized the dead bigot and treated him like a martyr for the cause of traditional marriage. Imagine that conservative activists created some organization called "Mothers of the Movement" and inducted into the group mostly the mothers of men who died while assaulting homosexuals. Then imagine that the RNC invited these women to come speak at their convention about the threat posed by the gay lobby. Just imagine that, if you can.
I think we all know how that would turn out. In fact, I don't think it would turn out at all because the convention hall would probably be burned to the ground and the FBI would likely arrest the RNC chairman for a hate crime before the speech was even delivered. I might be exaggerating here, but not by much.
And, although liberals would go a little too far in their reaction to this hideous and imaginary spectacle, the decent conservatives among us would unreservedly agree that the RNC's decision was, at a minimum, psychotic. It's good to talk about traditional marriage and religious liberty and so forth, but to select those people as your spokeswomen for the cause? That's just evil. It makes no sense. It accomplishes nothing, we would all loudly say. Unless, that is, you're actually trying to encourage more people to assault homosexuals. If that's what you hoped to accomplish, then you'd be on the right path indeed.
What the DNC is doing is no different, just substitute "homosexual" with "police officer," and "right winger" with "black guy." Morally and ethically it's exactly the same, and should be treated with the same level of contempt. We are used to being disgusted by the Democrat Party, but we shouldn't permit ourselves to be so jaded by its utter depravity that we allow this travesty to happen without protest. It is completely unacceptable and those responsible for it should be shamed publicly. The DNC is nothing but a vile hate group bent on sowing discord and violence for their own political gain.
Of course, I don't mean to say that like it's a new development.
Listen to Matt's latest podcast here.
To request Matt for speaking engagement, contact Clint or Matt at Outreach Speakers. Email: events@outreach.com Phone: 866-400-2036. For all other comments and hate mail, email Contact@TheMattWalshBlog.com.
–
TheBlaze contributor channel supports an open discourse on a range of views. The opinions expressed in this channel are solely those of each individual author.