Americans have a history of defending odious behavior. We call it Freedom of Speech. Or Religion. Or Assembly. We defend odious behavior because to do otherwise is un-American.
Our Constitution makes us not only a nation but an ideal, and no part of that ideal is more defining than the First Amendment:
Congress shall make no law respecting an establishment of religion, or prohibiting the free exercise thereof; or abridging the freedom of speech, or of the press; or the right of the people peaceably to assemble, and to petition the government for a redress of grievances.
It's the First Amendment that allowed the KKK to march 50,000 racists in robes down Pennsylvania Avenue in 1925. The same First Amendment allowed them to do it again, albeit much withered, in 1999 and 2013.
Students at Valdosta University in Georgia used the First Amendment to stomp our flag, and to encourage others to do so via a social media "Stomp the Flag" campaign.
[sharequote align="center"]We defend odious behavior because to do otherwise is un-American.[/sharequote]
Michelle Manhart, the erstwhile Playboy-posing, former U.S. Air Force training instructor, feels especially passionate about our flag being walked on, jumped on, trampled on, or ruined. It took four university police officers to pry from her hands the flag she picked up off the ground at a stomp event.
Her outrage, ironically, contains within it the kernel of true Americanism. She defends our flag so fiercely, she says, because "it stands for the freedoms to allow those individuals to do what they want, protest or have an organization."
Exactly.
A former Navy SEAL appeared on television, decrying the flag protests and saying, "Try it in China. Try it in North Korea. See what happens."
He's right.
China and North Korea crush odious behavior, unpopular speech, non-sanctioned religion, and anything else they darn well please. Like the Air Force vet, the Navy SEAL's outrage rings with uniquely American tones; citizens of China and North Korea don't have First Amendment protections.
In this country, we even have the right to poke crazy.
Donald Trump was not a fan of the Muhammad cartoon drawing contest in Garland, Texas, asking if there wasn't something better they could have drawn. He specifically condemned the contest's organizer Pam Geller for "taunting people."
When challenged on CNN, Ms. Geller responded, "Intentionally incendiary and provocative by drawing a cartoon? This is the low state of freedom of speech in this country."
Of course, plenty of us find jumping on a piece of fabric with stars and stripes to be"intentionally incendiary and provocative." Nonetheless, Ms. Geller and her contestants have every right—as Americans—to taunt away.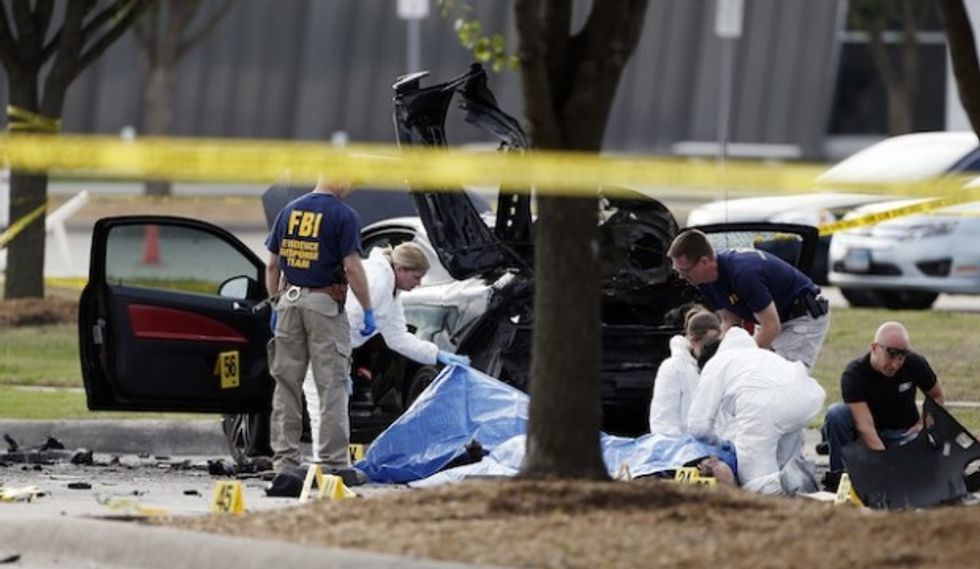 FBI crime scene investigators document the area around two deceased gunmen and their vehicle outside the Curtis Culwell Center in Garland, Texas, Monday, May 4, 2015. Police shot and killed the men after they opened fire on a security officer outside the suburban Dallas venue, which was hosting provocative contest for Prophet Muhammad cartoons Sunday night. (AP Photo/Brandon Wade)
Garland's mayor spoke for his city: "We all swear to uphold the Constitution, free speech, free assembly, and in this case perhaps, free religion."
So the Muhammad cartoonists, he said, "were welcome to use the building."
Or, as the ACLU put it: "When you put some lawful speech outside the protection of the First Amendment because it is unpopular or even offensive, speech you like will invariably be lumped in as well."
Americans connect viscerally to our First Amendment freedoms. They are indistinguishable from our national identity and form the bedrock upon which we operate as a society.
So powerful are our freedoms, they may even trump the juggernaut of gay marriage et al.
Ask Americans whether they favor gay marriage, and more of them answer affirmatively all the time. As recently as February, the Human Rights Campaign commissioned a poll that showed 60 percent of voters were likely to back gay marriage.
Ask Americans to choose between gay marriage and religious liberty, however, and the picture changes. Fifty-six percent of Americans favor religious freedom over gay rights; just 40 percent favor gay rights over religious freedom.
When we talk specifics, Americans are almost evenly divided over whether the Supreme Court should back gay marriage, and whether government officials should be exempted from issuing marriage licenses to same-sex couples.
When it comes to providing religious exemptions to private, wedding-related businesses, however, the gap is significant. Fifty-two percent of Americans believe it should be legal to refuse wedding services; just 45 percent do not.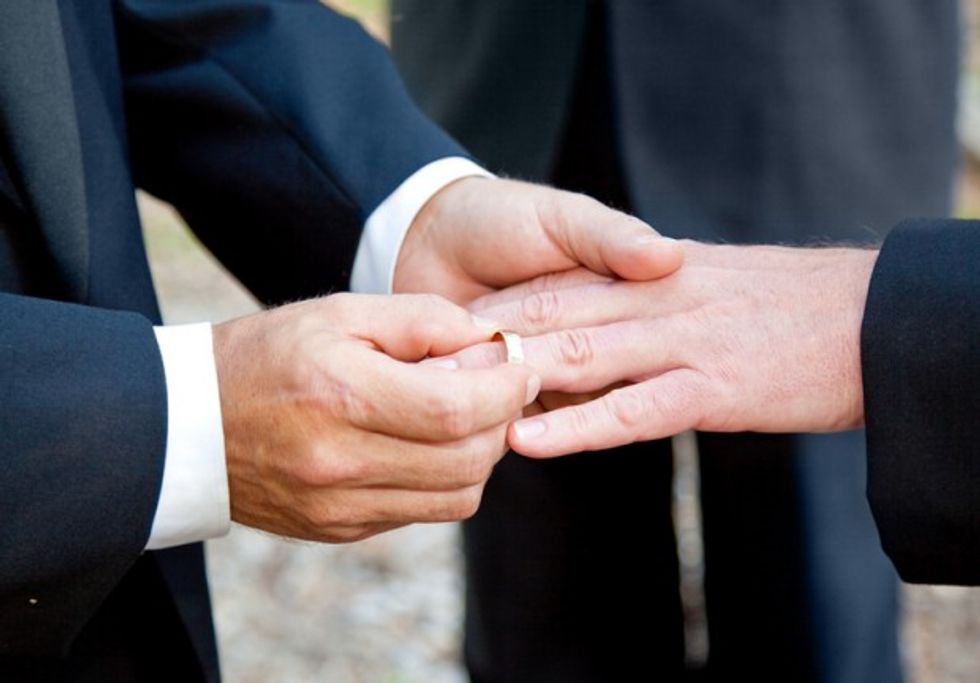 Photo credit: Shutterstock
Since the last time this question was asked in February, the number of Americans who favor religious exemptions dropped from 57 percent to the current 52. Before the Supreme Court rules in June, the number is likely to drop again.
The nine justices who will decide whether to radically change the definition of marriage are just like the rest of us. Better educated perhaps, more prominent certainly. But Americans like us, raised on the mother's milk of First Amendment freedoms.
They, like us, are intrinsically bound up in our culture's changing views on homosexuality, marriage, and the place for religious freedom in the public square. Which way the scales will have tipped by the time of their ruling is anyone's guess.
Gay marriage advocates frame their goal as "marriage equality," an effective campaign because Americans are in fact so fair-minded.
It would be ironic if Americans' commitment to fair-mindedness is the very thing that put religious objections to gay marriage as the higher goal.
More Americans favor gay marriage all the time, but not when they have to choose between gay marriage and religious freedom. It would be ironic if the "marriage equality" movement failed because Americans set nothing equal to the First Amendment.
Donna Carol Voss is an author, blogger, speaker, and mom. A Berkeley grad, a former pagan, a Mormon on purpose, and an original thinker on 21st century living, she is the author of "One of Everything," the story of how she got from where she was to where she is. Contact: donna@donnacarolvoss.com.
–
TheBlaze contributor channel supports an open discourse on a range of views. The opinions expressed in this channel are solely those of each individual author.