© 2023 Blaze Media LLC. All rights reserved.
The millennial generation is exhibiting a massive breakdown around college campuses and Bernie Sanders rallies - what's happening?
Psychosis (noun): a symptom or feature of mental illness typically characterized by radical changes in personality, impaired functioning, and a distorted or nonexistent sense of objective reality.
The liberal takeover of the public and higher education systems has induced a specific type of psychosis within the millennial generation, one that can be described clinically as a hyper-anxiety disorder. This anxiety erupts over certain words, pronouns, political and religious views, to name a few.
This hyper-anxiety has created an environment of rage, intolerance and a warped sense of reality.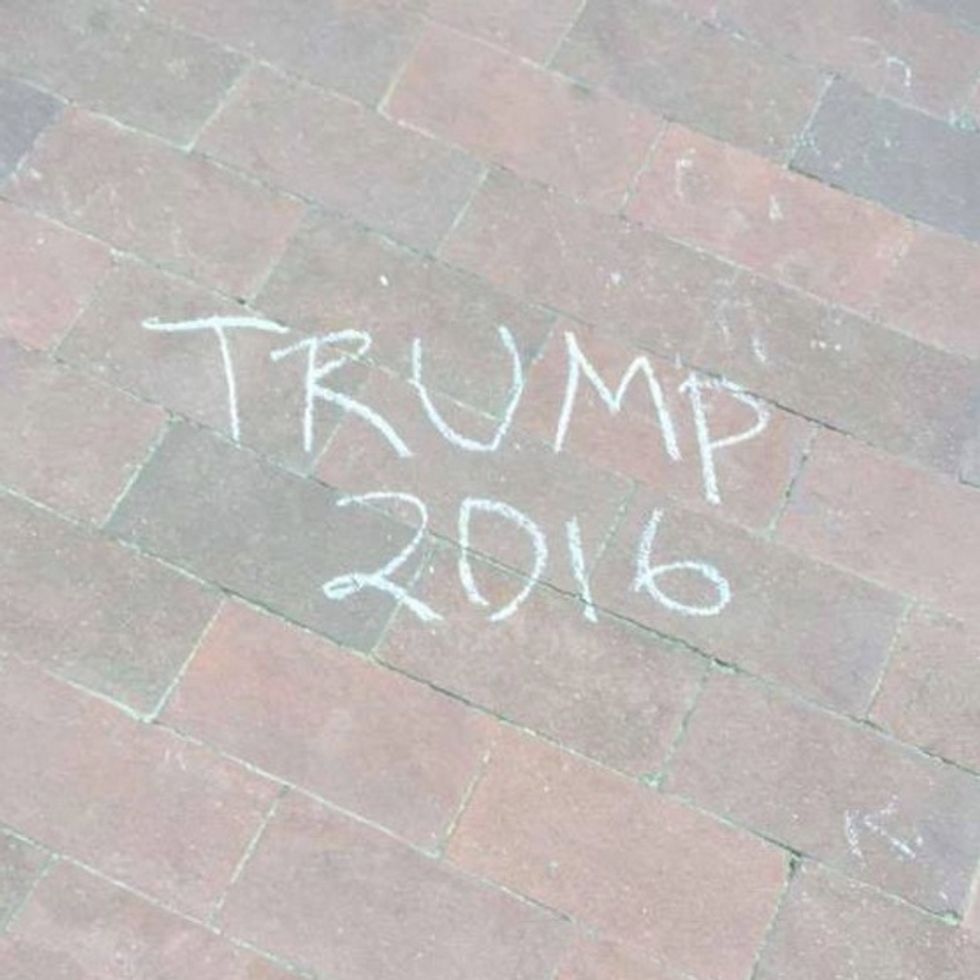 Image source: The Tab
Students in California and Arizona schools are protesting border agents at their job fairs because it makes illegal students feel unsafe and threatened. Students at Emory University protested because "Trump 2016" was written on campus sidewalks in chalk making them feel "unsafe" and in "pain." A black female employee at San Francisco State University assaulted a white male student because he had dreadlocks. The employee assaulted the student for what she called "cultural appropriation." (She must have forgotten dreadlocks originated with the Greeks.)
At Yale University, many students signed a petition to repeal the First Amendment. Oregon State University, a public university, is now beginning to hold racially segregated retreats regarding "white privilege." The University of Oklahoma placed signs in the shape of footprints around the hallways on campus that had messages shaming students for being, well, white.
And, with the rise of the controversial Black Lives Matter group, black millennials at Harvard University have passionately suggested their white counterparts commit suicide as retribution for their "white privilege" - because black millennials at Harvard know so much about oppression and lack of privilege.
Millennials on college campuses around the country are vigorously demanding "safe spaces" and totalitarian reaction for any "micro-aggressions" they encounter in their safe bubble where they don't work, don't pay taxes and barely make it out in six years with a four year degree.
Millennials have come to believe that the First Amendment is freedom from free speech instead of freedom to speak freely.
This psychosis millennials are exhibiting, specifically across college campuses, has led to the resigning of university presidents, the firing of professors, the banning of speakers who are not from the liberal left, the restriction of free speech to students and faculty and the continued coddling of students, leaving them emotionally and intellectually stunted as they graduate with a lifetime of debt.
Millennials who run social media giants are taking their fear of opposing views and obsession with safe spaces to the major platforms where millennials get their news and share ideas.
Facebook's Mark Zuckerberg has announced his site is teaming up with Angela Merkel, German Chancellor, to censor German citizens from posting about the rapes being perpetuated by Muslim immigrants. With regard to fighting ISIS, Zuckerberg recently stated that we need to "create a world where understanding and empathy can spread faster than hate, and where every single person in every country feels connected and cared for and loved." Because the radical Muslims who like chopping people's heads off and burning people alive will be touched by empathy.
Psychology has proven that when a patient exhibits extreme anxiety, like millennials are doing, it is the wrong course of treatment if you help that patient avoid what is causing their anxiety. They need to face it head-on to be cured and to become functioning human beings in a society that was founded on freedom of speech and expression. Even if that expression is done with emoticons.
The universities, politicians, and private companies kowtowing to millennial demands is only continuing the cycle by allowing them to avoid what is causing their anxiety - thus, instilling in them the inability to function in a world with opposing ideologies while being able to maintain a level of respect for these differences in hopes of finding a middle ground.
In order to ensure that the next generation of Americans are functioning adults rooted in reality, the politically correct system, coming from the left, must take responsibility for the millennial psychosis, working to cure them of the hyper-anxiety ingrained in them throughout their educational careers.
To cure a patient of hyper-anxiety and fear, they are put through exposures. Exposures are designed to introduce patients to their anxiety and fear so they can then overcome them.
For millennials, the exposure they need is Trump shock-therapy. Trump is the natural and necessary correction to the politically correct, micro-aggression, and sniveling "I can't even" hyper-anxiety ignorance of the millennial generation.
Donald Trump is bringing the libertarian and conservative counterculture of blatant and brash disgust for the politically correct cowardice the liberal left has used to suppress the majority of Americans into the spotlight. Trump is forcing millennials to experience reality on economic, domestic, and foreign policy issues.
For millennials, Donald Trump is the cure not the disease. They need someone to speak to them with blunt, vigorous truths to cure them of the psychosis that has them living in a non-existent reality created by the liberal left. White men are not always rapists or racists, lack of a strong border is dangerous to national security, radical Muslim terrorists want to kill you, taxing the rich will destroy jobs, and Democratic socialism is the fast lane to communism.
Trump is the exposure therapy the entire millennial generation needs so they can depart their safe spaces and enter the world as adults who have to confront realities that aren't always easy.
Follow Salvator on Twitter @SalvatorDMD and for media inquiries contact Sal.LaMastra@gmail.com
–
TheBlaze contributor channel supports an open discourse on a range of views. The opinions expressed in this channel are solely those of each individual author.

Want to leave a tip?
We answer to you. Help keep our content free of advertisers and big tech censorship by leaving a tip today.
more stories
Sign up for the Blaze newsletter
By signing up, you agree to our
Privacy Policy
and
Terms of Use
, and agree to receive content that may sometimes include advertisements. You may opt out at any time.