© 2023 Blaze Media LLC. All rights reserved.
Despite all of the rhetoric, when all the factors are taken into account, virtually all of the supposed wage gap between men and women evaporates.
So another equal pay day has come and gone and with it, much hand ringing and rhetorical demagoging as well. Any opponent of "equal pay for equal work" has pretty much been labeled a sexist because, after all, who wouldn't want women to be paid an equal amount as men for equal work?
This author certainly agrees with the sentiment, but facts are stubborn things and important as well. When even the left-leaning Politifact ranks the claim that "women are paid 77 cents on the dollar for doing the same work as men" as "mostly false," it is probably worth investigating further. Indeed, the comparison that women make only 77 cents on a man's dollar are simply made between the gross wages of men and women. Is it possible men and women are being paid a different amount for different work?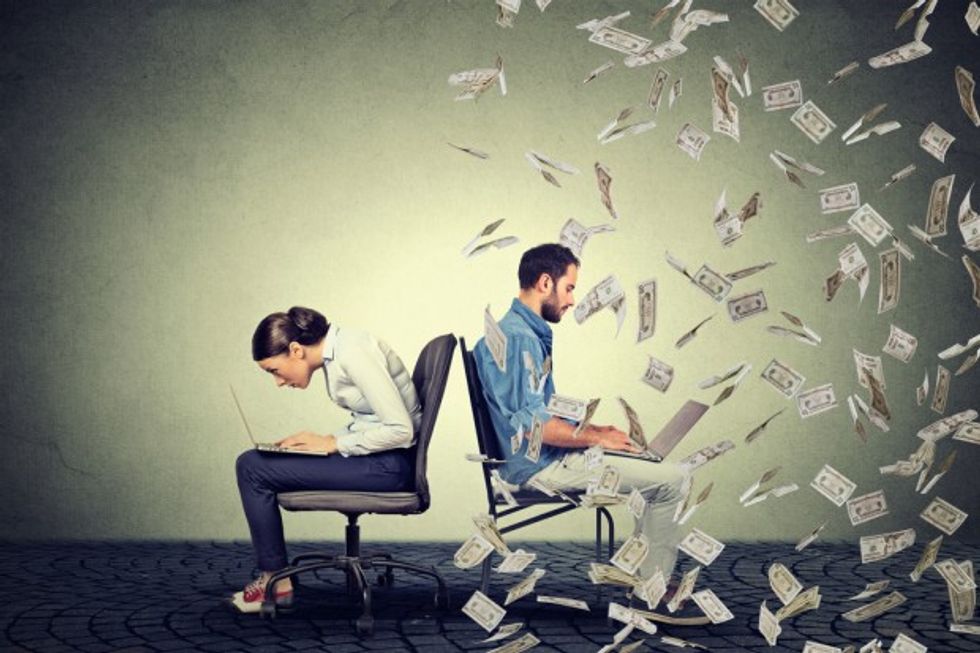 Image source: Shutterstock
Indeed, as a study by Michael Burda, Daniel Hamermesh and Philippe Weil found that while men and women work the same average number of hours per day (7.9), men work spend 5.2 hours in market work and women spend only 3.4 hours in market work. Right off the bat we have a major difference.
And even when you cut it down to just full time workers, full time male workers work 43.3 hours per week while full time female workers work 41.5 hours per week. More hours on the job will usually lead to more money. And quite frankly, it should.
What about seniority? As Denise Verable analysis found that the average male full time employee had been at his current job for 5 years and the average female for 4.4. She also found that women prefer part-time work at a rate of five to one over men.
There are simply a huge number of differences between how men and women approach work (in the aggregate, of course, there are tons of exceptions individually). James Bennett has made a list of 20 major differences between men and women, some of which include:
The worst working hours pay more, and men are more likely to work these hours than women
Women are more likely to have "gaps" in their careers, primarily because of child rearing and child care. Less experience means lower pay.
Dangerous jobs (coal mining) pay more and are more male dominated.
Men are more willing to commute long distances to work.
Let's focus on the last two. Economist Mark Perry has coined with Equal Occupational Fatality Day, the next one which will be in July 29th, 2027 given that men make up 93.1 percent of workplace fatalities. Should we have the Equal Opportunity Commission investigate this?
Or how about commute times? Perry also found that the average man has a 23 percent longer commute time than the average woman. Increased risk and increased inconvenience must be compensated somehow and the normal way to do so is with more money.
The evidence is clear that men and women approach work differently, but there also appears to be a big change after marriage in what's referred to as the marriage asymmetry hypothesis. Namely, after marriage, men tend to take on more market work and their income increases while women tend to spend more time at home with the children and less at work. This would at least partially explain why never-married women without children between the ages of 40 and 64 actually make more money than such men! It also might explain why the research firm Reach Advisors found that childless urban women between the ages of 22 and 30 earned 8 percent more than men in the same group.
We need to note that none of this either good or bad. Some have claimed this is "blaming women's choices," but that's an absurd argument. No one is blaming anything. This is a descriptive point, not a prescriptive one and all this boils down to is a matter of explanation. Who, after all, would tell someone who wanted to become a teacher that that was a bad decision because financial managers make more money? There are lots of good reasons other than money (flexibility, personal fulfilment, individual passions, etc.) to pursue one career over another.
The Huffington Post has even all but acknowledged this saying:
But the argument that "life choices" made by women are the real reason behind the gap is, in itself, an absurd oversimplification. Sure, many women choose to stay home or cut back their hours after having children. But many others don't opt out. They're forced out because they cannot afford child care, or find a full-time job that affords them any kind of flexibility.
While we can argue over whether the government should promote women taking a greater role in the workforce or leave it to the market and let families work it out themselves, it's really besides the point. Indeed, much of that Huffington Post article reads as, more or less, a concession. That's because the wage gap has always been presented in terms of employer discrimination and not cultural pressures. I have yet to hear someone say anything like "equal cultural pressures to make sure women take on similar market work to men and thereby make similar money as well as suffering similar number of workplace fatalities or whatever." Yeah, it's a bit of a mouthful.
When all of the factors are taken into account, the wage gap shrinks to almost nothing. The CONSAD Research Corp on a grant from the Department of Labor found that when all the factors are taken into account, the wage gap shrinks to between "4.8 and 7.1 percent" and in a study by June and Dave O'Neill, they found that the "gender gap largely stems from choices made by women and men."
Now, it's possible that the remaining percentage that the CONSAD report found is due to discrimination. As The Huffington Post article noted above shouts, "FIVE CENTS IS STILL A GAP." However, there are still other potential explanation. Perhaps it is caused because, on average, women are more reluctant to negotiate for a raise. We should, as a society, certainly encourage women to be more assertive, but do we really want the government to come in and negotiate on their behalf? Maybe I'm just a guy, but that would seem rather patronizing.
Furthermore, the remaining discrepancy could also be because it is extraordinarily hard to tease out all of the factors in such group aggregates. Remember, women in their 20's made more than men did. Is that because of discrimination? Regression analyses are very useful, but with the myriad of variables in our complicated world, they should never be taken as fact.
Either way, it's important to get our facts straight. If a gender wage gap does exist, it's very small.
–
TheBlaze contributor channel supports an open discourse on a range of views. The opinions expressed in this channel are solely those of each individual author.

Want to leave a tip?
We answer to you. Help keep our content free of advertisers and big tech censorship by leaving a tip today.
more stories
Sign up for the Blaze newsletter
By signing up, you agree to our
Privacy Policy
and
Terms of Use
, and agree to receive content that may sometimes include advertisements. You may opt out at any time.